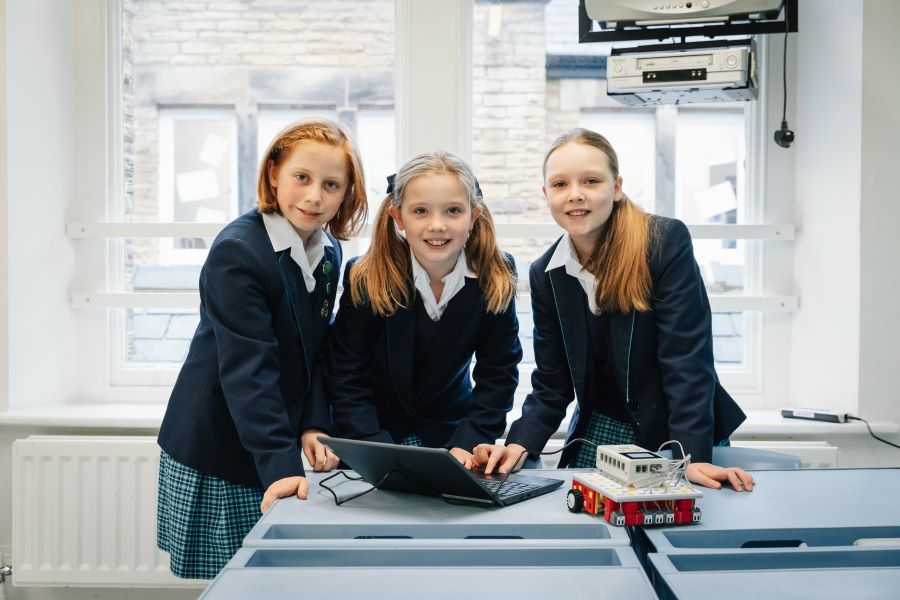 We are excited to share that Sheffield Girls' Junior School has been named as the first UK WER (World Educational Robotics) Primary Hub. The school has led the way in incorporating robotics and robotic programming into the primary curriculum and is also focussed on engaging and motivating pupils from other schools across the city. They now look forward to hosting the first UK WER regional final in May.
The recognition comes after the school secured £5000 worth of funding to purchase 19 educational robotics kits, following a bid to the Girls Day School Trust (GDST) and HSBC Partnership Funding.
As well as designing and implementing a WER Robotics curriculum for its Year 5 students, teachers at the school have also designed lessons and resources for local primary schools, including Ecclesall Primary School and Nether Green Junior School.
Lucy Williams is one of the teachers who has created the curriculum. She said:
"Children can learn endless skills through robotics from problem solving and creativity, to resilience and communication. The robots are programmed using block coding and in C programming language and don't come with instructions so the pupils really have to experiment and use trial and error to get the robots to do the things they want them to do.
"As well as our own pupils, the 19 kits bought from the bid money has allowed us to go into local primary schools to teach robotics. We want to get children across Sheffield learning about robotics from a young age and also competing in the World Educational Robotics Challenge which takes place annually, with the final taking place in China."
Dr Melissa Butt (Chair of World Educational Robotics UK) added,
"Lucy and Dawn have embraced the challenges of teaching advanced educational robotics and incorporating it into the UK primary curriculum. Their hard work and dedication has enabled Sheffield Girls' to become the leading WER primary school in the UK. The impact that the Sheffield Girls' WER UK Primary hub has already had on local primary schools in a short period of time is incredible. In the long term, collaborations between Sheffield Girls', WER UK and Twinkl will enable many other UK schools to incorporate educational robotics into their curriculum and up-skill their learners for the jobs of the future."
In May this year, Sheffield Girls' will host the first UK WER regional final which will see teams from Ecclesall, Totley Primary, Tinsley, Dronfield, and Sheffield Girls' compete for a place in the European Final which will take place at the Octagon in July 2020.
This is a brilliant achievement for the school and great news for the city. We are thrilled to see robotics being embraced so enthusiastically in primary education and it can only increase the success that Sheffield's young students are already experiencing at international competitions. Late last year, two students from UTC Sheffield Olympic Legacy Park took second prize at the WER Contest in Shanghai – the first students from the UK to do so! You can hear all about their competition in this podcast and take a listen to this episode from early 2019 to hear from the very first children to represent the UK in the world finals – also from Sheffield!
If you'd like to sponsor or find a way to support Sheffield's robotics students, just email info@sheffield.digital and we'll point you in the right direction.