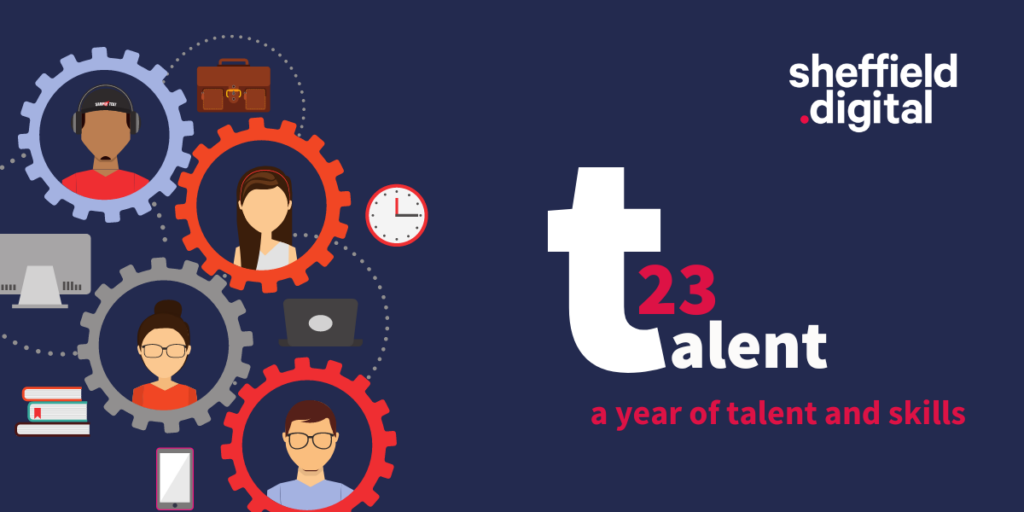 Sheffield Digital has created a plan to make 2023 a "year of talent and skills", with a focus on activities to help address the talent and skills gap for the region's tech businesses.
A lot of this is about pathways; showing individuals how they can actually enter into the digital industries – and why they should. For businesses, we will be exploring the many different pathways that they can look at to recruit and retain talent.
We know we can't fix everything in a year and this needs to be a long-term effort, but we hope that we can work with the Sheffield Digital community to make some positive progress in the short term too.
On this page you'll see highlights of the content we are producing for Talent23 (T23) and links to where you can find full collections. For example, we are building a collection of interviews about peoples' routes into tech and these will sit across our YouTube Channel, blog and podcast.
This page is also the place to find links and resources from T23 partners, including community and education partners.
Like what you see and want to get involved?
The success of T23 depends on pro-activity from our members, so please don't hold back in telling us your ideas for T23, and participating in any ways you can – this is all about paving the way for a strong talent pipeline that will benefit us all.
Mentoring with Sheffield Digital
Our Mentoring Scheme has been running for just over two years now and continues to grow. Individual members of Sheffield Digital can access support and guidance to help them develop in their careers, through a six month pairing with a mentor who has relevant skills and experience.
The scheme is helping people to find new careers in the tech industry, either as somebody who is turning to tech for the first time or who already works in the industries but wants to transition into a new role. Either way, our experienced mentors are enriching the sector and developing the talent pipeline by passing on their wisdom and insight.
Every month we 'Meet the Mentor' on LinkedIn to showcase who is involved in the scheme and what sort of skills and experience they offer as a mentor. Our first profile is Adam Newbold, click on the image to see the full post.
Take a look at our LinkedIn page for more.
How did you get here?
Have you ever wondered how to land a job as a software tester? Or what it takes to start a tech company? We love to hear about people's career journeys and we are sure that the more we raise awareness of different routes into tech, the more people we can help and encourage into the sector.
For example, Luke's previous work has included medical research, lead guitar and vocals in a rock band, and freelance photography. On his first day as a software tester, he spent most of his time Googling 'What is a software tester?".
Intrigued? Hear Luke's full story in the video below and you can hear a whole host of other stories on the podcast and our blog, take a look at the list below.
More to come…
What good practice looks like in the tech sector
We know that lots of organisations within the sector are already doing great stuff when it comes to engaging early with the talent pipeline, developing their own pipelines of talent internally, and trying out new recruitment methods to attract harder to reach groups. This year we are digging deeper into these stories to find out and pass on what worked and where there were challenges. We hope this will inform and inspire more organisations to follow suit.
More to come…
Expert insight and opinion
Sheffield Digital has an amazing group of Associate Sponsors, each with a unique perspective on the talent and skills gap for the region's tech businesses. Throughout our year of T23 activity, our sponsors are contributing insightful content designed to help businesses change and improve their recruitment, training and workplace culture and to engage at a deeper level with the talent pipeline. Take a look at the list below.
More to come…
Community partner activity
There is already a lot of activity taking place in the region to connect digital organisations with the workforce and future workforce. We want to showcase these initiatives to our members and the wider community to make it as easy as possible to get involved.
This programme from Sheffield City Council is helping to improve careers education in the city through employer encounters, career insights and experiences of the workplace.
See it, Be it offers a well-structured and supported way to raise awareness of the tech sector, promote opportunities and pathways and to help ensure young people leave education with the skills and qualifications that employers are looking for.
As the programme works in schools and colleges throughout the whole city, it's also a way to address social mobility in Sheffield and improve the quality and diversity of your talent pool. You can get involved by delivering careers talks, mentoring, CV workshops, mock interviews, 'Whose line is it anyway?' sessions, workplace visits, placements, shadowing, and more.
You can keep an eye on all live opportunities with See It, Be It in Sheffield on the Bulletin Board for Employers and you can find out more about the programme on the website.