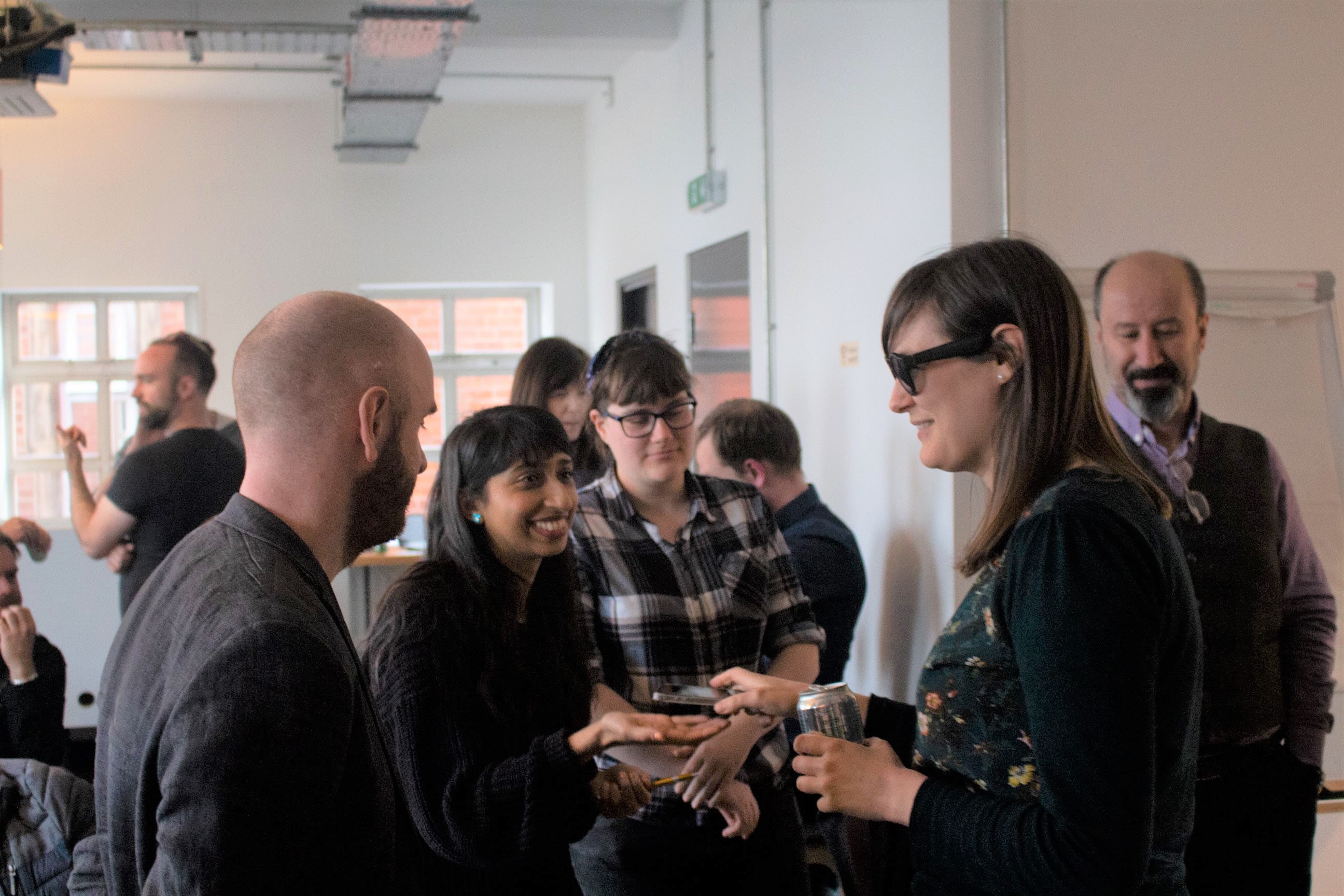 Immerse Sheffield is the meetup for people interested in immersive technologies in Sheffield. Launched earlier this year, the team has hosted two meetups plus a workshop as part of the inaugural Sheffield Digital Festival. We caught up with the team, Martin Alcock, Ben Atha, Laura Smith and Ben Carlin, to find out more about Immerse Sheffield, how it got off the ground and plans for the future.
What made you want to start an immersive technologies meetup?
Immersive Tech is an exciting new frontier in digital and there was a growing number of people and businesses exploring the technology. All of us have worked with it separately and wanted a space to talk about all the exciting stuff we were seeing happening in Sheffield and the surrounding areas, and how we could all support each other. Everyone we talked to about starting a meetup was excited by the prospect and wanted to see it happen. Also Chris Dymond bullied us into it.
You've now hosted your first couple of meetups, how did they go?
Brilliantly! Our first was completely booked out! We ended up having four different speakers, talking on subjects ranging from VR as an art platform, to funding opportunities and VR as a data analytics platform.
What did you do to get the meetup off the ground?
We asked a few of the people we knew who were working in and around the field of XR Technologies if they'd like to speak. Then got Sheffield Digital and the AMRC's help in promoting it.
What are your plans for the next event?
For now, we'd like to keep the momentum up and keep people coming back for more. In future we're probably going to have to have fewer speakers per event and more networking time, having four was a bit manic on our first event! We've also since run a workshop on using Facebook's Spark AR platform, so would like to explore doing more hands on events.
How is the city's meetup scene looking at the moment?
Sheffield has an amazing vibrant meetup scene, it's almost dizzying how many meetups there are each month. Like so many others, we're hosted by the amazing team at Sheffield Tech Parks. There are so many meetups going on that we struggled to find a slot at first!
Do you go to other meetups and how do they influence your own?
Martin: I've attended and spoken at Front End Sheffield and was blown away at how professional, inclusive and well organised they are. For me they are what you should emulate in running a meetup. I'm also very excited that they are bringing back Front End North next year.
Laura: I'm a founding member of Sheffield Women in Technology and I look to make meetups fully inclusive.
Ben A: Geek Brekkie which is great for meeting people and talking in a relaxed atmosphere. Codeup is great and I enjoy the regular one offs such as Sheffield Digital Festival and the Sheffield Digital Showcase events.
Ben C: I've attended VR meet-ups in both Manchester and London, which both have different approaches. VRLO in London is very hands on and great for experiencing new content and VR Manchester has a very slick presentation format. Immerse Sheffield has definitely been influenced by both.
How have you approached a code of conduct?
We haven't written one yet, although we are committed to being a welcoming and open space for everyone. We also want to be a space for people of all experience levels. At our first workshop we ranged from experienced developers like Joi Polloi to school children.
What are your biggest challenges?
As for all meetups, keeping up momentum, finding people who want to speak and getting bums on seats. We want people to try out the technology, have great immersive experiences and to become inspired. Finding space and multiple headsets for everyone is an ongoing challenge and we are certainly looking for sponsorship to help with hardware costs.
What can people do to help or get involved?
If you'd like to speak or collaborate, drop us a line on hello@immersesheffield.co.uk, Tweet us @ImmerseSHF or visit the website.