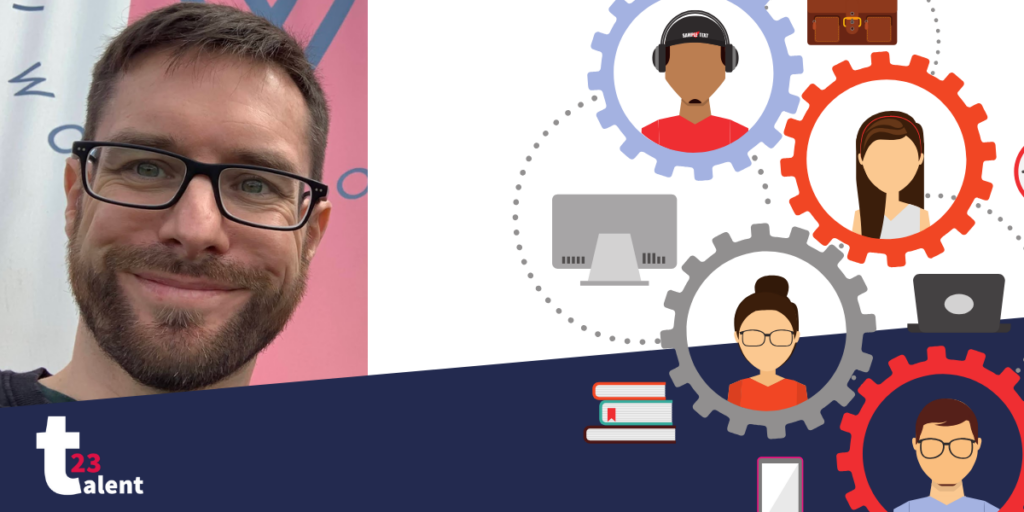 As part of Talent23 – our year of talent and skills – Sheffield Digital is inviting members of the community to share their journeys into tech. We want to help tackle the skills gap by showing the wide variety of roles that exist, who can do them, and how to get there. Squad Lead, Adam Newbold has worn a few different hats in his career so far, ranging from internal auditing to business analysis and product delivery. In this interview, he shares how the experience and skills he has developed along the way contribute to his role, why taking someone out for a coffee could be career-changing, and he talks about non-technical roles in the digital industries and why he'd like to see more awareness that they exist.
Can you tell us about your experience of working as a digital professional throughout your career so far?
I have worked in a number of Business Analyst positions across different industries and companies. I found this a great role as it meant I could really start to understand how technology delivers what a business is trying to achieve and how technology enables so much that business actually does. Quite a few companies employ Business Analysts too, which gives plenty of scope for moving roles and building up a wealth of experience across different industries and working with different technology teams.
I have also worked in a number of Product Management roles. I found Product Management interesting because it allowed me to set a strategic direction for a product, to really understand what customers value and how to build a consensus around how to progress.
Did you plan to have a digital career? How did you get into it?
Absolutely not, I had no idea I wanted a digital career but I have always had an interest in technology. When I graduated from university I became an Internal Auditor and realised that it wasn't for me, but I did enjoy the analysis side of the role so took the transferable skills and moved into being a Business Analyst.
I think the soft skills such as communication and problem solving, are really important for non-technical digital professionals as these are widely used in the majority of roles.
Has further education had a significant impact on your career path?
I studied a Business degree which certainly helped provide a foundation for some of the roles I have had. Further education also helped me shape some of the soft skills I mentioned.
That being said, I don't think further education is essential for a digital role. Some of the best digital professionals I have worked with have been self taught. Diversity is something which can be difficult to find in digital professions and is so important when problem solving to ensure a wide range of views are considered. Achieving diversity of thought becomes much harder if everyone has come from a similar background / route.
How do you think that people can get a better understanding of other digital professions?
Before I became a Business Analyst, I had a couple of conversations with people already in that role to see if it was something I would be interested in. Those conversations helped cement in my mind that was what I wanted to do.
I'd encourage anyone to talk to someone in a different profession to theirs. On the whole people are very friendly; offer to take someone out for a coffee and very few people are going to decline the offer. Contact people where you currently work or through the Sheffield Digital community who are in the role you are interested in and take them out for a coffee, it works wonders.
How can the sector as a whole be better at attracting more people into roles that aren't necessarily 'techy'?
One of the biggest barriers I see is people not knowing there are so many other digital professions which aren't software engineering. Unless people already work in a digital industry it can be very difficult to know about the other roles that exist and what they do.
Anything we as an industry can do to raise awareness of the multitude of digital professions and what we do would be a great thing.
Can you talk us through being a Squad Lead?
A Squad Lead is probably best described as 'wearer of all the hats'. On the one hand we work on client engagements, usually taking on a Delivery or Product Lead role which is responsible for working with clients on the Delivery or Product strategy. Essentially this means either ensuring the Product does what the client needs it to or that the thing we're building is delivered in a way the client needs.
On the other hand, we look after a cross discipline squad of up to 12 people (usually a mix of developers, analysts and design folk) to ensure that each person is getting what they want out of their time working for AND Digital.
We're also members of the Ops Leadership Team which is responsible for running each AND club.
How does your work challenge you?
Working with a variety of clients in different industries, each with a different culture and way of doing things, means that we have to continually adapt. This is juggled with the responsibilities to my squad members and the Ops Team, making the role an exciting but challenging one.
Why did you decide to sign up to the Sheffield Digital mentoring scheme as a mentor? Who can you help?
I wanted to help raise awareness of the non-technical roles in digital careers. I think the non-technical roles have a wide appeal and raising awareness of them may encourage people to apply who would have been put off by the thought of a digital career previously.
I'm more than happy to help anyone who would like to find out more about the non-technical roles in digital careers or anyone who would like to further develop their Product Management or Business Analysis skills.
What is the best advice that you can offer to anyone who is looking into options for a digital career?
Speak to anyone you can who is already in a digital career you may have any interest in pursuing. To shamelessly steal the crux of someone else's quote; the best time to decide a career is for you was two years ago, the next best time is today.