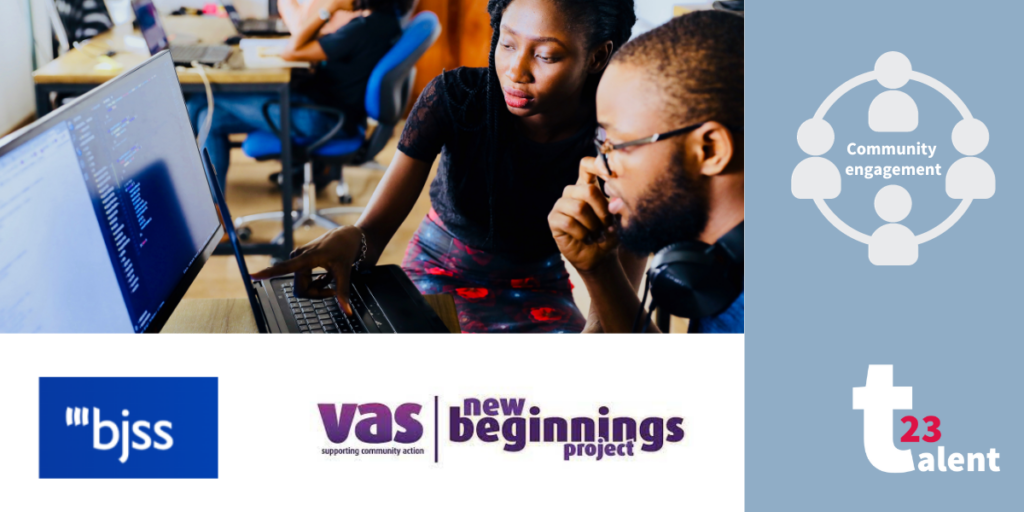 Having a diverse workforce and hiring from harder to reach groups, like refugees, can bring fresh insight, different experiences and new ideas to a business. Voluntary Action Sheffield (VAS) is building links with local tech companies to improve recruitment practices, reduce barriers to employment and show the potential that refugees bring to the digital industries. We spoke to Katy Pugh from VAS and Ricky Barefield from BJSS, who provide spaces for refugees to develop their digital skills and collaborate on coding projects. They explain some of the small steps you can take to increase employment opportunities for refugees, and why tech companies should consider this pool of diverse talent when recruiting.
The New Beginnings Project by VAS is designed to help asylum seekers and refugees build networks and access education, work, volunteering and social opportunities in Sheffield. In the past year, approximately 800 refugees and asylum seekers have been supported by the project, and 240 of these have been helped into employment or education.
One group of Sheffield-based refugees have been upskilling in digital through a Code Your Future course. They were traveling to Manchester for the course, but had nowhere closer to home to get together, practice and collaborate.
Katy Pugh, Employment Support Worker at VAS, had already connected with Ricky Barefield at BJSS after she reached out to the Sheffield Digital community on Slack, to see if any tech professionals could review CVs.
Understanding the group's problem, Ricky was eager to assist by offering up a space to work. He explains,
"It was an obvious choice for us to do this; we had the available space in Sheffield, somewhere we can host the group where there's no issues like breaching client confidentiality because they are in a separate space to where we work.
"It was clear that the group had lots of questions and were keen to find out what we do. So, we got people to come up and speak to them, people that are early in their careers and so had relevant experiences. I think they found this really interesting and our team certainly wanted to do it, and found it very fulfilling."
Ricky adds,
"We are not really doing much at all, just providing space that would otherwise be empty. We know as a team how useful it is to be able to get around a screen together and collaborate, so I think this was the same for the group – we gave them space with a whiteboard and monitors so they could talk about what they are learning on the course and collaborate on projects."
What are the benefits of hiring refugees?
Hiring from a diverse pool of talent will give your business insights into potentially un-explored consumer groups. The challenges that refugees have tackled and overcome can also bring new levels of creativity and innovation to a company. Katy says,
"Many refugees have had to be creative and determined when facing difficult situations in their home countries and they bring these assets with them to the UK. Research has shown, for example, that in the US, workers with an immigration background are twice as likely to file a patent than native citizens."
Ricky agrees that a diverse workforce is good for business, adding:
"BJSS is a company with global reach, working within many different industries. The more diversity we have, the more ideas we have and the more commonality we have with our clients."
Breaking down the barriers for refugees
Although many refugees arrive in the UK with a wealth of experience and qualifications, they can struggle to find employment. Some of the reasons for this include:
Difficulty in recognising previous qualifications and experience
Many qualifications and even job roles do not directly translate in the UK. Katy explains,
"Despite having the right skills, refugees are unable to secure a role equivalent to the one they had in their home country. In response they look for lower-skilled jobs but then risk being perceived as overqualified."
Gaps in employment history and no access to references
Refugees may have been out of work for a number of years. This is due to both the length of their journey to the UK but also the length of time they wait for their claim to be processed by the Home Office, which is commonly around 2-3 years. During this time, it is not legal to work.
Lack of UK professional network
Refugees can be very reliant on public bodies such as the Job Centre to support them in job searching rather than friends/ex-colleagues that may be working in the sector.
Unfamiliarity with the UK job market and recruitment processes
In some countries, the personal statement, or even a CV, is not an essential part of the application process and the previous employer will write a full reference.
Katy says,
"We have worked with people that leave this section blank and wonder why they are not getting called for an interview."
Reassessing your application process is a good place to start if you want to attract refugees to your company, as Katy explains:
"Consider how you can be more creative in your application processes, as this can be a huge barrier for people, especially if English isn't their first language. For example, I work with one company in the field of Chemical Engineering that has designed a test for applicants to complete, rather than a standard application form."
BJSS has spent time over the past decade reviewing and improving its application process to remove bias and make it as accessible as possible. Since he has started working with VAS, Ricky has become more aware of how he and his team can be even more open to refugees. He says,
"There are potential barriers for refugees in a standard application process, like gaps in skills that don't actually relate to their technical ability. So, for example, we need to make sure that we're not rejecting people on things like their grammar.
"After the application, our recruitment tends to be quite hands on anyway, so we're about 'Show me what you can do' and at this stage we're assessing for aptitude."
He adds,
"It's also important to consider the amount of effort that they are putting into developing their skills and to applying for jobs. When you're trying to recruit, you're looking for enthusiasm, right? These individuals have it in spades from what I've seen."
Can you help?
There are countless invaluable ways you can support refugees into jobs, aside from directly offering employment. And these don't just benefit refugees, they also provide opportunities for you to scout for talent. For example:
Professional mentoring – including through the Sheffield Digital Mentoring Scheme, on which we have several refugees signed up and looking for mentors.
Giving talks to refugees about the UK labour market in your sector.
Offering work placements or training for those that have no UK experience.
Site visits and offering meeting spaces for refugees to learn together so they can get an idea of the UK office environment.
Opening up internal training courses. If you're doing some training for internal staff, offer a couple of places to those looking for work.
Advice for recruiters about the 'right to work'
All refugees in the UK have the full right to work without restrictions. Some asylum seekers that have been in the UK over a year also have the right to work – this will be indicated on their ID card.
Employers are sometimes concerned about additional paperwork for employing refugees. All refugees will have a national insurance number which they apply for once they receive their refugee status. The refugee should also be able to source their 'share code': an identifying eight digit number which can be used by the employer to check their employment status. Refugees have indefinite leave to remain which means there are no limits as to how long they can work with you.
If you are looking to employ someone and are concerned about their right to work, organisations such as the New Beginnings Project are happy to support you. Contact New Beginnings on 0114 253 6655 or employment@vas.org.uk, or visit the website for more information.You can also join tent.org for up to date policy advice and creative practices in employing refugees.