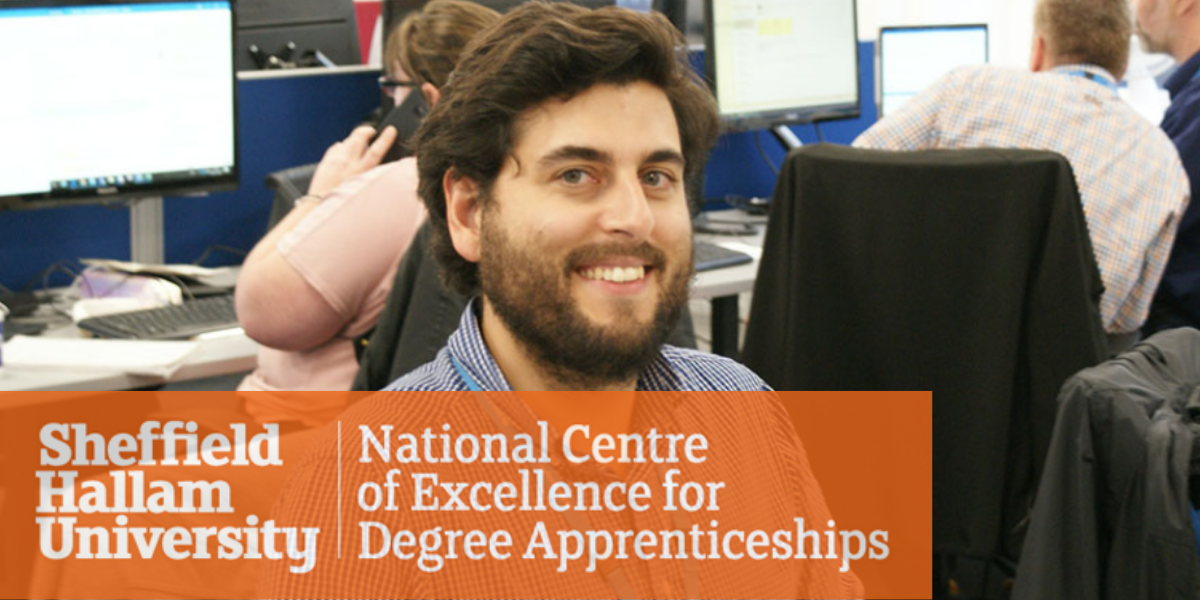 Earlier this year we told you about the new Digital and Technology Solutions Specialist Masters Degree Apprenticeship launched by Sheffield Hallam University. With only 17 days spent in university over two years, the course is a good way to upskill and retain talent in your team, preparing them for leadership roles. Nearly four months in, we caught up with Matt Durrant who began his apprenticeship in September, to hear what he thinks.
Matt Durrant is an NHS Data Services Manager, based at Don Valley House in Sheffield. He enrolled on the new MSc Digital and Technology Solutions Specialist Masters Degree Apprenticeship at Sheffield Hallam University in September 2019.
Having graduated just over eight years ago, Matt enjoyed having some time away from work to concentrate on studying again during the first block week of the course. He says,
"There are 17 of us on the course and I like the fact that we have a range of abilities. I'm somewhere in the middle! It's amazing to learn from people who are more experienced than me, while passing my knowledge on to those who are just starting out.
"I taught myself to code 6 years ago and never really knew where I was going wrong. Now I'm going back to study the basic principles of coding. My mind has been blown! I've already learned so many new ideas that I'm putting into practice at work."
Matt is looking forward to getting his degree so he can demonstrate the expertise he has built through his career and his recent studies. He explains,
"I never thought I would get this type of opportunity. It could potentially open up new avenues for me. Plus when I have my Masters Degree it will prove that I know what I'm talking about!"
Developing Sheffield's future team leaders
This apprenticeship offers a solid progression pathway and a fantastic way to nurture and retain key talent in your business. The qualification is designed for employees with an ambition to progress to team leader and practices the skills needed to take on a more senior position. At a recent digital skills roundtable discussion, hosted in partnership with Sheffield Digital, the lack of mid-senior tech talent in Sheffield was raised. We are really pleased that this course exists to help us overcome this issues, encouraging digital specialists early on in their careers to stay in Sheffield, knowing that this is a city where they can develop and progress to leadership roles.
About the course
The MSc Digital and Technology Solutions Specialist Masters Degree Apprenticeship is a two-year course and the next intake is September 2020.
There is a choice of two pathways:
Software Engineering Specialist
Data Analytics Specialist
Learners attend Sheffield Hallam University for a total of 17 days spread over the two years. Additional teaching and support is delivered through distance learning and video conferencing. Learners spend roughly half a day per week on their assignments and portfolio, in work time.
Large employers pay the course fee via the Apprenticeship Levy and SMEs receive 95% funding and pay 5% of the fee. There are no fees for the learner.
To register an interest, either for yourself or an employee, please contact business@shu.ac.uk or 0114 225 5555.