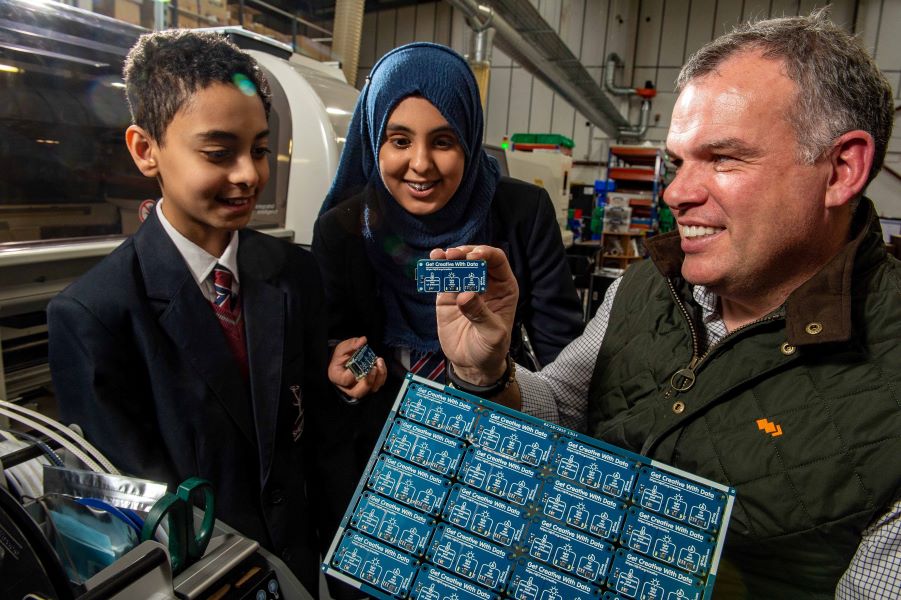 Sheffield electronics manufacturer Pimoroni has built 275 customised microcomputers for the David and Jane Richards Family Foundation (DJRFF), to help young people learn about computer science and data in a creative way. This is a great collaboration which is giving students the opportunity to experiment and build with really cool technology, made right here in Sheffield!
The new kits use Raspberry Pi Zero WH and are fitted with user-friendly sensor boards designed by DJRFF in collaboration with Pimoroni, and manufactured in Sheffield.
The microcomputers will be used by students on DJRFF's Get Creative with Data course which has been rolled out at a number of schools and colleges across South Yorkshire. The technology will help young people learn about data and the environment, through the measurement of light, colour, motion and temperature.
The kits are robust and built to last, made accessible with easy-to-use layouts and colourful design and with multiple applications.
Students will be shown how to use the technology through a series of data-gathering experiments, including using the sensors to sort coloured socks into pairs, determine which type of sunglasses blocks out the most light and discover which pair of gloves warms hands the quickest.
David Richards, the founder, chief executive and chairman of Sheffield Digital member WANdisco, set up DJRFF with wife Jane to educate, empower and improve the lives of children. They said:
"We passionately believe that computer science education should be fun and focused on being creative.
"As their confidence and capabilities grow, our young people will be able to unleash their imagination and ask probing questions about the world around them.
"We are big fans of the UK-designed Raspberry Pi and are grateful for the support of Sheffield tech manufacturer Pimoroni in our mission to advance the education of computer science in state schools."
You can find out more about the David and Jane Richards Family Foundation on the website and if you are a researcher and interested in the work of the Foundation, take a look at this PhD opportunity to evaluate and develop its data science course.
[Photo caption: (l-r) Mahmood Said, Zara Hussain (Y7 head boy and Y8 head girl at Astrea Academy Sheffield) and David Richards.]