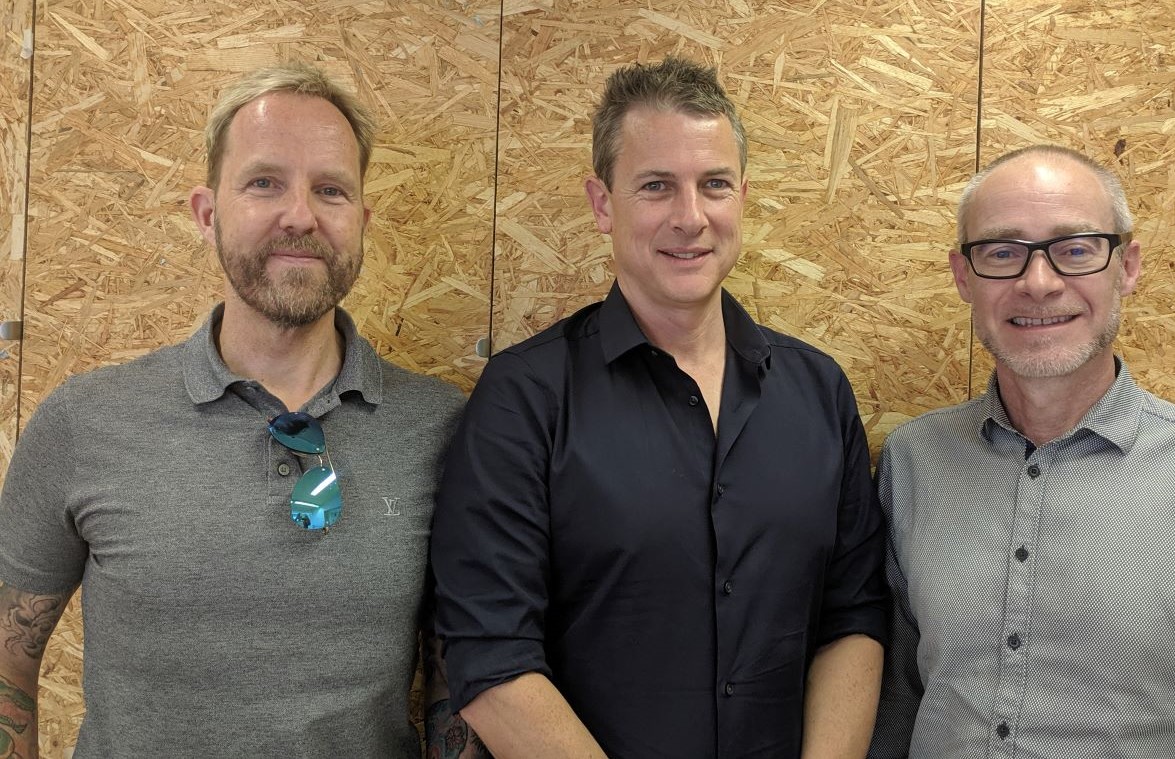 Earlier this year, Sheffield City Council changed the way it provides support to local businesses. We'd been talking to them for a while about how not all businesses are the same and that one-size-fits-all business support can only go so far. So we were really pleased to see that they had set up a new team of advisers with tech sector experience. Mel went to meet them to find out more about who they are and what they do.
The team are (from left to right in the photo) Glyn Heath, Morgan Killick and Chris Wheater. All three have experience of founding, running and growing technology businesses. Their role is to offer a very flexible service, covering everything from start-up to scaling, and they are happy to talk to businesses at any stage of their development. I asked about the kinds of challenges that businesses were bringing to them – it turns out that funding and getting investment ready is starting to be one of the key areas. Morgan pointed out that there is no shortage of funding options available, but the issue is how equipped these companies are to maximise their appeal to investors.
Ultimately, they are looking for companies to work with that will create jobs and attract investment, but they recognise that often businesses may have a more general question or challenge that needs addressing first. Support from the tech adviser team is fully funded and they are keen to get to know more of the city's digital companies. If you're grappling with an issue at the moment, or thinking about what the next stage of your company might look like, it's worth getting in touch. You can do that via the Council's general business support contact (businesssheffield@sheffield.gov.uk) or let us know (info@sheffield.digital) and we'll pass your details on.
Meet the advisers
Morgan Killick:
I founded an IT Services company in my bedroom back in 2002 and grew it for the next 12 years, before exiting to an MBO. Before long, I discovered that my experience, opinions and judgement were really valued by other business owners as I could relate to them in ways that others couldn't. I have always had a passion for business strategy – I was mentoring others as far back as 2008 – so I started accepting opportunities to get involved again as a 'Consultant'. I now work with dozens of businesses, from startups and micros right up to £multi-million companies who employ hundreds. Essentially, MDs and CEOs bring me their problems and challenges and I offer the kind of advice and guidance they understand and can really benefit from. I work across a huge range of agendas, from investment readiness to marketing strategy, growth planning to how to manage people. I love doing it because I can see that I am having a positive impact, not just on the businesses I work with, but ultimately for the City too.
Glyn Heath:
I love to help entrepreneurs and leaders in start-up and scale-up businesses ensure value is maximised for themselves and other stakeholders. This means focusing on those activities that enhance value and identifying and exploiting new opportunities while navigating the journey to avoid or minimise costly pitfalls and frustrating wrong-turns along the way. Improving business outcomes fascinates me and, having launched and grown 3 businesses in the technology sector over a 20+ year period, I've personally experienced many (or perhaps even most!) of the challenges that face any growing business. During that time there have been numerous highs, including accolades such as Fast Track 100, Tech Track 100, Inner City 100 and Hot 100 listings, but I've also had to dig deep when times were tough. I have a passion for working with ambitious business owners and leaders in building and implementing lean strategies for start-ups and developing and executing effective growth plans with scale-ups.
Chris Wheater:
I started out in the 90s as a business consultant and this led to the acquisition of a struggling IT company in need of turnaround. After transforming this to success over the following 10 years, I then founded an e-commerce retailer in 2003. I've built up a toolbox of skills to help entrepreneurs and start-ups bring business ideas to market, develop strategies for growth, create equity value and ready your business for investors. My focus is on providing no nonsense, practical advice to help businesses prioritise, focus and achieve their goals.