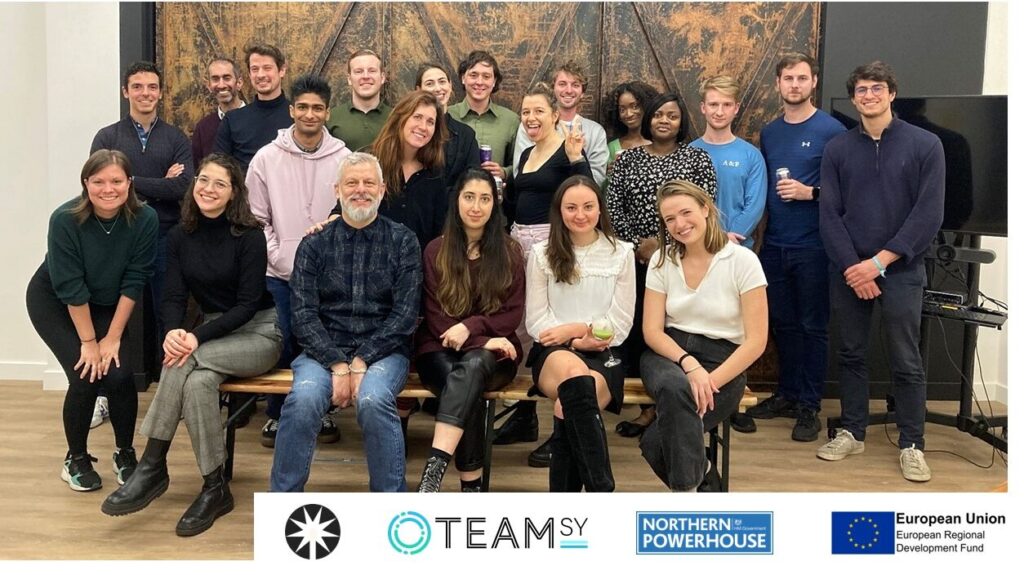 Sheffield is officially the best city, outside London, in the UK to start a business, according to Startups Cities Index 2022. The Annual Index is based on research into over 40 crucial factors that influence startup success and states, "Sheffield has been revealed as our ultimate winner, thanks to the city's strong performance across many of our research areas. The industrial powerhouse impressed us with its low cost of living, large working population and fantastic transport links." Although we have a great environment for starting a business, in 2021 less than 1% of all UK investment went to Yorkshire.
We caught up with TEAM SY to find out about support available to help tech businesses grow in South Yorkshire and Orr Vinegold Co-Founder of Unrest, the latest accelerator programme helping businesses in the region compete on a global scale.
TEAM SY connects the entrepreneurial ecosystem through a dedicated team of 'Super Connectors': Ceri Batchelder, Samantha Deakin and Laura Bennett. They work with registered tech, or tech-enabled businesses in the South Yorkshire region to help them grow. The TEAM SY project is funded by the ERDF, Capital Enterprise and Barnsley Council, so you can access support at no cost to you, or your business. They have a range of programmes that help businesses at different stages of their evolution, including:
Funding readiness and investment support: Get funding fit , South Yorkshire Angel Hub
Pre-accelerators: AI Academy, Entrepreneur support at TUoS , GovTech Academy, IoT engine, OneTech SY, The Cooper Project , Transform SY
Accelerators: Blue Lake VC, P4SY, Post Urban Ventures, Unrest
If you're not sure which is the right programme for your business, you can get in touch and one of the team will talk through the options. Also, Samatha offers bookable slots via open office hours. I asked Ceri to share her views on the best way for people to start to build connections within the ecosystem and the benefits of accessing support. She told me, "As someone who is passionate about connecting people, I think this region is a brilliant place for business. People are genuinely collaborative and we have a vibrant meetup culture. The best way to get started in understanding the support you need is to attend a meetup, talk to people, share experiences and build your network. We are starting to see more of the in-person meetups emerge after Covid and there is such a buzz to be back together – for some events we also offer a hybrid model, where people can connect online. We see our role as the glue, bringing people together to make things happen and make new opportunities for entrepreneurs. The more people who engage with us, and the existing tech startup support centres like Sheffield Tech Parks, Barnsley Digital Media Centre and Kollider, the more that happens and that's what motivates us."
The culture of our region and the support infrastructure through TEAM SY was a deciding factor in the latest accelerator Unrest choosing Sheffield as their Northern Hub. This corresponds with a shift from home grown talent supporting businesses to succeed, to organisations outside of the region recognising South Yorkshire's potential and creating inward investment opportunities.
We asked Orr Vinegold, Unrest cofounder, about their offer and why they chose to collaborate with TEAM SY and chose Sheffield as their Northern Hub.
What is Unrest? We are a modern accelerator with a focus on disciplines such as fundraising, impact, founder resilience, branding, technology and business education. It is guided by our three pillars of impact, resilience and diversity. We focus on big problems and ambitious people. Our job is to give founders every tool they need in the toolbox to get to the next stage. Often a lot of what we do with founders is to think bigger. We've had founders on the programme whose ambition was to build a business and then sell it. And actually, what we said to them is, why don't you build the alternative instead and stay with the business to scale it? So we will be running a programme in person, every six months from September, aiming to support 30 North England-based consumer driven startups which positively impact on people's lives.
What was your motivation to start Unrest? I started my career working in marketing for big corporations like Gillette, Braun and L'Oreal but realised I didn't want to spend my time making people feel bad about themselves, in order to sell products. So I went to work with StartUp Founders and started to notice some of the most successful businesses were ethical startups, with a strong set of values and morals embedded from day one. Finally it felt the values of the world were moving in the direction I believed in. I worked out the best way to support the next generation of founders was to build startups that will scale quickly, with the right values, so they can make the most impact in the world. So together with my co-founder Pan Demetriou we launched Unrest.
Why did you choose to start a hub in Sheffield? We wanted to build a hub outside London and find areas where impact startups were already being created; our analysis showed around 28% of them were in this region. Sheffield is really accessible because of its great transport links and we've had fabulous support from Capital Enterprise and TEAM SY, who were really important in our decision making process. Also I think people are minded to the way we think about things and responsive to programmes like Unrest. I love the people in this area – they are community minded, collaborative and helpful. There's also a rebellious spirit which is something I discovered when we started visiting more – and that's awesome. We want to build businesses that are coming out of Sheffield and Yorkshire and that are globally scalable. Because the change we need in the world is that of mass scale, we need huge monumental change.
Why are values so important in business today? We always say to startups, you can just have a shiny brand that looks out into the world that's ethical and moral, and then have a rotten business where your culture is terrible. And no matter what you put on the wall as your values, if you don't act those values out, you're not going to deliver on that promise. At Unrest we start with the founder, we teach them how to be a good person, build a good culture, and then hire people that are diverse, have amazing impact and build great companies off the back of that. I believe that those things have to be tied together; your community is the planet, the society, your workers, yourself. And if your community isn't all pulling in the same direction, and isn't clear, you're not embedding those values. Every part of your business should ooze impact, so you know, no matter where a journalist goes, or a consumer goes, you know, you're authentically living impactfully, diverse, good cultured company life, which is the right way to do it.
What impact do you hope to have? We aim to launch 1000 companies in the next seven years that will have maximum impact in the world because they're facing consumers. They will spend lots of money advertising to people, and that will convince people to buy the product. But we'll also be influencing and changing other people's points of view and minds, which makes it something that can kind of grow and change the world, not just directly but also indirectly. We could have not just our first ripple as the stone hits the water, but that the ripple effect could spread out much more widely. We are coming into this new revolution around sustainability and our job is to make that into a quicker journey for the world. If we achieve one thing it is not that we are successful in making money, or our companies are successful, it's that the world has transitioned to this new way of doing business in 20 to 30 years less time. And that would really be our success.
To apply, fill out the short application form online, in less than seven minutes, by August 15, 2022. Unrest do not require a pitch or business plan, just a few simple answers about your existing business.