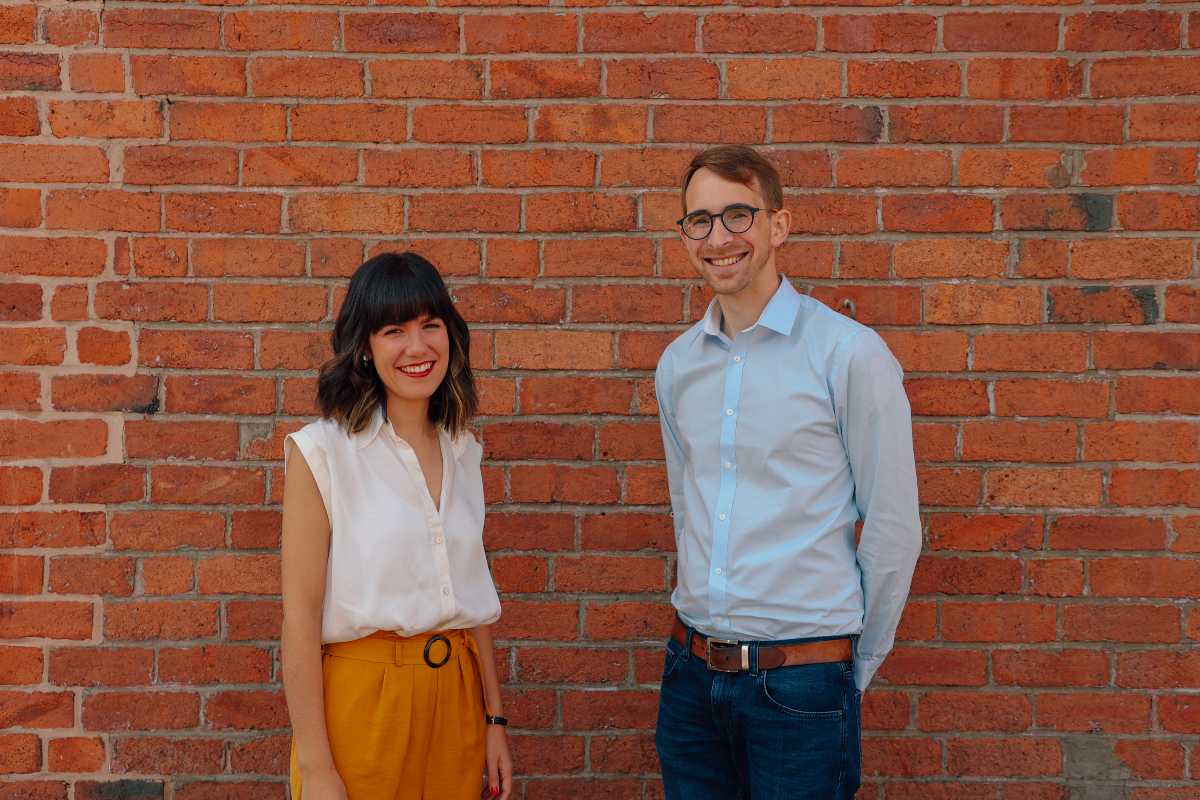 Appt is an award-winning digital agency specialising in app and software development. The business was founded in 2013 by husband-and-wife team Anna and Jon Bollinger, who met during their studies at Sheffield Hallam and The University of Sheffield. We spoke to Anna about why they made Sheffield their home and how they are giving back to the community.
She told me it all started when she came to her University open day; "I was walking up from the train station. I saw the poem 'what if' on the wall – it says The City where your dreaming is repaid." Anna says one of the reasons she and Jon work so well together is they are both dreamers. Their dream, inspired in part by Bill and Melinda Gates' philanthropy, was to start a tech company that could create resources to give back to the community. She found Sheffield to be, "A place for dreamers and a place of welcome".
After reading the poem Anna discovered Sheffield was the UK's first City of Sanctuary for asylum seekers and refugees – a city that takes pride in the welcome it offers those in need of safety. This resonated with Anna as her father came to the UK as a migrant from Mauritius. As a child she remembers being evacuated from Rwanda, where her family had settled, before the genocide. She poignantly remembers, "People have legitimate reasons to flee".
These experiences, alongside her linguistic skills as a trained English as a foreign language teacher, inspired Anna to work with refugees and asylum seekers. "I always wanted to use my language skills to help people make a home for themselves in the UK. I saw a business as a good route for creating resources and also being my own boss frees me to also do charitable work."
Anna found that being a good city to do business and a city to do good are not mutually exclusive. It is the welcoming and inclusive nature of Sheffield that sets it apart from other larger cities. Anna says, "A lot of people said- if you want to set up a tech company go to London, or Manchester, but actually Sheffield being a place that feels like a village means it's a really supportive place to get started."
Alongside setting up and growing Appt, Anna has helped run Hope English School. The school's aim is to set asylum seekers and refugees free from the isolation that comes from not being able to speak the language of the culture they are in. After the pandemic, an opportunity presented itself to bring Anna's corporate and charitable worlds together.
The team at Appt adopted a hybrid working model and naturally fell into a rhythm of working 2-3 days in the office. This led to an opportunity to think creatively about how the business Jon and Anna had built could give back to the city that welcomed them. Every Wednesday the team now vacates their newly refurbished office to make space for the Hope English School, which has meant the charity has been able to put on extra classes for newly arrived Ukrainian refugees.
Anna's view that "We need a lot more critical thinking in the charitable world and a lot more compassion in the business world" could be indicative of a new blueprint for business. Recent research has found, in increasingly competitive environments to find tech talent, values could be the deciding factor for why someone chooses to work for your business. ILM's 'Leading through Values' report states:
"When a company has strong core values, research shows that it attracts a particular kind of employee. This employee is someone who holds values in high esteem and who wants to be part of a culture that has strong core values."
Appt are proud to have a team with an equal number of men and women, they advocate strongly for the benefits of diversity and donate a percentage of all profits to charity. This is important not just for giving back but attracting and retaining people who want to know not just who they are working for, but what they stand for.
They have created a business where values are more than words on a wall and the dream of creating resources to benefit others is now a reality. Looking to the future, Appt will continue to make their offices available for at least one day a week and will look for other creative ways to support charities, because, in Anna's own words, "We flourish best when we are doing what we are meant to be doing."