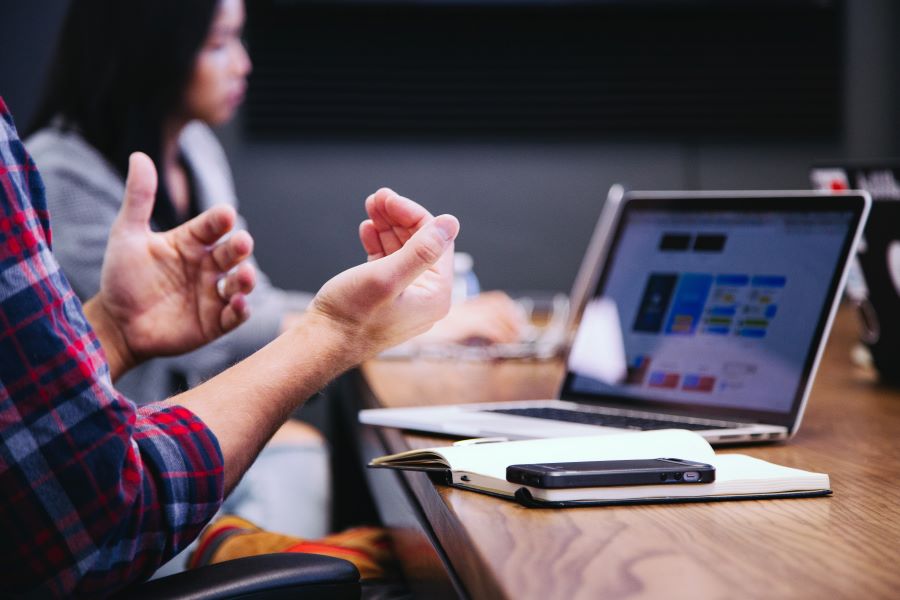 In March 2021, we launched the Sheffield Digital mentoring scheme, to help our Individual Members develop their careers and achieve their professional goals. Six months on and we are delighted to report that 14 matches have been made between mentors and mentees. We've seen a really interesting range of 'needs' from our mentees, from those looking to move into a tech role for the first time, to those with a start-up idea who need some extra help to make it happen. Even after such a short space of time, this bodes well for the digital industries as the scheme is enabling people to pursue careers in the tech sector, often for the first time. And it can only get bigger and better from here!
So far, 21 mentors have signed up to the scheme, offering many different skills and areas of expertise. We have 12 mentees on the scheme, and some of these have been matched with more than one mentor, giving us 14 matches in total.
Our mentees have signed up to the scheme for many different reasons. We have one person who was looking for some support and guidance to help them in a new role, and we have mentees who are considering career changes, either moving into a different technical field or getting into tech for the first time.
One of our mentees is making the switch from contractor to permanent employee and was looking for help in making the transition. Another mentee has no technical background, but a great idea for an app and therefore wanted technical guidance as well as some pointers on how to run and grow a startup.
Our amazing pool of volunteer mentors has enabled us to make matches with all of these individuals, and to offer them valuable and insightful support.
Mentoring in action
Vanessa is one of our mentees who has benefitted from the support of two mentors on the scheme, Ruth and Emma. Working for a social and digital inclusion charity as a grants manager, Vanessa was considering changing careers and has been given guidance and support to help her explore roles in the tech sector. She explains,
"Ruth has provided me with some impartial advice and guidance on changing careers and suggested a move into service design. She looked at a proposal I was sending to some organisations and provided me with feedback, and she has offered guidance on an upcoming interview I have, as she has experience of working with the organisation.
"My other mentor, Emma has suggested several organisations I could contact about service design, and she encouraged me to start thinking about who and where I would like to work in this area, which is something I hadn't yet considered. She has also given me ideas on how to collate and bring this research together."
Vanessa's experience on the scheme has given her a clearer direction for her career move, and has equipped her with knowledge and a wider support network.
"All of these things have enabled me to move forwards with a career in service design. I hadn't thought about lots of the suggestions both Ruth and Emma gave me, and I believe that will have a lasting impact as I've connected with people who can support me in the service design 'world'."
Building a more diverse, inclusive and accessible tech sector in Sheffield
The Sheffield Digital Mentoring Scheme is just one of the ways that we are working to make the tech sector in Sheffield more diverse, inclusive, and accessible to people from different cultures, backgrounds, and with wide ranging skills sets. We are really excited to hear stories like Vanessa's, which show how mentoring can help to open up the tech sector to new people.
Our Community Manager, Sophie Wendell, who established the mentoring scheme in collaboration with Sheffield Women in Tech (ShfWiT), is confident that in just six months, the scheme is already making an impact. She says,
"We already knew what a wealth of skills, knowledge and expertise there is in Sheffield's digital community. Through the scheme, we are now seeing how this can directly benefit people who want to enter into the tech sector, but perhaps don't think they have the right skills, or don't have insight into the type of roles that exist. Or maybe they have a great tech idea, but don't know how to turn that into a business. The mentoring scheme links them up with someone who has been there and done it.
"It's fantastic to see the impact that our mentoring scheme is delivering already, just on the small scale we've achieved over six months. I believe it has potential to really support the tech sector in Sheffield in the long term, and to help many more people start or develop exciting careers in our industries."
Get involved
Whether you're interested in becoming a mentor or a mentee, we'd love to hear from you. To take part as a mentee, you need to be an Individual Member of Sheffield Digital (this costs £5 a month and helps us to cover the costs of running the scheme). If you're not one yet, it's easy to sign up via our website. As soon as you've signed up you can register to take part in the scheme.
Places for mentors are open to all, regardless of member status. This is so that our mentees have access to as broad a range of support as possible.
You can find out more in this blog post and if you have questions, just get in touch with us on: info@sheffield.digital.