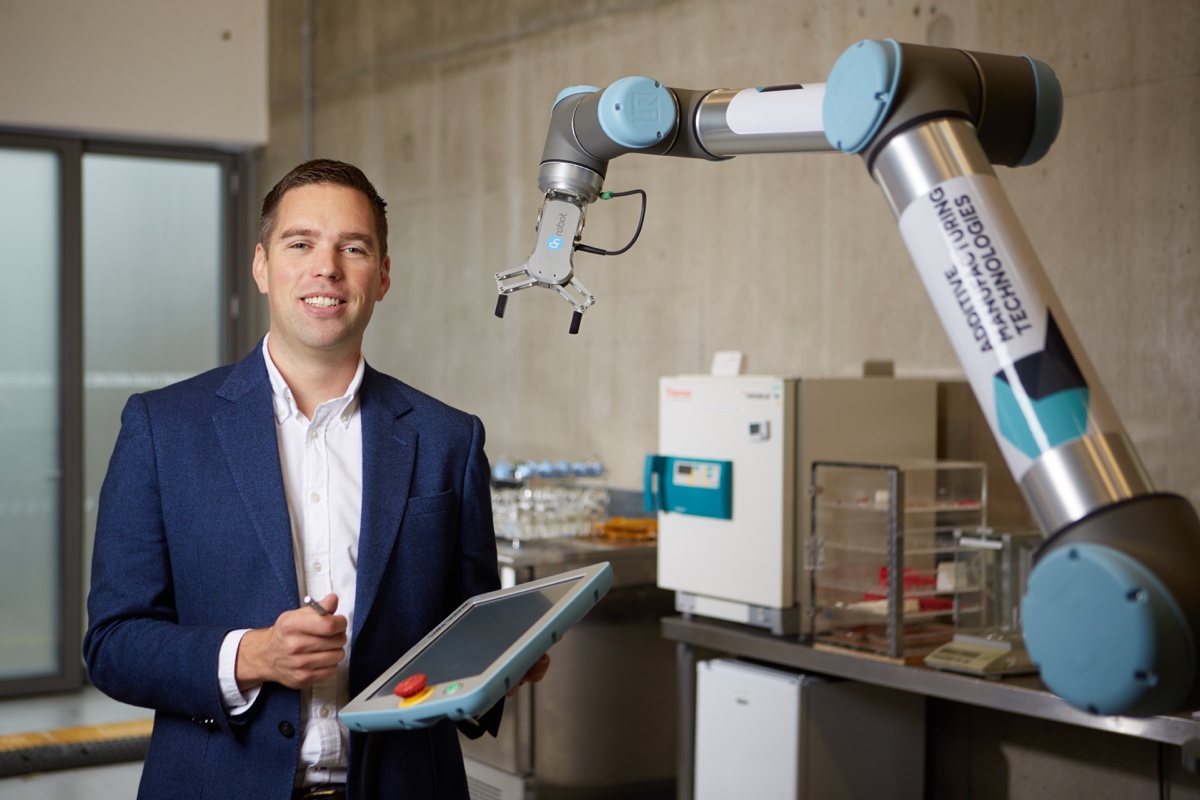 Sheffield company and Sheffield Digital members, AM Technologies (AMT) have been nominated in the Startup of the Year category at the 3D Printing Industry Awards.
3D Printing Industry is the number one publication for all things 3D printing. Its annual awards are prestigious for the industry and this is a fantastic achievement for AMT. It's brilliant to see a Sheffield company doing great things on such as large and recognised platform.
If you'd like to show your support, you can visit the 3D Printing Industry Awards website and register your vote for AMT (voting closes on the 10th May 2018).
About the 3D Printing Industry Awards
Every year, 3D Printing Industry asks its readers to share the individuals and organisation that they think are leading the way in the world of additive manufacturing and 3D printing. This year, the publication received more than double the nominations compared to 2017.
The Awards feature several categories in a range of areas, from medical, aerospace and creative applications to 3D scanning, software and materials. Voting is open to anyone and you can vote in more than one category.
We asked CEO of AMT, Joseph Crabtree what it means to be nominated: "3D Printing Industry is like the industry press and very well-regarded across the world. Nominations are based on current activity levels and recommendations from across the 3D printing world.
"It's a great honour to be nominated alongside other fantastic companies and it comes on the back of AMT winning the formnext Startup challenge award last year. We are in great company, it's very exciting and shows the potential of the company. We see this as a platform to exponentially grow in the next few years."
What does AMT do?
The company was formed in Sheffield with a mission to identify the problems in 3D printing. Unlike most of the industry, AMT chose to focus on the finishing and post-processing stage. It sells equipment but also plays a vital role in research and development.
Joseph explains: "When you hear about 3D printing, it's usually at low-volume. The reality is that as you try and scale production, you run into problems. Printers can print, of course. But post-processing requires lots of time, resources and can involve a range of quality issues."
"And that's where we come in. To be able to scale, you need to study the post-processing stage of 3D printing to enable and unlock it's potential. Everyone is typically focused on the printing side of things – we are the experts in post-processing."
When starting out, AMT were awarded £625,000 by Innovate UK. That was recognition of the work they were already doing and the fact that they had a product in development and ready to go. The company also licensed some technology from the University of Sheffield.
AMT has gone from strength to strength with customers around the world, including China and the US. They have also recently received Made in Sheffield status.
3D printing and Sheffield
Though there are plenty of companies and lots of interest in 3D printing here in the UK, most of the big commercial business is done abroad. In many ways, AMT are flying the flag for both Sheffield and the country.
We asked Joseph about the 3D printing scene in our city: "What we see in Sheffield is a lot of traditional manufacturing, which is great, but we should also be embracing more modern manufacturing.
"In Sheffield, there is lots of good academic work around 3D printing. The University of Sheffield has some fantastic facilities and, of course, the AMRC is also doing great stuff at Factory 2050. But there isn't much commercial work being done, so we are trying to help take it on to the world stage. We want to shout about Sheffield and promote Sheffield wherever and as much as we can."
"Our plan is to launch in the States with a physical presence to help us serve the US market – the largest in the world. We are also looking to grow AMT's research and development spend and increase our staff numbers, all while keeping our headquarters in Sheffield. We think the future is looking very bright."
Find out more
The winners of the 3D Printing Industry Awards will be announced at a special event on 17th May. You can learn more about AMT over on their website or follow the company on Twitter.
And don't forget, you can register your vote for them too. Deadline is 10th May.
Become a member
AMT have been a company member of Sheffield Digital for some time and we really appreciate their support. You can learn more and become a member too by visiting the membership section of this very website.