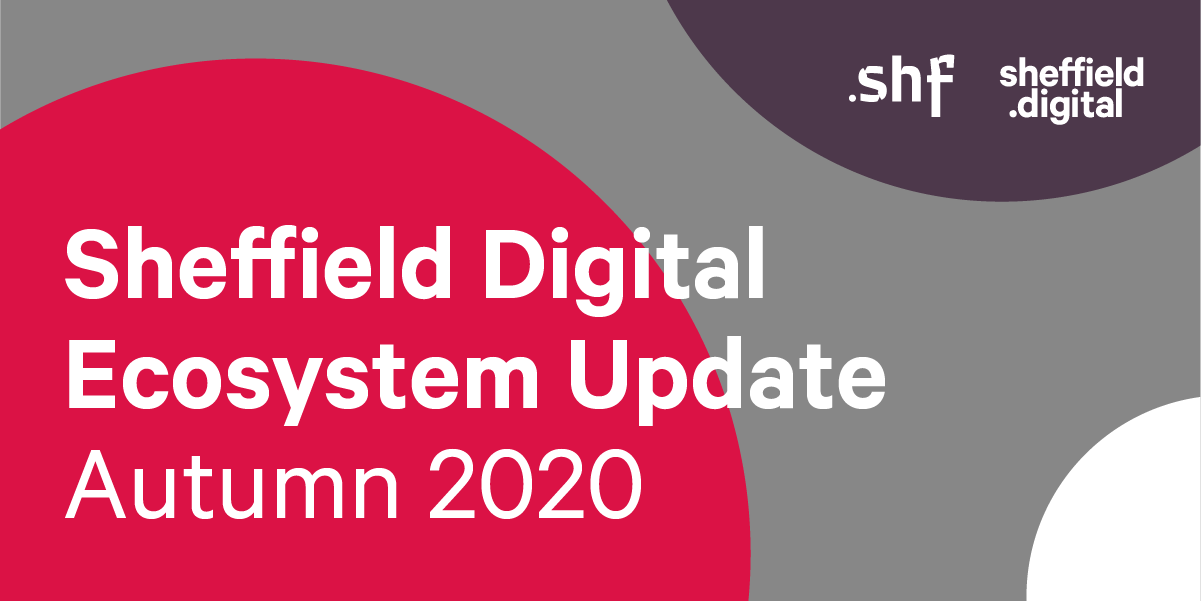 We've had an ambition to produce a regular update on our digital tech cluster for a very long time – a way of reminding our politicians, business leaders and policy makers nationally, regionally and locally that there is a thriving digital tech industry here, what it does, what it needs and how to engage with it.
We wanted something that we could send out physically every three months so that there is a continual drum-beat saying hey, pay attention to us, there's amazing things going on here, and Sheffield might be different than you think it is!
It was amazing to hold the first ever version in our hands in the autumn of 2019. What we could not have foreseen back then of course, was the COVID-19 pandemic, which would begin in early 2020, and remain a major challenge almost a year on. This meant that our plans to produce a quarterly report had to change, and as such, so did the name.
We are delighted to bring you the second edition of our report, the Sheffield Digital Ecosystem Update – Autumn 2020.
This page is the permanent home of each edition, and below you'll find a link to download the full report, as well as links to each section, which sit on our blog. Scroll down further to see links to the first issue of the report, as well as an explanation of what the briefing is, and importantly, our thank yous to those who make it happen.
Ecosystem Update Autumn 2020
You can read this edition in the following ways:
Quarterly Briefing – Q2 2019
You can read this edition in the following ways:
Download the briefing as a mobile-friendly pdf file. This version is also intended for sharing, so please do send it to people you think would be interested!
Read the post that discusses this edition's Headline Info.
Read the editorial article, which for this first edition was written by Mel.
Read the Quarterly Focus, which is on the 'Four Pillars' of Sheffield's Digital Tech identity.
You may also be able to read a physical copy – we'll be handing out the remaining copies to people once we've sent them to the big distribution list of the "great and the good"!
Thank yous!
We work with many partners, locally and nationally to put these updates together, and there are many people to thank for this effort.
A huge thanks goes to Field who have provided us with all the graphic design and layout help for the master publication and each of the editions. They have really refined the look and feel of the publication to something that looks great, converts easily into digital formats and that should be relatively easy and cost effective to repeat and re-use. They've done a tremendous job, and big thanks to Angus and Jonny especially!
Thanks also to Sheffield City Growth, the council's economic development team, Sarah Lowy-Jones and Victoria Penman in particular, who have supported our efforts by sponsoring the first two editions of the briefing under the dotSHF brand in order to promote the ongoing open conversation about the digital economy, and digital development across other city domains that the dotSHF network is fostering.
Many thanks too to the Computer Science Department at The University of Sheffield who have sponsored the latest edition, and have greatly helped us understand the underlying technical capabilities that underpin the digital industries in our city, and which we intend to promote more in the future – the raw research and development that goes on here, in the departments and research centres of both our universities, is really world leading and deserves to be celebrated far more than we think it is.
Many thanks also to Sheffield Business School, the AMRC, Sheffield BID and all the city's incubators, accelerators, initiatives, organisations and companies who have provided content, and especially to all our members who have responded to our questions and surveys.
We're very keen to open the briefing up to other content partners for future editions, and will be announcing the themes in advance so that other people and organisations can get involved in helping us to shape the content.
About the Ecosystem Updates
Purpose
The overarching purpose of the publication is to generate a steady drum beat of information about Sheffield's digital technology cluster in the minds of leaders across public, private and academic sectors, at local, regional, national and international levels.
The objective is four-fold:
Regularly draw attention to the digital technology sector, and thus increase mindshare.
Furnish leaders with basic information about the cluster, including economic figures, geographies, major sub-sectors, firms and support organisations.
Define and declare the current policy priorities, thus providing a clear (and repeated) call to action to policy-makers.
Demonstrate the maturity of the local digital technology industry intrinsically in the quality of the publication and its content, and in the support of sponsors.
Audience
There are three key audiences for the publication:
Our members, sponsors and partners
If we can share a common view of who we are and what is going on we can reflect this in all our dealings with the outside world. In addition, the publication provides an opportunity for members to feed into the process and contribute to the narrative.
Policy makers and influencers
These are local policy makers at the Council, Sheffield City Growth, Invest Sheffield, Sheffield City Region, and other "Combined Authority" Policy Makers, including the Metro-Mayor and Councillors, etc.; leaders of local anchor institutions such as the universities, NHS Trusts, etc.; influential local businesses and support organisations; national Governmental and non-Governmental Economic Development organisations, e.g. DCMS, UKTI, BEIS, DiT, Tech Nation, Coadec, Tech UK, etc.; local Members of Parliament; members of the Press.
Potential investors
These are organisations who are looking at the potential to invest in, or relocate to the city. We expect these people to come into contact with the briefing online, or by referral from the primary audience, or simply through serendipitous contact with a physical copy of the publication.
Of course, in addition to these three, there will also be generally interested members of the public and other organisations such as schools, colleges, workspaces, etc. We're looking forward to seeing what impact this information has more widely and who engages with it.
Distribution
Our intention is to produce 100 physical copies of the publication, of which we send out around 70 to specific influential people and organisations and keep the remaining copies for handing out in person, and on request. We did this for the first edition, however we have not produced a physical version of the second update, due to the logistical challenges posed by the Covid lockdowns.
In addition to the paper copies, we'll also send the digital version (a vertically scrolling pdf with hot links) to all of our members, additional individuals and everyone who has requested a copy to be sent in this way.
Geography
Sheffield Digital represents the digital technology industry in Sheffield and the immediately surrounding area. We also have a partnership relationship with the Barnsley Digital Media Centre, and with the AMRC near Rotherham. Our focus has been to concentrate on the city, but to not be exclusive – we will work with other parts of the region, we welcome members from outside Sheffield and will happily promote events and initiatives from across the Sheffield City Region if they are relevant to our members.
However, we lack the resources to extend the scope of the briefing much beyond the city of Sheffield at this stage. We would welcome the opportunity to integrate our narrative with a wider regional view though, should such an opportunity arise.
Contents
Every update contains information in a standard format, so that we repeat the process and keep our costs low. Each issue will be printed as an A4 booklet consisting of 12 pages. It will also be converted into a 'vertical' pdf for downloading and sharing via email as well as a set of digital assets that we can use for blog and social media posts.
The contents itself will consist of the following sections:
a Cover page.
a Credits page, which room for additional sponsor logos.
a "Headline Info" page, showing useful statistics and the top priorities for the sector.
an Editorial article, written by a different person each edition.
a 'Focus' section, where we look at a different topic each issue, for instance looking at subsectors, or particular people, or events, etc.
a Map page, which is the last page of the briefing and shows the spatial context and how best to engage with the sector.
Sponsorship
Our ability to produce this briefing every three months will depend to a very large extent on the sponsors who provide funding in exchange for brand recognition and promotion. In order for this initiative to work and be credible, it's imperative that we maintain editorial independence, and therefore the sponsorship deal is very clear. There are specific locations where sponsor logos and links appear in the publication and associated online content. Sponsorship branding is also presented separately from content and production partnerships.
The base sponsorship rate is £400 per edition, with discounts for current Sheffield Digital company members and associate sponsors, for multi-issue deals and for joint deals with the Sheffield Digital Showcases which are also quarterly.
Please get in touch.