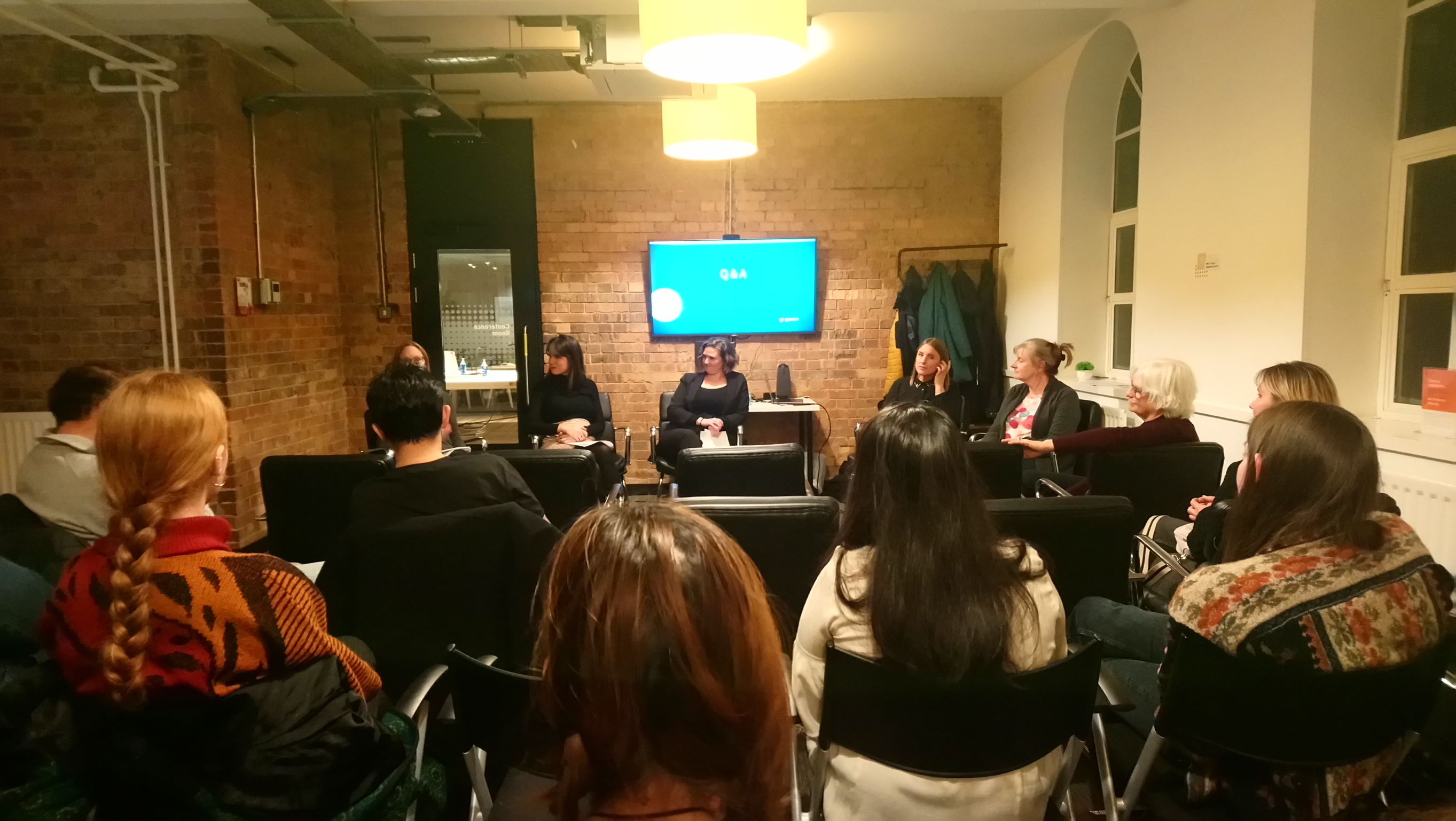 Sarah Lister joined the Sheffield Women in Tech (ShfWIT) ops team this year to help amplify their purpose and to support their community through the Sheffield Digital communication channels. She recently attended her first in-person ShfWIT event, The Founder's Journey, which shone a spotlight on female founders in the city. In this post, Sarah gives us an overview of each speaker and tells us more about the event and ShfWIT, which is looking for new volunteers to join the team.
Just 4% of UK tech startup founders are women and under 17% of all active companies are led by women. The Founder's Journey event set out to shine a spotlight on female tech founders in Sheffield, to inspire those who are considering their own venture, and to provide honest insight into the highs and lows of the founder's journey. Three courageous women shared their unique and relatable experiences, then joined a panel to respond to questions from the audience. Here are my highlights from a superb event warmly hosted by Anna Bollinger, Founder and Director of international award-winning digital agency Appt.
Dash Tabor, Founder & CEO of TUBR
Dash's key messages were about celebrating your wins and understanding your why. She explained that the 'why' behind her becoming a founder has changed over time, but that ultimately she wants to build a better life and support her mum in the future. I think this is a grounding reminder for anyone working towards something they care about, because sometimes the day to day challenges can obscure the bigger picture.
I really appreciated Dash's openness with her audience. She didn't cover up the challenging realities of being a woman working in tech and of starting up a business. It was refreshing to hear about the hardships and how she's learned to be comfortable with 'no' and sometimes being the only woman in the room. It's admirable that she has chosen to take the hard way forward, and she is proving that she can do it.
We've recently published a Company Spotlight on TUBR, where you'll find out more about Dash and what the company does. Read now.
Anna Parkin, Managing Director at Kids Plant Trees
As a fellow nature-lover, I was really excited to hear Anna's story about starting a social enterprise to help more kids find joy in their local green spaces by planting trees and developing a positive relationship with nature.
The key takeaway for me was that if you care deeply about something, then you have to take action to feel less helpless. It's such an empowering message! I enjoyed hearing about how she is taking positive action in her work, alongside raising three children with her husband and following on from a different career path in journalism and content strategy.
Anna's talk left me thinking about how I can take action towards the things that matter to me through a positive community approach, and about the parallels between planting trees and starting a business or social enterprise – primarily that they need good foundations.
Elizabeth Shassere, Founder & CEO of Textocracy
Elizabeth's main theme was about saying yes to new opportunities: "Just start, just ask, just turn up." She shared her remarkable journey towards becoming an entrepreneur after 20 years of working in the public sector.
Elizabeth demonstrated that you don't have to be a 'techie' to be an entrepreneur, because you can find other people to work with you on your idea. Her openness and courage to share ideas at pitch and startup events in Sheffield, eventually led to the creation of her business, Textocracy.
This talk highlighted the exciting opportunities available in Sheffield, the fun side of becoming an entrepreneur, and a strong message that you don't have to do it all on your own.
Finances, funding, and finding balance
Emma Marshall from the ShfWIT ops team and host Anna Bollinger joined the panel of speakers for a lively 30 minutes of questions from the audience. Questions ranged from asking about business finances and funding, to how the panelists find balance in their busy lives.
The energy in the room was warm, welcoming, and open from start to finish, the perfect recipe for people to connect in meaningful ways.
Like the sound of this?
Do you like what ShfWIT are doing? Could you help make it even better? They are looking to expand their team of volunteers and there are lots of ways in which you can help, be it running events, tech skills or supporting and sharing their message. Everyone is welcome to help and they would particularly love to hear from people from underrepresented communities in tech. Please email shfwit@gmail.com for more information or to put yourself forward to join the ops team. You can find out more about Sheffield Women in Tech here.