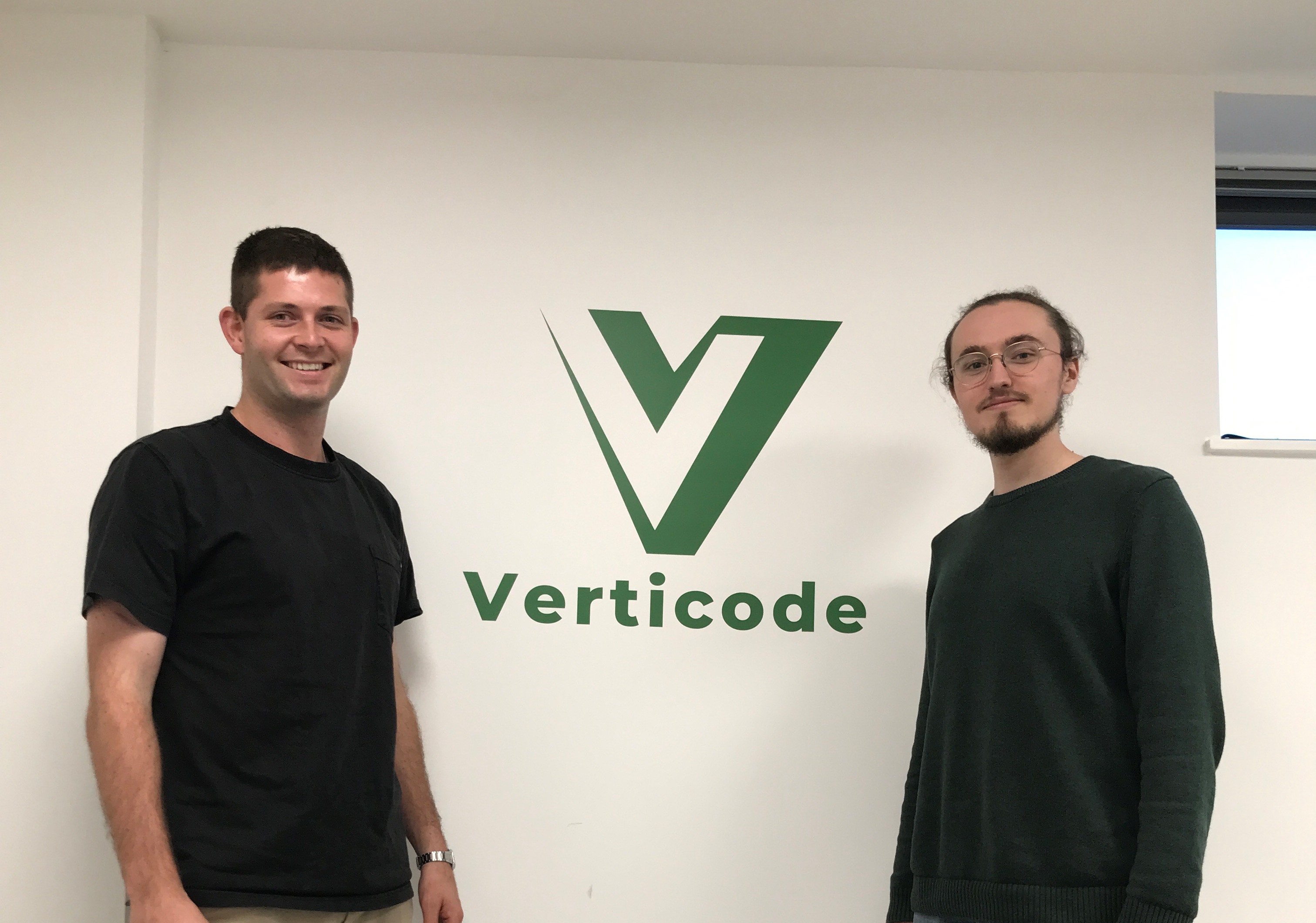 Verticode exists to help start-ups and innovators get their Minimum Viable Products (MVPs) to market at a fraction of the cost and far quicker than traditional methods. Co-founders Sam Crosher and Tom Green have used smart tooling to make the process more accessible, creating an end-to-end solution for planning, building and iterating on MVPs. Since launching in August 2022, Verticode's Sheffield-built solutions are enabling innovation and helping bring ideas to life, across a range of different industries. We found out more from Tom, Verticode's CEO.
Born out of frustration at the barriers faced by founders and innovators trying to get MVPs to market, Verticode uses a proprietary automation toolkit to accelerate the software development process. Effectively, they make it cheaper and faster to get a software product into the market for testing. Customers can pay up to 90% less than some development agencies may charge, and Verticode can build products in days rather than months.
These features are designed to solve the problems of company founders, as well as innovators working within larger organisations. Tom explains,
"If our founder customers can't find a technical co-founder or they don't have funding to hire a development agency, we bridge the gap so they can validate their business concept and put together a compelling case to technical co-founders or go and raise funding to build a complete product.
"Our commercial clients face the problem that traditional development time is long and unviable for simply testing a new product idea. Our accelerated development means we can help them get something into the market in days rather than weeks. This means they don't waste time or resources on a product before validating its commercial value."
These are challenges that were encountered by both Tom and Sam, who met through a co-founder connecting website and quickly saw that they had a similar vision and goals.
Sam, working as a developer, had built many MVPs for corporate and personal clients, and realised that the use of smart tooling could make this process accessible to aspiring entrepreneurs, not just those with a large cash backing. Tom had previously spent months trying to find technical co-founders or being offered unachievable quotes from development agencies, a painful process he describes as "crippling" for many founders.
The pair believe their product enables innovation, rather than stifling it. They want to help bring people's ideas to life, and are well aware of the huge responsibility that comes with this.
"As with most businesses, the challenge has been (and probably always will be) getting customers to trust us with their ideas and dreams," explains Tom. "People are very attached to their ideas and being tasked with bringing them to life is a huge responsibility – we don't take it lightly.
"We focus on ensuring our customers feel confident in the Verticode process and certainly don't separate clients from their money before they are happy with their product."
Often their customers don't initially believe what Verticode's technology can do, and Tom describes how their reactions can be "quite overwhelming" when it delivers exactly as promised.
One customer said to Tom: "I have to say, it feels surreal. I've been pulling my hair out trying to do this for over six months. You guys are a huge asset to the startup community."
Part of an exciting ecosystem
From their office at Site Gallery, Verticode wants to build its presence in Sheffield and make the most of the focus on start-ups, innovation and technology in our region. Tom comments,
"We find the Sheffield ecosystem to be so enabling and equally, we find it exciting to be in a city with so much growth in the innovation and technology space."
Tom and Sam want Verticode to be a key contributor to this space, and are confident in their offer.
"More than anything else, we want founders and innovators in Sheffield to know that there is now a way to get a software MVP into the market without spending months looking for a co-founder or parting with huge sums of money at development agencies."
Beyond Sheffield, plans for 2023 include helping the next generation of entrepreneurs to bring their ideas to life by hosting a range of MVP-focussed activities at a student accelerator in Manchester. The team is also looking to work with regional accelerators across England, Northern Ireland and Scotland, to share their expertise and spread their MVP message.
And, being innovators themselves, Tom and Sam are continually developing their own product. You can expect to see a new machine-learning enabled 'building assistant' in the new year, as well as other tools to help make the build process even faster and smoother for clients.
To find out more about Verticode visit the website: verticode.co.uk and to get in touch, email: hello@verticode.co.uk.