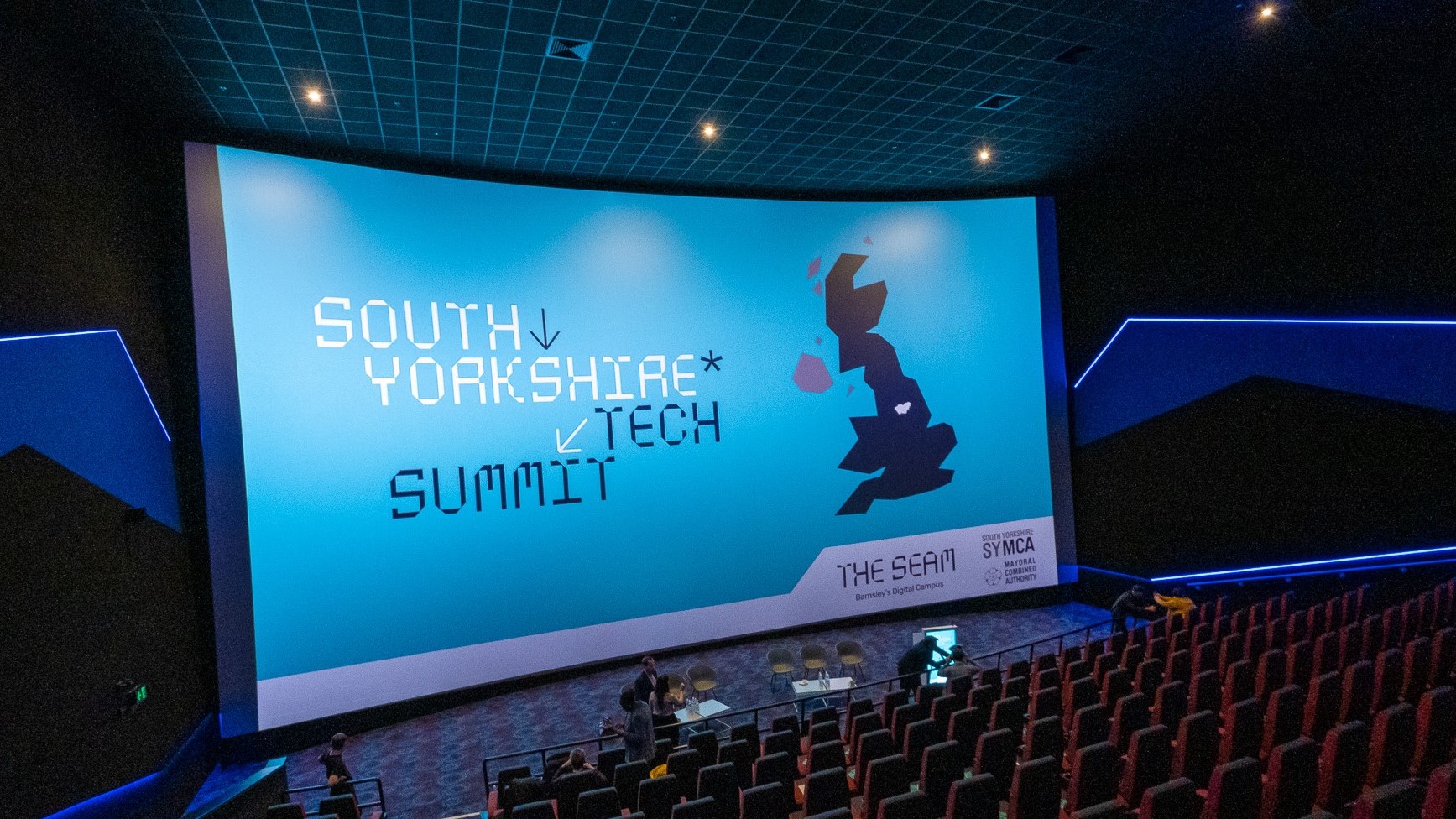 On Thursday 24 November, I attended the inaugural South Yorkshire Tech Summit, organised by The Seam (Barnsley's digital campus) and held in the new Cinemax at the Glass Works in Barnsley. The event had an interesting mix of content and included the launch of a new Tech Welcome Grant in the region and a report on the South Yorkshire Tech 100.
The event opened with a short address from Oliver Coppard, the South Yorkshire Mayor. We know that Oliver is pro tech and digital and understands its potential in the region, and this was echoed in his remarks. He closed by saying, "This is South Yorkshire's first Tech Summit but it will not be our last. If we get it right today, our city region can lead the next revolution as it did the ones that came before."
Putting aside the fact that every region in the UK would like to claim to be "leading the tech revolution", this gave an indication of what I think the event was actually about: what is South Yorkshire doing to "get it right" and what else needs to be done?
The first area of focus was a discussion of the importance of improving inclusivity and diversity in tech entrepreneurship, in the form of a conversation between Emma Obanye and Alison Partridge. Emma is managing director of OneTech, which is a semi autonomous organisation within Capital Enterprise that connects under-served founders to opportunities in the UK tech and digital start-up ecosystem. Alison, who helped set up OneTech, is a consultant who specialises in inclusive enterprise, entrepreneurship and economic development in European and UK cities and regions. They shared their own experiences as well as their observations on the benefits and challenges of developing a more diverse ecosystem.
Next, I joined a panel discussion on "the regional tech ecosystem", chaired by Emma Obanye. My fellow panelists were Laura Bennett, one of TEAM SY's 'super-connectors'; Tanya Suárez, CEO of IoT Tribe; Tero Kyckling, a senior advisor from Business Tampere in Finland (Tampere has an international reputation for its thriving tech and start-up scene) and Alison Partridge. We had a wide-ranging conversation, each bringing our own perspective to what makes a strong regional ecosystem, how we saw the current situation in South Yorkshire and what else needed to happen.
We then heard about the new Tech Welcome grant which is designed to attract more start-ups to South Yorkshire. The Tech Welcome Grant is a South Yorkshire Mayoral Combined Authority (SYMCA) funded initiative, which will provide grants of £5k to £10k to businesses new to South Yorkshire and start-ups from outside the area to relocate here and create jobs in the region. It is a trial project which will combine with the start-up support available through TEAM SY and the variety of start-up accommodation available across the region.
Continuing on the start-up theme, Darren Balcombe, Deputy CEO of Capital Enterprise, presented the key findings of TEAM SY's South Yorkshire Tech 100 report. Based on data from Beauhurst, the report shows that the region's tech start-ups secured equity funding totalling more than £52.6m in the first ten months of 2022. This is 42 per cent more than in all of 2021 (£37m) and 129 per cent up on the £23m recorded in 2019, when Beauhurst started tracking investment activity in the region. While this is encouraging news, Darren said, "There is a lot to be proud of in South Yorkshire's tech economy, but plenty of work to do to turn its emerging start-up scene into a strong, self-sustaining engine of innovation and growth. South Yorkshire is home to several market-leading tech companies and thousands of start-ups that need investment to scale and create new jobs faster."
The report takes a broad view of tech, including bio-tech, health technologies and industrial and manufacturing tech as well as digital. It also takes a broad view of the term "start-up" as it covers companies founded since 2000, many of whom would be better described as scale-ups and beyond. But it does do an interesting job of highlighting the size and variety of South Yorkshire's technology industry and of positioning the region as somewhere credible to build a tech business.
Next, Ceri Batchelder, another of TEAM SY's super-connectors, hosted a series of interviews and videos spotlighting some of the start-ups currently participating in TEAM SY programmes. You can see a brief film about some of them here.
Finally, and picking up nicely on Darren's comment about the need for investment, the keynote speaker was Gary Stewart, managing director of Techstars NYC powered by J.P. Morgan. Gary is the former CEO of Wayra UK (an early-stage corporate fund and accelerator powered by Telefonica/O2) and has worked with numerous partners to "democratise entrepreneurship" in the UK. Gary took us through a whirlwind set of slides to describe his lessons learned from "levelling up" entrepreneurship across the UK and the world. My take away from Gary's talk was that the most important thing for any entrepreneur and any region looking to build a strong entrepreneurial ecosystem is . . . money. If initiatives and programmes aren't backed up by investment, they won't work.
Which brings me to my overall thoughts about the event and our regional tech start-up ecosystem. The event was an enjoyable and occasionally thought-provoking celebration of the progress that is being made and the people who are behind it. However, it left me wondering, "What's next?".
One of the concerns I raised during the panel discussion was about what would happen when the current funding for TEAM SY finishes. A great deal of the success of TEAM SY's many programmes is down to the hard work of the people involved in delivering the accelerators and connecting the participants into the regional ecosystem. If all those people end up out of a job, who will maintain the ecosystem and keep the connections flowing? Who will make sure that the start-ups who come here continue to be supported and therefore want to stay? It is not just the entrepreneurs who need investment; the ecosystem does too.
My second concern is around the thing that I think start-ups need just as much as investment: skills and talent. All of these exciting new tech businesses that are coming to the region to take advantage of the support available, need talented people to work in them. The competition for talent is only going to increase and I feel that our region still lacks a coherent, long-term plan for addressing the skills challenge and ensuring that opportunities are open and accessible to as many local people as possible.
It will be interesting to see if the Summit happens again and, until then, what progress is made on the ideas that were discussed. But it was good to see people getting together to hear about South Yorkshire's tech start-up ecosystem and to recognise the amazing work that has been done so far. I'll add my own recognition to that, with applause for the indomitable Tracey Johnson in Barnsley and TEAM SY's team of super-connectors and accelerator supporters: Laura Bennett, Ceri Batchelder, Samantha Deakin Hill and Pippa Hedley-Takhar.