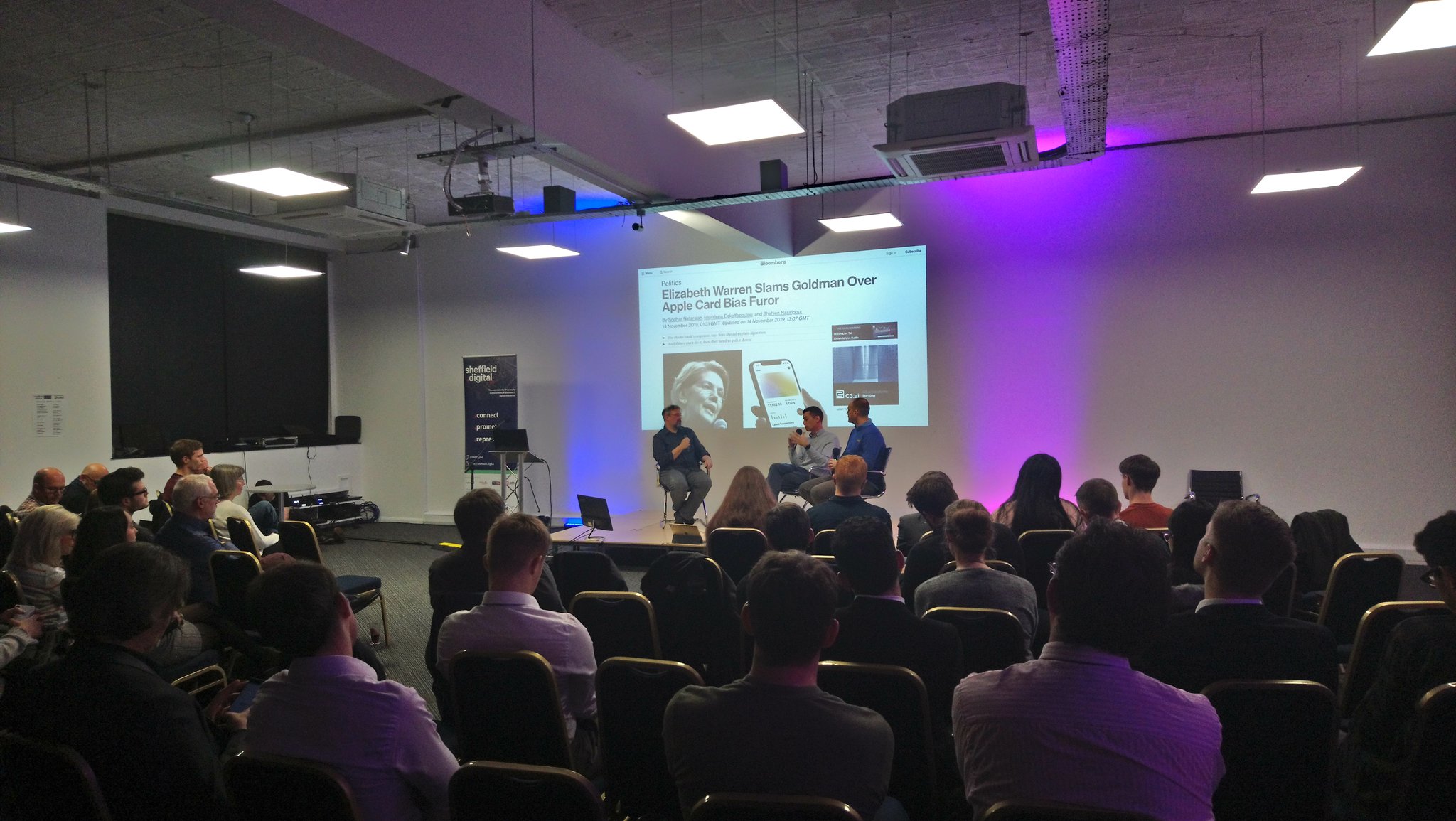 The Sheffield Digital Winter Showcase was held on Thursday 12th December 2019 at The Workstation, with talks showcasing five impressive digital projects recently developed here in the city.
The purpose of the Showcase events is to get together to celebrate digital products, services, campaigns and experiences that are made in Sheffield and to introduce audiences both online and off to the people who made them. People who attend learn about our tech industry across the whole range of markets and application areas, and have the opportunity to network in a relaxed and informal setting.
It was great to welcome so many attendees to the Christmas Special, with many arriving before the talks started to enjoy mulled wine and other refreshments. It was really nice to feel the buzz in the room building while things were being set up, with people only taking to their seats just as the talks began. We were especially excited to see the young robotics team from UTC Sheffield arrive with their new design ready to demo. Massive thanks to Sam Briggs from Starling Solutions for stepping aside to let VEX Robotics Team 47618C present – he'll be back on the guest line-up for next Showcase in Spring 2020!
Thanks to The Workstation for providing The Creative Lounge for the Showcase, along with a Christmas themed buffet and a great range of refreshments. The mulled wine went down really well, along with the extended hour for networking.
The success of the events is entirely down to the guests, the tremendous work they do and their willingness to come and talk to us about it, for which we are hugely grateful. The format encourages guests to share the whys and hows of their work, so that the audience can really understand the purpose and impact. Please do get in touch if you would like to present your digital project, product, service or experience at a future showcase event, meanwhile enjoy the Winter Showcase talks:
Adiam Amanuel, Founder of 721
Adiam shares how she has created a new type of social discovery App aimed at helping to showcase the best of what the Steel City has to offer, and guiding people towards finding things to do based on location across the globe. Find out why her idea came about and how she's accelerated her startup so quickly.
"I got the idea when I was travelling in India…I did my research to see if there was an app out there that existed that could do this but there wasn't one, so I thought right perhaps this is the time for me to do it."
Dan Dukeson, Director of Engineering at Pendo
Dan talks about how his startup integrated their product into a larger tech business after being acquired. Find out how the launch went, why the migration was scary, and what lines of communication were integral to the process.
"One of the jobs we needed to do was to migrate everything that we'd done…it's dangerous and risky to take a really well functioning service that works and move that into another cloud."
Martin Benson, Head of AI Consulting at Jaywing and Tim Latham, Owner of Datatrainer
Martin and Tim present Archetype, Jaywing's new easy to use and algorithmically transparent artificial intelligence engine. Find out what the tool is, how it benefits users, and view a demo project.
"…we've done twenty proof of concept projects, mainly with banks and financial services companies…and what we've done is to take some data from them, use Archetype to produce a predictive model, and then do a like for like comparison of how the Archetype model compares to their existing model, to show the benefit very concretely."
James Jefferies from Shedcode
James introduces us to Energy Sparks, the project which is empowering children and school staff to fight climate change and reduce their energy bills. Find out how he got involved, where the idea started, and who it can help.
"The real thing for me is empowering school kids to learn more about energy, about how to save money on energy, about climate change, and empowering them to do things in their school that's going to make a difference."
VEX Robotics Team 47618C from UTC Sheffield
VEX Robotics Team 47618C from the UTC Sheffield at Olympic Legacy Park talk about gearing up for a new season of competition, while three other young Sheffield teams are on their way to compete in the international finals in Shanghai. Find out how they started building the robot, the object of this season's game, and the schedule for upcoming competitions.
"You can go in any direction you really want, you can do whatever you want with the equipment that you've got."
The event was once again held in association with The Platform – the creative and digital industry business networking series produced by Showroom/Workstation, Sheffield Technology Parks and Business Sheffield.
Until next time…
We're already looking forward to the next one in Spring 2020 – we'll announce the date, venue and guests over the coming weeks, but meanwhile make sure you subscribe to our newsletter so you don't miss it!