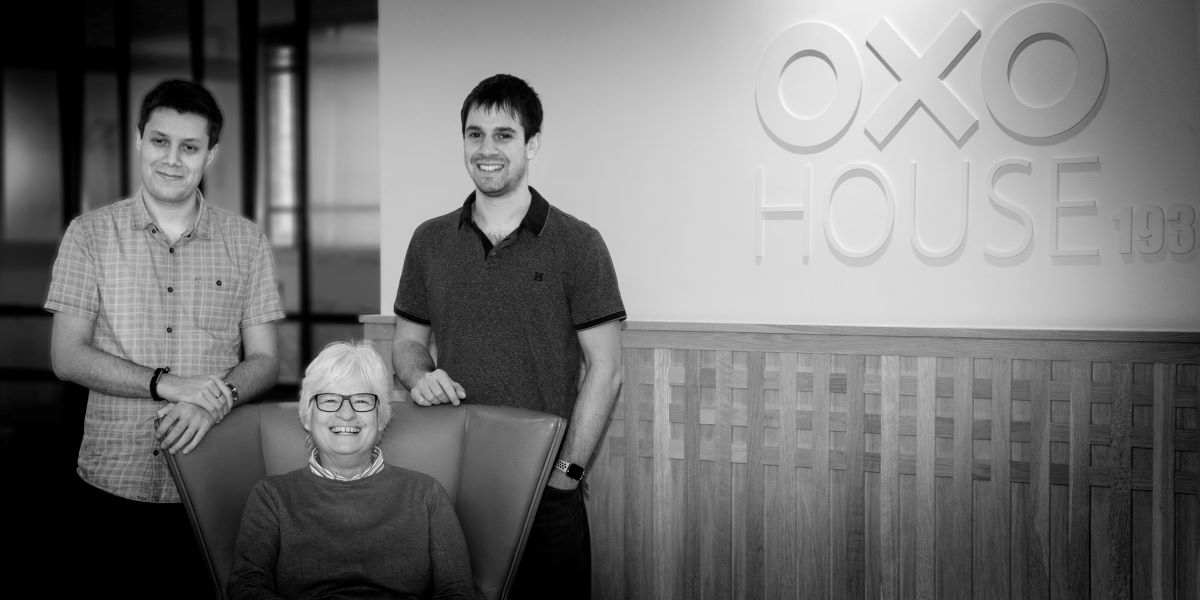 The Curve is a small company with a lot to offer. Launched just under a year ago by brothers Paul and James Ridgway, the Sheffield based consultancy helps businesses to design, implement and manage technical solutions. Experience has taught the business owners that technology is only half the story and as a result, their services range from software development, through to training, mentoring and recruitment support. We spoke to James and Director of Business Development, Melise Jones, to find out more about The Curve.
Company founders Paul and James Ridgway understand what it takes to grow a business. For just over seven years, they worked at the UK's most successful Global Telematics Platform, where Paul was a co-founder and James joined as one of the first employees. Both in key leadership roles, the brothers supported the company's growth from a three person start-up to a 120-strong international business. James comments,
"We've seen what it takes to grow a business in terms of headcount but also a business operating in the UK growing to a company that operates across Europe, the US and China. There's a lot that comes with that kind of growth; how do you scale the business and people? How do you deal with the culture change that happens?"
In early 2019, Paul and James decided to start out on their own, leveraging the experience they'd accrued and their technical skills to carve out a broad service offering. Almost a year on, The Curve is now a team of five and has recently moved into a new office in Oxo House.
What does The Curve do?
Broadly speaking, the company helps others to design and deliver technical solutions.
Major technology projects bring changes to staff roles, internal processes, training requirements and business strategy and The Curve offers assistance in all of these areas. James says,
"Everything we do speaks to that experience of having been there and done it before. We can help to deliver a tech project from start to finish and we can partner with other tech companies that have stretched capacity and need some 'overflow' support. We also offer managed services and we can train and upskill teams around technology, as well as supporting professional development."
An example of this is The Curve's 'Chief Technical Officer (CTO) on demand' service, designed for companies in need of strategic help but often without the budget for a full time appointment. James explains,
"If somebody is working in a technical role in a small business, and they are the expert in their field, how do they grow and progress? Who do they learn from in order to move to a leadership role? We can offer behind the scenes support to mentor and train a less senior person up into a CTO."
The Curve has clients across a number of sectors, including financial, legal, health, education and the arts. Diversity in what they do and who they do it for enables the team to continue reinvesting new insight into each project. Melise comments,
"We get so much variety with our work that it means we don't get innovation cramps! What we learn on a project in the financial sector might give us something really cool to think about and apply to work in a completely different sector."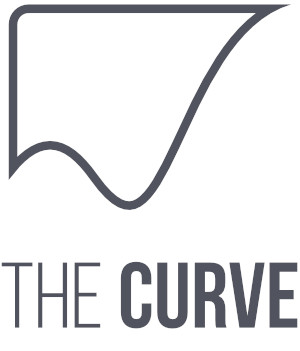 Clients include NHS Rotherham and The University of Sheffield, for which The Curve helped to commercialise a piece of Intellectual Property developed by the university. This was one of the first commissions for the company and it proved useful in validating what The Curve can do. James says,
"This spoke to a lot of the different services we offer, like doing a business plan and financial forecasting – everything they needed to set up a company. This included training the team to be more like a software development company that is delivering out to the world, not just developing for research and academia purposes. We also helped them to research and recruit a CTO type role because they'd never had one before, so it's hard to know whether someone actually has the skillset you need."
Melise adds,
"The project validated the fact that we do have a broad offering and we have these deep experiences in all phases of a tech company's life. From start up, to scale up, to in-life and maturity, and then how you deal with the culture shifts and commercial changes that come with that."
Bursting out of the bubble
On taking the decision to pursue their own business, Paul and James quickly realised that they didn't have much of a network around them. James explains,
"We spent seven years in a bubble doing our thing. When we came out of that we had a great network if you want to do insurance telematics, including loads of contacts at global blue chip insurers. But wanting to do what we wanted locally, we didn't have the right contacts around. So, we spent three weeks going out and meeting people every day for coffee – I hated coffee by the end of it! So, one of the lessons I learned the hard way is that it's better to have a network and not need it, than not to have one and need it."
Since joining the company in June 2019, Melise has led on building the company's network, which has included becoming a member of Sheffield Digital. She too brings a huge amount of experience, having worked in senior roles in the technology business sector for over 30 years, including locally for Plusnet Plc and WANdisco. On working for The Curve, Melise comments,
"This isn't selling. I believe in our brand; what we do and how we do it and I believe in what Paul and James can do. You've got to remember what you've learned and this business is going to be successful because they've learned for seven years and remembered all of that."
Considering the response she has had from Sheffield's tech and wider business community, she adds,
"People are very lovely and very helpful and supportive. They have not been shy about referring us, which is great."
Growth, culture and problem solving
Looking ahead, The Curve's business plan sets out growth targets for its second year. Beyond that however, James says they will take a cautious approach to expanding the company's headcount. He explains,
"In less than a year we've grown to a team of five and we've moved into our first office. By the end of the next financial year, we want to grow to 10 people, and at that point we will take stock and think. Do we want to grow it? And if we do, what to? We've done the 100 person company before and we know what comes with that.
"Our culture is all about integrity, honesty and quality. We like to put our people first and we are invested in the idea of training and upskilling our team. At scale, that can become much more challenging."
Whilst The Curve operates nationally, its immediate focus for business development is the Yorkshire region and the team is keen to let fellow Sheffield Digital members know that they are 'open for business'.
"We want to talk to people who have a technical problem we can help with. You don't have to come to us with the solution; bring us the problems and we'll work together to help you figure it out. Problems carry more context and when you are armed with context, you can make better informed decisions."
Both Paul and James are regular speakers at events in the digital community and they were recently part of the winning team in the Urban Flows data hack, where they designed a digital solution to utilise data on Sheffield's energy and resource flows.
To celebrate its first anniversary, The Curve is hosting an event at its headquarters in Oxo House – check out the details below and give the team a call if you can attend.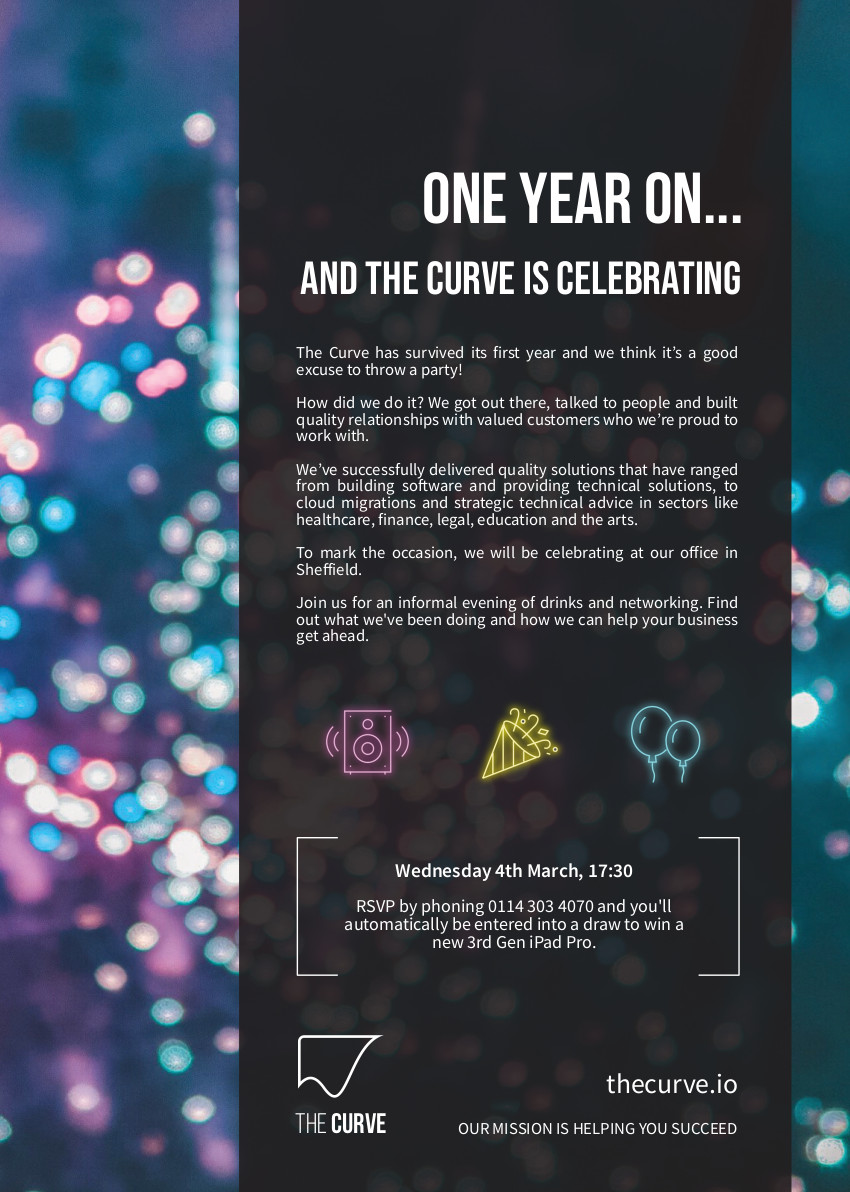 To find out more about The Curve visit the website, follow the company on Twitter or get in touch with them on email: info@thecurve.io