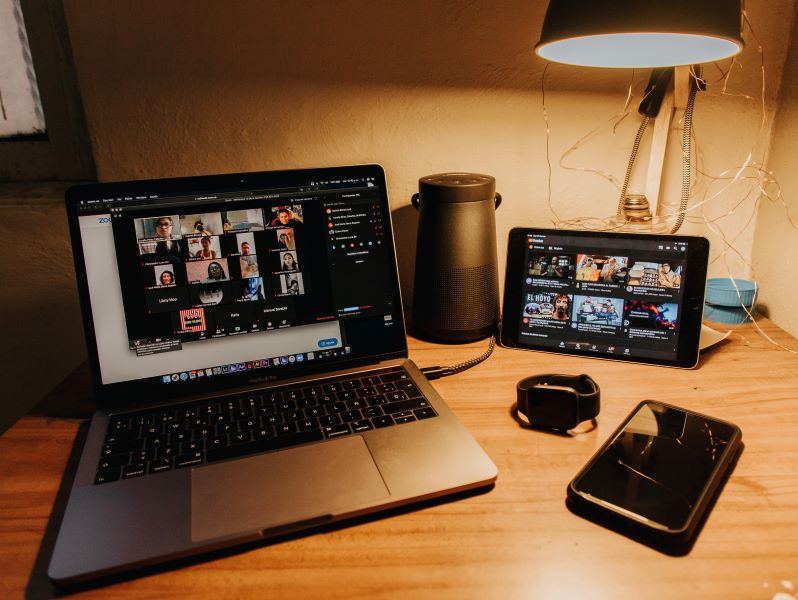 Remember the days when a 'Zoom' was a multi-coloured rocket-shaped ice-lolly? Now, it's less about eating and all about (virtual) meeting. Zoom's popularity has really rocketed since the coronavirus outbreak forced us into lockdown. In March it had 200 million daily users, an increase of 1900% since December 2019. But with such a rapid increase in demand, several issues with Zoom – largely relating to security and privacy – have cropped up.
Not only this, but meet-up and event organisers are now faced with, well, faces. And not much else, just lots of faces looking back at them on a screen, without the usual dynamics, the natural hustle and bustle, small talk and human contact that you find at events.
So what's the secret to holding a successful, secure online event that your participants can really enjoy? We've compiled some of the good practice our community has fed back to us, along with our own tips on hosting meetings and meetups over Zoom.
What type of event are you hosting?
Zoom offers two options: Webinars and Meetings. Zoom webinars may be better if you're expecting a lot of people to attend, as it's easier for the presenters to open up the floor for discussions through polls and Q&A sessions, rather than having people talk. You can create the polls beforehand, and then decide when to open them up to participants during the webinar. The Q&A panel allows people to submit questions that you can then answer at a point that suits you.
Zoom meetings are a little more intimate than webinars and the format is less one-sided. Meetings can be better if you want to hold a discussion or workshop where everybody can talk and become the focal point while they speak. You can also split into groups using the 'breakout room' function. This allows the host to create separate rooms that they can assign groups of participants to for discussions.
You can prepare the breakout rooms beforehand by logging in at https://zoom.us/, or you can create them on the fly through the Zoom app. This option might be good for meet-ups and networking type events, where value for the participants may come from meeting and speaking to a small number of people at the event with a specific interest.
Managing your meeting
Like a regular offline event, as host, there's a number of different plates to keep spinning before and during your online event.
We recommend having two or more monitors if possible. This will allow you to have your main screen with slides, notes etc. and additional screen(s) to show the Zoom meeting chat and a gallery of participant webcams. This is a particularly useful hack if you need to quickly mute somebody with a lot of unexpected background noise or activity (remember this? – although let's not pretend we haven't all watched and enjoyed it at least 27 times).
Check the meeting settings – it's wise to have people muted as they enter the meeting in case of late attendees.
Try to use an ethernet connection rather than Wi-Fi as Wi-Fi can be unstable and drop out.
Consider having a second co-host, who you can delegate on the participant window, they'll be able to mute people and help out with the hosting.
Stay secure
After several high-profile security concerns have come to light recently, Zoom has released regular updates for the app, so before you start or join a Zoom event, make sure you check for any updates to the software (the downloads page is here).
There are some other ways you can ensure your Zoom meetings are as secure as possible, for you and your participants:
After recording a meeting (if you have chosen to), rename the file immediately to avoid the potential of a searchable link. This can help prevent the file being indexed by search engines if you eventually upload the file to a public repo.
Be careful with how you share the meeting or webinar password. As standard, all events created with our Sheffield Digital Zoom account require joining participants to enter the password for that specific meeting.This is generated automatically but the password can also be edited by the host in the event's settings page. We advise only sharing the password shortly before the event starts, in a closed group or directly with individual participants.
When you share the web address of your meeting with others, make sure that it does not include your meeting password. It should look like zoom.us/j/000000000 and not zoom.us/j/000000000?pwd=xxxxxxxxxxxxx.
Make use of the Waiting Room feature – this is enabled by default for all meetings and webinars. The feature places anybody joining the meeting into a "waiting room" where they have to – you guessed it – wait, until the host or co-hosts let them in to the meeting. The hosts can choose to approve everybody in the waiting room at once, or on an individual basis.
When you set up your Zoom meeting, open the 'advanced options' and make sure that the option to 'Join before host' is not selected. That means other attendees cannot enter and must wait for you to join and start the meeting.
Familiarise yourself with the 'Security' area, which is accessible via the in-meeting toolbar. This is a new feature that brings all the security-related tools (such as disabling screen-sharing for participants, locking the meeting, disabling private chats between participants) into one easily-accessible place. (NB: If you can't see the 'Security' icon in the toolbar when hosting a meeting, you will need to download the latest Zoom client here).
We found some of these tips in a useful blog post from Make It Click, which is all about keeping your Zoom calls safe and secure, we'd recommend you take a look.
You can read about the list of issues that have come to light so far with Zoom, and advice on how users can mitigate them, in this article.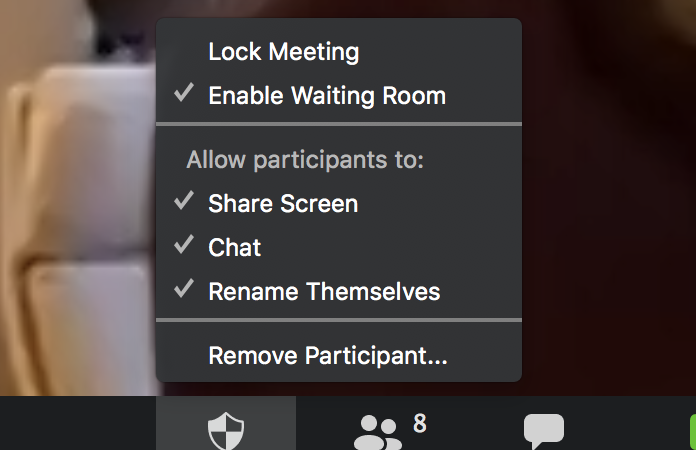 Make it a good experience for your participants
Just like meetings that happen offline, things can be a little awkward for early arrivals, particularly if this is a new crowd who haven't met before. Consider setting up a waiting room so that everyone 'arrives' at once when you are ready, or alternatively you could have some intro slides and topics for discussion on display. This time can then be used to get people thinking about the topics, or for you to set the scene and give an informal introduction to the ideas behind the event.
Try to engage your audience by asking questions and by responding to comments and chatter in the meeting chatroom. If you opt for the Zoom meeting format, rather than a webinar, you could split people into different rooms for more of a workshop-style meetup. Some people will feel more comfortable speaking in a smaller group and contributing ideas. You could use the Liberating Structures 1-2-4-all approach as a guide.
Not everyone will want to speak or have their camera on during a Zoom meeting so be inclusive and encourage people to attend regardless. The Sheffield Women in Tech meetup organisers have an Observer (listening not talking) and Initiator (talking) policy which they apply to both their online and offline events. In promoting their events, they say: "You don't have to have your video on, or even talk in any of our sessions. We are glad just to have you attend in any way that suits you."
If you are an attendee
If you feel comfortable to do so, try to interact with the hosts where possible. They'll be used to reading the room and responding to the reactions they can see when they're face to face with their audience, so hosting virtual events can be quite unnerving, especially if you have your video and audio turned off, or people aren't talking in the meeting chat. Even if you don't have anything relevant to say, encouraging nods and facial expressions can go a long way.
Avoid Zoom burn-out
Video chats require more focus than face-to-face conversations and our minds are working harder to interpret the non-verbal cues (like facial expressions and body language) that would normally help a conversation or meeting to flow. This has led to what some are calling 'Zoom fatigue' – people becoming exhausted from the increase in video chats in their day to day lives. In this article from the BBC, experts look at the reasons behind Zoom fatigue and suggest ways to alleviate it, such as only using video calls when absolutely necessary, including non-business- talk at the start, and not having cameras pointing directly towards you.