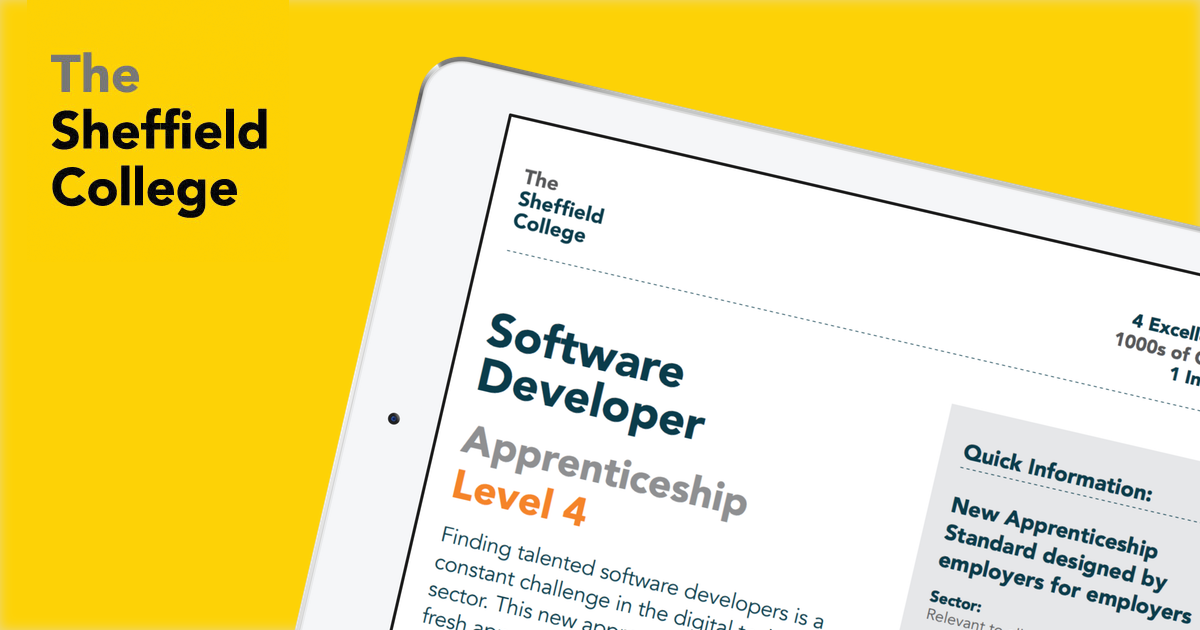 Sheffield is taking a step closer towards building a stronger pipeline of digital talent with the announcement that Sheffield College's level 4 software developer apprenticeship will be starting this September.
Recruitment has already begun and employers should get in touch with the College if they are interested in recruiting or in helping to showcase the range of opportunities that are available with local businesses.
Pre-course bootcamp
The apprenticeship will be marketed to the following three groups.
Students finishing computer science A levels and BTECs who don't want to go to university.
Students who have started university but found it is not right for them, or who have graduated in another area but want to retrain.
People who are looking for a career change, a new opportunity or to return to work.
All suitable candidates will be invited to take part in a two-week, pre-course bootcamp that starts 2nd July 2018. The purpose of the bootcamp is to get everyone to a similar level and have them work on a project with employers. It is also a great opportunity for employers to meet and work with potential recruits.
You can find more details on the bootcamp and the overall course content and structure in the Delivery Schedule [DOCX 24KB] and Software Developer Apprenticeship course description [PDF 94KB].
Information for employers
The College would like to hear from companies who are interested in recruiting and also to be able to give potential candidates examples of the kinds of roles that are available in the local industry. If you would like to recruit one or more apprentices from this first cohort, please complete this template [DOCX 105KB] and email it to jobconnect@sheffcol.ac.uk as soon as possible.
If you don't plan to recruit an apprentice right away, it would still be really useful if you were to complete the template anyway to help provide information on the types of jobs that might be available.
Completing the template does not commit you to hiring an apprentice.
If you are just completing the template to provide job examples at this stage, please return it to Liz Wallis – liz.wallis@sero.co.uk – by Friday 25th May.
If you have any questions, you can contact the College direct by emailing jobconnect@sheffcol.ac.uk or phoning 0114 260 2600 and asking for an employer adviser.
Thank you!
We think this is great news for Sheffield and are really pleased to have been able to work with the College to help make this happen. Huge thanks also go to all the employers who took part in the roundtable workshops to help shape the structure and content of the programme. We hope many more will get involved as things progress.