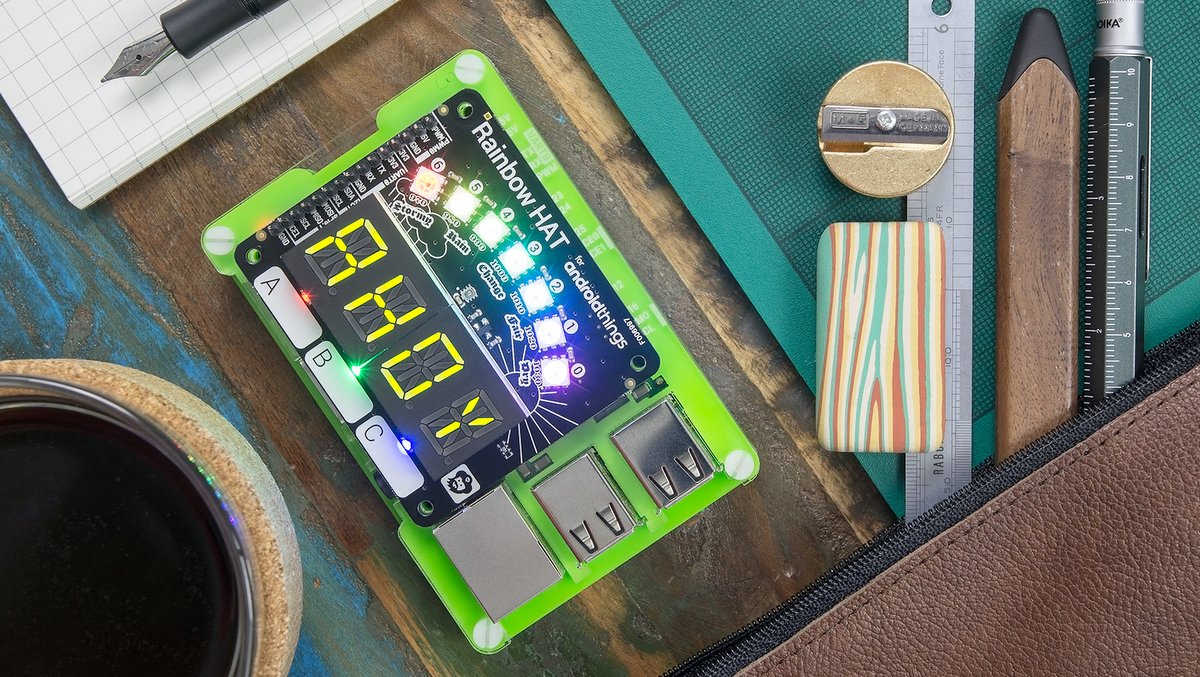 Android Things, an Internet of Things (IoT) platform from Google Inc, was launched this week with supporting kit from hardware providers worldwide.
Pimoroni, the only European hardware kit partner, have launched a new HAT (Hardware Attached on Top) alongside a complete starter kit for people looking to try Android Things on the Raspberry Pi. With it, they move closer to their aspirations for the business to be the first port of call for Makers, hackers, electronics hobbyists and IoT developers in Europe.
Android Things is an IoT platform based on the Android™ operating system offering support for a range of single board computers including the Raspberry Pi, the go-to platform for IoT and digital making. Developers will be able to use the same toolset that they develop Android™ apps with to create projects that can sense and react to the world.
Jon Williamson, co-founder of Pimoroni said, "To be asked to be a launch partner for Android Things was very exciting for us. We've worked hard over the past four years to position our business at the forefront of Raspberry Pi add-ons. Working with the IoT team at Google has been a great experience and we expect to see some wonderful Android Things projects from our community in the near future!"
Paul Beech, co-founder of Pimoroni and designer of the Raspberry Pi logo said, "We love helping people take their first steps into Making. Our Android Things kit combines two names we love, Google and Raspberry Pi, to give a clear starting place for people who want to make their own smart hardware."
The Rainbow HAT plugs directly on top of the Raspberry Pi to extend the features of the tiny computer. The HAT has seven multicolour LEDs, a wonderfully retro 4-digit alphanumeric display, three capacitive touch buttons with blue, green, and red LEDs, a temperature and pressure sensor, and a piezo buzzer. With it, developers will be able to create an array of projects, such as a weather sensing mood light or system status monitor.
Find about more about Pimoroni's new Rainbow HAT and Android Things.