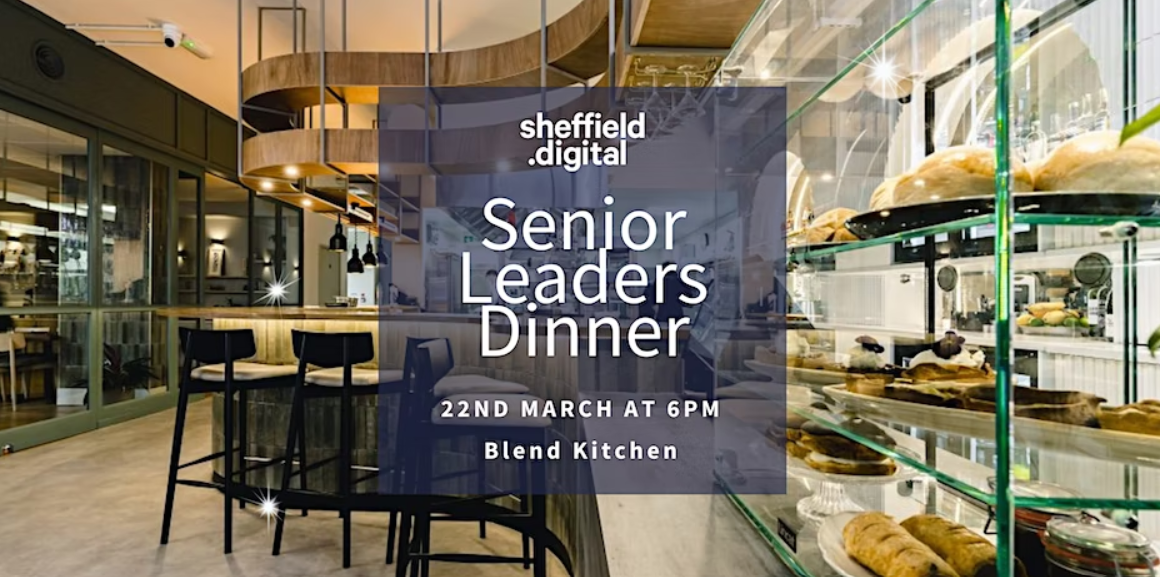 After a successful launch last October, our event for senior leaders in the digital industries is back. Taking place on 22 March at Blend Kitchen, it's an opportunity for those working in leadership positions to meet and speak with others facing the same challenges and making similar decisions on a day-to-day basis. All over a delicious three course dinner in a great setting! Tickets are selling fast but there are a few spots left for company members (and those who are thinking of joining Sheffield Digital, too).
We created the Senior Leaders Dinners because leaders of our company member organisations told us they wanted a space to reconnect with the community (following the pandemic) and to meet others in similar positions, facing the same issues. Our first dinner was a sell-out and the feedback told us that this type of meetup filled a gap in the events calendar.
So, on 22 March 2023 we are delighted to be opening the doors at Blend Kitchen once again to Sheffield's senior leaders in the digital industries.
What to expect
This is a unique opportunity to meet other leaders within the region, form friendships, partnerships and collaborations, and to build your network in an informal and friendly environment.
Sheffield Digital has companies of all sizes in our membership so you can expect to meet leaders of large teams and leaders of micro-organisations. There'll be people who've been doing it for years as well as those who are new to this leadership game – perhaps start-up founders or those who are newly promoted.
This means that you can come with questions and you'll get answers from those who have been there and done it. And if you've reached a stage in your career where you're ready to give back – this is a perfect space to pass on some wisdom and inspire others.
Hosted at Blend Kitchen, you can most definitely expect to feast upon a delicious three course meal. As the place where 'good food does good' you'll also be supporting a brilliant social enterprise with all ticket proceeds going to Blend Kitchen.
The evening is also your chance to hear about our Talent23 campaign which we are officially launching in March, all focused on talent and skills in the digital industries. Directors of Sheffield Digital – business leaders themselves – will be at the dinner and are there to listen to your feedback about our organisation and what you need from your membership right now.
Who is it for?
Unsure whether it's for you? This event is for company decision makers; not just directors or founders, but people who influence policy, lead a team or teams of people, and understand what is happening in the Sheffield tech eco-system. This is a Sheffield Digital Members' event, however if you are not yet a member but are interested in joining us, this dinner might be a great place to see what it's like to be a part of the community, so get in touch with us to discuss your place.
The important bits
Date and time: Wednesday 22 March 2023, 18:00-21:00
Place: Blend Kitchen, 197 Ecclesall Road, Sheffield S11 8HW
Ticket price: £27.00
How to book: Please email Emma Marshall to secure your spot.
We look forward to seeing you there.