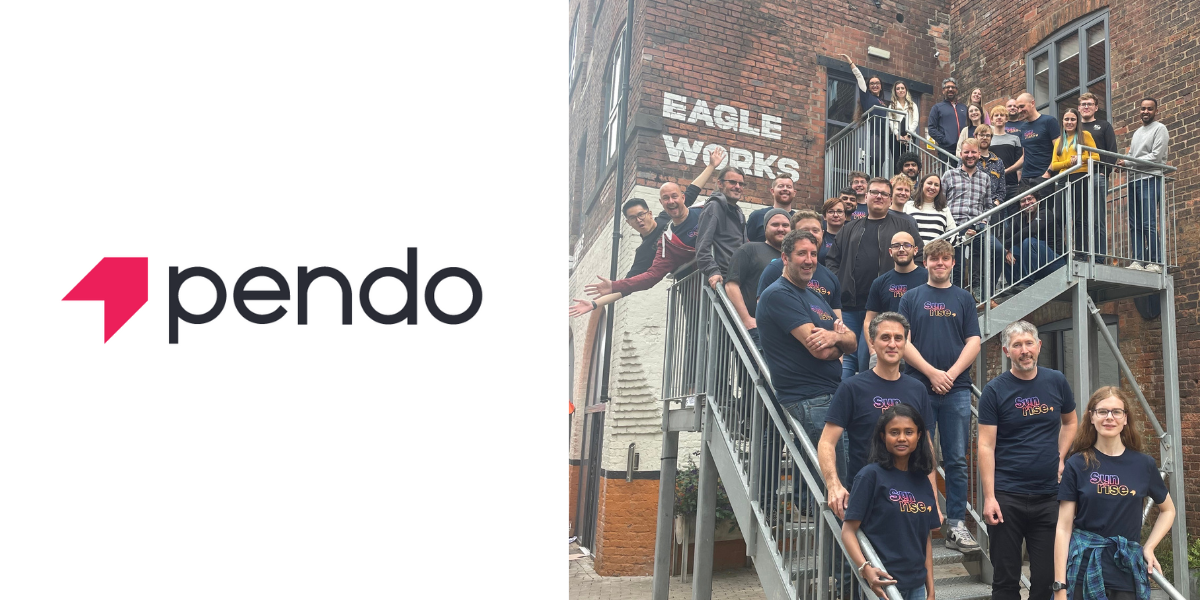 Pendo arrived in Sheffield in 2019 when the US company acquired product feedback specialists, Receptive. Since then, it has grown the Sheffield team from 10 to almost 50, an upwards trajectory that looks set to continue. We caught up with Hannah Chaplin, who co-founded Receptive and is now the Sheffield Site Lead and Product Marketing Principal for Pendo, and James Charlesworth, Pendo's Senior Engineering Manager, to find out how the company's culture and recruitment strategy is underpinning its success.
Pendo is a SaaS company which brings product analytics, in-app guidance and feedback together in one product management platform. More than 8,700 companies use Pendo to provide 'better software experiences' to 700 million people every month. Pendo launched their Feedback and Roadmaps products when it acquired Receptive's product feedback platform.
Now valued at $2.6 billion, Pendo has eight offices around the world and around 900 employees. Sheffield is home to one of the company's R&D teams including product managers and designers, and front-end and back-end engineers.
Rapidly transitioning from a 10-person start-up to being part of a global scale-up sounds challenging, but Hannah is pleased with the way that the two cultures have come together. She explains,
"I feel like we have retained a lot of what made Receptive a good place to work. One of the things I really liked about Pendo was how their culture was similar to ours. We both believed in putting the customer first and within the office, we both had a strong culture of respect, trust and supporting each other to achieve great things."
Pendo's Sheffield office is one of only two in the UK (the second is in London) but the team have felt included and valued as part of the global team from the start. Hannah says,
"Pendo is very invested in the Sheffield team and they have given us all so many amazing opportunities. We never feel forgotten or separate from the head office due to regular visits and plenty of Zoom calls.
"One of Pendo's co-founders, Rahul Jain, is the General Manager of the Feedback product and we have worked together since the very start – he sent me the original LinkedIn message back in September 2018! The support from the business and being so connected to a co-founder has proved to be a winning combination."
James credits the culture at Pendo – its approach to 'treating people as humans, not numbers' – as one of the key reasons behind the company's high staff retention rates. Pendo takes diversity and inclusion seriously and has various 'Affinity Groups' for employees, as well as hosting global wellness days for the team. James comments,
"We work in a creative industry and if you want to get the most out of creative people, then you have to treat them as human beings, not like a production line.
"You have to give your employees freedom and just show that you care about these people and respect their lives outside of work. Then you get the most out of them. It's actually a very practical business decision more than anything, but it works so well."
Employees are also given structured career frameworks to show them how they can progress in the company. The different routes offered at Pendo take into account the different personality types of people doing similar roles, as James explains:
"I'm on a Manager Ladder, so now I'm a senior engineering manager and I have a whole career mapped out ahead of me which is very predictable, with things to work towards.
"Engineers can be on the management track or the IC Track (the Individual Contributor Track), and that's really good because it means that software engineers don't have to be promoted to managers in order to progress in their careers. I've been at some places where you feel like you have to go from being a senior engineer and then a manager, and that's the only next step. But it's not for everyone. Pendo is not like that, and I think that comes from a more global perspective."
According to James, Pendo firmly believes in Sheffield's tech talent and sees the city as a great place to find high quality product managers and software engineers. Given that the team in Sheffield has grown from 10 to almost 50 employees in less than four years, Pendo is obviously doing something right to find and attract these talented people.
James is very heavily involved in recruitment and he describes Pendo's strategy as 'growing people for the long term, not for short term wins.' What this means in practical terms is hiring at entry level, often straight out of university (including internships) and being prepared to invest in people and their training.
"If I'm hiring software engineers, I don't consider the programming language somebody knows as a factor, because if somebody's smart and you're prepared to invest in them, then we can teach them the programming languages we use. If we hire smart engineers and we give them enough time, they will learn with us and then that will pay off in the future." James explains, adding:
"We're not in it for quick wins. Our recruitment strategy has really just been showing people what Pendo can offer. We have a lot of people that have been to uni in Sheffield and want to stay, so we give them a reason to stay."
James is a mentor on the Sheffield Digital Mentoring scheme. Based on his own experiences, he wants to help more people into the tech industries, showing them the possibilities that exist.
"I strongly believe that so many people are capable of being things like software engineers or product designers, if they're just given the opportunities and they're reinforced with the belief they can do it. I'm largely self taught as a software engineer, I did an engineering degree, but I've taught myself all the coding that I know now. I wouldn't have been able to do that if I didn't have people telling me I can do it, showing me the path and encouraging me to get into it.
He adds,
"We have software engineers here that didn't go to university and they're some of the best engineers that I've worked with. So I know there are people out there who just need some guidance and they can create great careers for themselves in the tech industries."
As someone who studied in Sheffield, left to work in London, and then came back again, James understands the benefits of living and working in the UK's 'largest village'. This was another reason for him to become a mentor. He says,
"It's a very people-focused tech scene, everyone knows who everyone is. And that's not true of places like London; you won't see the same people twice even if you go to the same sort of events. I know the names of so many people from the Sheffield Digital Slack that if I bumped into them in the street, I'll say hello. There's a real community here where people help each other out.
"I know that at some point, the people I mentor now…. our paths will cross again. It could be next year, or it could be in five years time. If I was in London, I'd never see them again!"
We're excited to see Pendo's continued growth in Sheffield. If you're currently studying at university and are interested in joining Pendo, check out their Sheffield-based internships either in Product Design, or Product Management.
You can find out more about Pendo on the website: pendo.io and stay up to date with them on Twitter and LinkedIn.