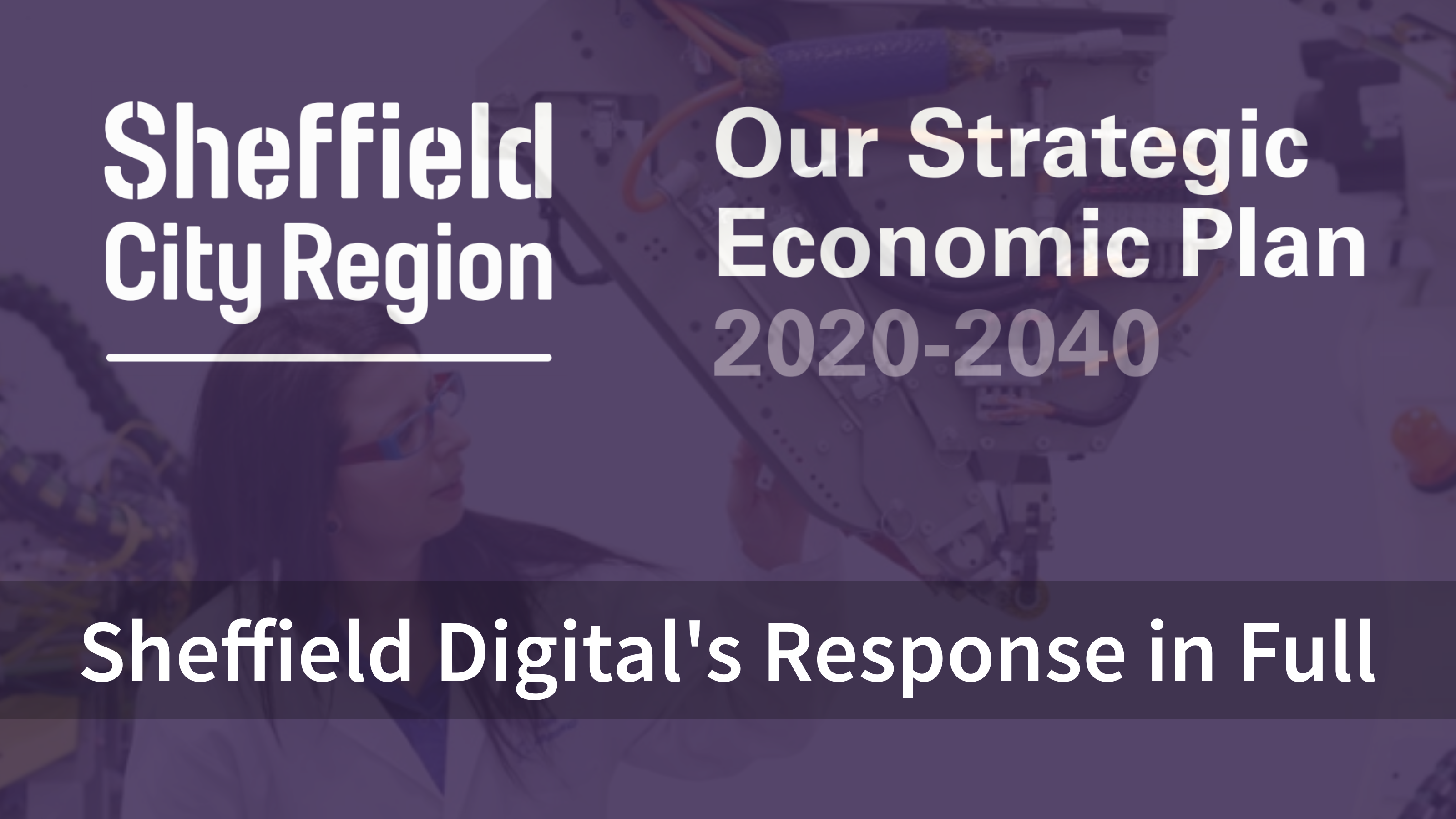 This document provides a detailed response from the Digital Industry to the consultation launched by the Sheffield City Region Local Enterprise Partnership and Mayoral Combined Authority to set the region's economic direction for the next 20 years. This response has been compiled from contributions made by Sheffield Digital's membership, the wider digital community in and around Sheffield and contributors to the regular economy.SHF digital industry forum.
The term "Digital" is used in many places throughout the plan, but we feel it is often used too loosely and should be qualified wherever it appears, in order to clarify the specific aspect of 'digital' under discussion. In order to help to better define terms, we have written a short primer and glossary for the SCR to refer to which clarifies our thinking and use of terminology. In addition, we would be very happy to host deep-dive sessions and company visits to help the SCR policy team, and other decision-makers at the LEP and Mayoral Combined Authority, to better understand the sector.
The Draft SEP is set out in 9 main sections, the first of which describes the strategic Vision and the three overarching policy objectives which inform the plan. This response looks at each of these sections in turn:
1. The Vision for 2040
Summary of the SCR's Plan
Vision Statement:
"The Sheffield City Region will grow an economy that works for everyone. We will develop inclusive and sustainable approaches that build on our innovation strengths and embrace the UK's 4th Industrial Revolution to contribute more to UK prosperity and enhance quality of life for all. "
Overarching Policy Objectives:
Growth
Growing the economy for all.
Inclusion
Ensuring that everyone has an opportunity to contribute to and benefit from economic growth.
Sustainability
Driving low carbon opportunities within the economy and delivering net-zero emissions.
Our Response (General Thoughts):
We welcome the new direction the SCR is setting in terms of the focus on quality of employment, not just quantity.
We also welcome the notion that creating high value jobs does not by itself generate inclusive prosperity in the wider economy (we draw particular attention to recent work on this subject by Neil Lee and Stephen Clarke from the University of Sheffield).
The use of the term "4th Industrial Revolution" needs unpacking but we feel it does set the direction of travel and framework within which to think about the future economy of the city region.
It is not clear what the impacts of the 4th Industrial Revolution will be, and whether the intelligent automation it promises will be a help or hindrance to mass job creation and the other key objectives expressed in the plan.
We recommend that a public discussion be fostered to build understanding and knowledge in this area.
There should be much closer alignment between The University of Sheffield's flagship research institutes and the SCR – these focus on areas that are key to the plan, e.g. health (Institute for Healthy Lifespan, Institute for Neuroscience), renewable energy (Institute for Energy) and green infrastructure (Institute for sustainable food). There is some mention of other research centres (e.g TERC) but doesn't appear to be anything about the flagships. A similar issue may pertain for Sheffield Hallam University as well, for instance the AWRC (health and wellbeing) and Institute of Education (skills & training), etc.
Generally speaking there is a lack of connection between some of the strategic imperatives set out in the plan and world-leading expertise that already exists in these areas within our universities (for instance Lenny Koh in Supply Chain Management). Where we have world authorities on some of these topics, we should acknowledge and use them.
The plan states that "across the SCR it is in Barnsley, Doncaster, Rotherham and Sheffield where the economy plays out". We feel there is opportunity to embrace the innovation and potential of the small towns and rural parts of the SCR, perhaps developing them into a 'Rural Innovation Network' that could collectively represent as much innovation potential as any of the larger places. We furthermore believe that digital connectivity, technology and innovation skills can enable this. We also feel that there is a risk that smaller places could feel even more left behind as a result of statements such as this.
Several contributors found the document over-long and repetitive. There is a desire for a summary document perhaps along the lines of the KTN's recent strategy deck?
The call-out on page 5: "We are going to…" includes the commitment to "build our transport infrastructure – so people and products can move and trade…" however there is no equivalent commitment to build digital connectivity infrastructure. We feel this is of equal importance, as goods and human interaction are increasingly digitised and transported in this way.
We welcome the focus on innovation and productivity. We would like to see a deeper analysis of why productivity is so low in our region. Has it been too resistant to change and the right kind of investment? Is there a higher proportion of family-owned businesses (as highlighted as a factor by Andy Haldane a few years ago). Has a focus on job creation hurt overall productivity? Do too many of our successful firms get acquired before they can reach their true scale? Are we measuring the right things?
There is something of a cognitive dissonance in the idea of "building on our long-standing, world-famous industrial heritage" while at the same time "now is the time to do things differently". Should we be doing old things differently, or should we be doing completely new things?
We agree with the desire for more inclusive growth, and the assertion that economic growth "does not automatically lead to vibrant centres, reductions in poverty, or increases in employment for low-skilled workers."
Regarding inclusion: we wholeheartedly welcome the centering of this principle and objective in the plan, and must point out that this is one of the digital sectors' biggest weaknesses and failures. Addressing it will require, at a minimum, commitments from businesses, policy makers and educators to actively strip out the biases from existing structures and invest in bringing a much more diverse cross section of people into our sector. We must also work outside of existing and 'usual' structures to bring about change. In this way the region's digital sector could lead on one of the industry's biggest weaknesses and furthermore remove bias and barriers from the products and services we create.
The plan itself could do with a nice friendly guide that shows in plain language plus translations how all ages and communities could benefit. If you questioned any random person in the region, they should be able to tell you what it could mean for them and their family for the future. Otherwise they just turn off. This includes kids from primary schools upwards, and especially those in jobs and training. And also how they themselves could influence & access these opportunities. There should be a digital map that everyone can follow.
There appears to be little in the plan around collaborating with other parts of the UK and the cities of the Northern Powerhouse. From a digital industries perspective there should be a much better map of specialisms and capabilities across the North and the UK in general – distance is no barrier to collaboration, and now finally more of the population is realising.
We welcome the focus on addressing health inequalities, and wonder about the potential for digital technologies to provide people with long-term sickness with ways into flexible remote training and employment.
We welcome the focus on environmental sustainability and the drive towards carbon neutrality, but wonder whether neutrality is sufficiently ambitious. Should we not strive to become a "climate positive region"?
We welcome the focus on new ways of working and fostering collaboration. We particularly agree with two concepts raised in this section: the idea that firms need to be more global in their outlook and connectivity – we should do more to leverage the existing global connections within the local digital tech industry; secondly we agree with the focus on building a 'culture of proactive excellence'. We think there is a great opportunity to develop and celebrate excellence in our digital technology and digital media industries. We also think there is opportunity to involve more institutions and stakeholders, both local and national, in defining and promoting "digital excellence". This is especially true of the region's tech startups – they will have more success if we can collectively ensure that their digital products, services and experiences are well designed, architected and engineered, and this will in turn reflect positively on our region's productive capability.
We agree with the desire to focus on regional "USPs" and have worked hard to credibly identify and define these in the digital sector.
The fundamental question raised by this plan is "How do you provide a dignified future for a large, under-educated, under-employed, post-industrial population?" We're not convinced this question is adequately answered by this plan. Providing good jobs and the pathways for people to gain the skills required to do those jobs is the traditional answer, but there's no guarantee that this solution will work for the 4th industrial revolution – there is a boundary on one side of which people tell the machine what to do, and on the other they are told what to do by the machine. Can we shift this large population to the other side of that boundary? The underlying cultures and institutions that surround family, community, education and industry will likely have to be very different. Is this plan going to make us face these facts and is it going to make us sufficiently adaptable?
2. Vibrant and Resilient Places
The section on Sheffield could highlight the universities and the increasing density of learning, research and enterprise resources within the centre and extending towards Rotherham.
It's a little surprising that the economic contribution of the creative industries is lower in the city region than in other Northern regions, however we would like to draw attention to some of the areas in which real innovation is taking place in creative digital technologies, particular in video games and immersive experiences. There is a lot of creative digital activity that could be far better connected and highlighted across the region.
The Call-out from Visit Britain mentions 'hidden market towns' – these could be connected into a regional rural innovation network so as not to leave such places behind.
There is no mention of Sheffield's Cultural Industries Quarter, which could play a significant role in "establish(ing) culture as a strategic socio-economic driver".
There is no mention of the digital experience of places, both for residents and (especially) for visitors. The rhetoric around vibrant places, should also consider the user experience and "interactability" of places. This Is a crucial component in the experience of all other aspects of our places, from accessing public transport to finding out what's going on, and engaging with local culture and heritage.
Note that these kinds of digital experiences are already being created, for instance by the augmented reality application which will debut at the Sheffield Digital Festival in November, AR' City at Festival of the Mind (which is exhibited next week) or the work Llama Digital does in this area.
Note also, though, that the digital experience of a place is mainly characterised by far more mundane things such as how informative listings of cultural venues are in Tripadvisor, how to tell which apps are useful in the App Store, or whether the place's restaurants have up to date menus on their website and whether they are accessible to people with visual impairments, etc. Curating this is the hard routine work of improving the digital experience of a place.
Under section 2.2.3 we wonder whether a focus on the experience of places and culture should be added.
It would be good to see digital firms engage in patronage, perhaps even as collectives.
3. Innovation, Enterprise and Growth
Many digital technology firms are extremely proficient at innovating, and furthermore digital innovation is often quite different to other kinds of scientific and physical product-based innovation: the barriers to innovating are lower, the innovation and prototyping cycles are shorter, deployment and distribution are low cost or free, the marketplace is largely unregulated and permissionless, end users are easier to access and include in the design process and development cycles, etc.
We welcome the idea of "offering structured innovation support to organisations of all sizes", although it is not clear what this support consists of. We believe innovation can be taught, and that many people, teams and organisations would benefit from learning and adopting innovation cultures and practices, no matter what their innovation processes and constraints are.
There needs to be more focus on public investment to support private investment by digital firms. The recent Nesta report on "The Missing £4 Billion" shows clearly that regions where public/private co-investment happens, drives positive R&D and innovation. Public investment cannot just be aimed at helping traditional businesses to digitise.
Innovation is a tool of empowerment for communities.
There are increasing amounts of money coming through Innovate UK for joint academic/industry research, usually with an emphasis on translational research. PITCH-IN is an example of a funded project that seems to have done well in engaging businesses in the SCR (in this case in terms of promoting uptake of IoT). The Urban Flows Observatory is another. Bidding and winning more of these programmes and helping them engage with SMEs across the region would have a large beneficial effect.
We can imagine a world in which people automate and augment their own work. They have the tools, skills, permission and motivation to do so, and do not fear the consequences of putting themselves and others out of work, as the value created by automation will invariably lead to more opportunity, not less, including for them and their colleagues.
There are significant opportunities for SCR to promote innovation by creating and making available open innovation resources, particularly data but also access to testbeds, digital models, open source software, etc.
Regarding the previous point, as an example of the use and creation of public innovation resources,this Summer the student placements on the Pitch-In programme at the University of Sheffield designed and built prototype applications on top of Sheffield's community-built and managed LoRaWAN Internet of Things Network, and then shared the resources they created publicly as open source repositories on GitHub where anyone in the world can use and extend them. How can the public sector and anchor institutions adopt this kind of innovation-positive behaviour?
We should do more to connect local innovators to the medium and larger local business communities (including the public sector which makes up a large portion of the bigger local organisations) in order to support start up opportunities to find some early traction, and encourage those local businesses to innovate and improve their productivity.
We would welcome the establishment of an innovation network across SCR, potentially along the lines of the XLR8 Innovation initiative which was a collaboration between the Research and Innovation Office (RIO) at Sheffield Hallam University, Creative Sheffield, Gripple and Technophobia.
Development of an innovation ecosystem with all key stakeholders represented is a recommendation of the MIT REAP (short programme) of which SCR is part – It's designed to specifically support innovation and innovation-driven enterprises (often tech enabled). The approach is based on years of MIT research and experience. We need to make the most of this opportunity.
The Royal Society's report "Transforming UK Translation" emphasises the need for connectors to facilitate university knowledge exchange. Experience from IoT Tribe suggests this facilitation needs to also bring together tech startups and medium and larger local firms – connected networks and informed businesses that can make sense of the opportunity are key.
Many people in tech have ideas and 'side-projects' that could be developed if the inventor had time to do so – these could be identified and developed, either on behalf of the originator, or by agreeing sabbatical or paid 'innovation leave'.
One of the features of digital technology is the low barrier to entry – traditionally, all that is needed is a cheap computer and the knowledge to make things with it. This is still true for many emerging technologies – they are relatively easy to learn and experiment with when they are new and under-developed. From cheap home micros in the 1980s to HTML and the web in the 1990s and Raspberry Pis more recently. SCR should explore and exploit the highly accessible and democratising nature of the technology. I.e. focus also on grass roots innovation and capacity building, inclusivity and access to technology, tools and expertise, not just 'industrial' innovation.
One of the best ways of increasing skills and familiarity with technology, tools, methods and innovation practice is to invest in good (large!) public maker spaces. There is an opportunity to scale up the grass-roots maker spaces across Sheffield and the wider region, creating much larger hubs for small scale product design and development. SCR seems like one of the very best places in the country to create a truly enormous maker space, supported by industry and the universities, and engaging with existing grass roots maker spaces to provide paid support and masterclasses – in turn making them more sustainable and part of the wider specialist maker ecosystem.
At the recent UNIMAKER conference at the University of Sheffield, two speakers mentioned that young people are losing basic practical skills. By supporting making and makerspaces in general, there's huge potential to not just address this, but to also foster digital entrepreneurship as connections between physical and digital (hardware and software) are explored and discovered. There are several maker spaces across the region (Sheffield Hackspace, iForge at TUoS, Access Space, Barnsley library and DMC-02, etc.) which should be connected, promoted and enhanced.
Presumably digital innovation would fall under the 'Unconventional Innovation' category? Or 'mixed industry', perhaps? Innovation processes are a function of the affordances of the technologies and contexts in which innovation is being conducted. These distinctions are not clear and perhaps there are other frameworks that would be more suitable, such as distinguishing between radical and incremental innovation, or research-driven and market-driven, or short, medium and long innovation cycles, etc.
Overall the document refers to universities mostly as suppliers of graduates – omitting that they are also an important source of spin-outs, intellectual property, knowledge transfer and outreach activities in schools. Collaboration with the universities is mostly discussed through the lens of the AMRC – that is a very particular collaboration model and not one that translates easily to other parts of either of our universities.
It would be good to see a distinction made between the environments in which innovation takes place and the innovation processes themselves. Both of these are important, i.e. there's no point trying to introduce innovation processes in an organisation that doesn't have the capacity, permission, culture or behaviours to support it or transparency about equity and investment. Both of these aspects should be developed in the SCR.
Sheffield's Digital Coalition is called dotSHF (pronounced Dot Sheff), there is no Dot Sheffield. It would be nice if Sheffield Digital were mentioned in this sentence.
There are many more than 100 companies, incubators and organisations in SCR's digital media and technology ecosystem. There are at least 50 in the EdTech cluster alone, and we at Sheffield Digital are currently aware of 364 local digital tech and media companies and know there are many more than that across the whole of the SCR.
The statistic that 60% of the UK's educational technology capacity is in Sheffield needs qualifying. Firstly, the number relates specifically to the proportion of digital educational resources for schools that are hosted on platforms that are managed and maintained here (between Twinkl and TES Resources). We believe between them they represent more than 60% of the total UK market share, but this figure was anecdotal and we are checking with the firms to get concrete evidence that this is the case.
The mention of The Floow, Sumo Digital, WANdisco and 3Squared is welcome. These are all still Sheffield-owned brands. (PlusNet is of course owned by BT). Firms such as Twinkl, Zoo Digital and Ovarro could be added to that list. Many successful Sheffield firms have been bought out, resulting in major & emerging corporates such as ARM, Autodesk, LTG Group, Insight, Tribal and Pendo having a significant presence in the city as well. And Sheffield has attracted some large firms to locate their digital development here, for instance Sky Betting and Gaming, Jet 2, TES Resources and Perkbox.
We welcome the statement on page 32 regarding Sheffield and there being "an opportunity to increase density and create a strong digital and creative technologies innovation cluster…"
We further wonder whether more could be made of Sheffield city centre as an innovation district in its own right, given its already high density, two city centre universities, the college and UTC City Centre, and booming number of incubators, accelerators and other assets? There's a halo of tech firms and assets running right around the ring road, all within a 20 minute walk of each other. All that is missing, according to common international definitions, is acknowledgement and strategic support from the relevant local authorities. Creating engagement and innovation assets in the city centre would furthermore provide a boost to the high street following the impact of Covid-19, etc.
Re the framework on page 35, most digital businesses do not think in these terms. Digital technology allows many firms to operate 'end-to-end' as everything is digitally mediated and integrated into single connected processes. I.e. digital goods and services are made, presented, distributed and transacted all on the same platform. It is not always the case that a single firm owns its own supply chain of course – there are many agency businesses and fields in which distribution is largely owned by global platforms, such as videogames for instance. However in general supply chains operate very differently in the digital realm and it would be good to see this acknowledged as there is much that could be done to boost digital firms' reach and bring some of the integration that digital platforms offer to more traditional businesses. It would also be good to make the supply chains that do exist in the digital industries more visible to local policy makers.
Regarding the commitment to inclusive innovation on page 36. We support this very much and wonder how the digital industries might contribute to this objective, and how digital innovation can be made more inclusive across the SCR. As previously mentioned, despite the technical nature of computer technology, the cost of computing steadily falls as performance increases, which means that you can do a great deal with very little cost overhead, and secondly there are ever-expanding ways and contexts in which these technologies can be applied. On the face of it these attributes should make digital innovation more accessible and widespread than it currently is. Sheffield, and the wider region, have a very long and successful history of running initiatives that encourage digital skills and innovation, especially for lower-income and marginalised groups. From Code Make Win to the Google Garage, from young Digital Champions and CAFE (the Computing As a Family Experience event series), from Learn Create Sell to 108 The Moor and the Ar' City Festival which is about to take place, from Legup Social to Heeley Development Trust and Sheffield Online, Access Space to Sheffield Hardware Hackers and Makers, this region has pioneered a huge number of methods and models of empowering people from all backgrounds and of all ages to learn and engage with digital technology. But most of these initiatives either finished when the funding ran out, or are still operating on a tenuous basis with the time and commitment of volunteers. This surely has to be addressed, and we feel it is imperative that the region learn the lessons from these ground-breaking projects and use it to build new sustainable initiatives that are able to scale and transform the capabilities, opportunities and access to these prosperity-creating tools for all people in the region.
There are a number of fabulous initiatives in SCR that actively engage with young people to introduce them to aspects of digital technology and innovation, which all need support to scale! DiscoverySTEM/WERUK (robotics), Bright Box Makerspace/Girls With Drills (making, electronics), 108 The Moor (electronics/coding/laser cutting/playable city), MakerEdUK (making), AccessSpace (coding, making, electronics, autism support), FlyCheeze Studio (digital art, media, animation, autism support), STEMWorks in Barnsley, and undoubtedly others as well.
When Google Garage opened, SCC convinced them to operate a maker bus that would go into communities and teach people where they are – can we resurrect this idea? And make it about empowering people with technology, not teaching them how to use Google products?
It should also be noted that while grass roots digital innovation, in hardware, software and media, is often the labour of single individuals or duos (one can think for instance of Mark Zuckerberg, Bill Gates or the Steves Jobs and Wozniak at Apple), converting initial proofs of concept into working prototypes or Minimum Viable Products (MVPs) usually requires teams of people with different and complementary skills. Being able to pull from a far wider pool of team members at this stage would be of great benefit (as well as empowering more people to be idea originators as well, of course).
There is a huge amount of literature and practice pertaining to digital innovation, around agile and lean product development processes, finding product/market fit, business model development, alpha and beta product release stages, etc. etc. These should be well understood by policy makers creating the region's innovation strategies, and should likely be far wider disseminated among the wider industry and population. Many of these concepts and practices trace their origins to physical world manufacturing in the last century, but have undergone a process of adaptation to the different parameters and constraints of the digital realm.
Re the second 'key intervention area' about bringing communities together to innovate by connecting small and large businesses "where risks are shared". Do we have enough large digital agencies that can support this kind of thing? How would the risk be shared? Can these initiatives be clearly time-boxed so agencies can properly calculate their risk? Can such initiatives distinguish between different business models, e.g. firms that charge for time or on a project basis, vs product or SAAS companies, .etc?
Re the key intervention areas, there must be an understanding that innovation is a result of both context and process, and there are not enough interventions that focus on context. We need to develop an innovation *culture* across SCR, consisting of tools, skills, encouragement, permission, incentives, visibility, navigability, examples, leadership, celebration, and much more – if the context is right, the processes are far far easier and more repeatable.
There should be a clear commitment to investing as much in developing innovative capability in communities as in businesses.
4. Skills, Education & Employment
It is imperative that the region's expertise, experience and capability in education design and technology be brought to bear on the local population. This is especially applicable to the first item in this section – Attainment and progression – and in the context of Covid-19 and the variation in attendance and provision across the region's schools and colleges. There are significant digital inclusion, skills, resilience and usability aspects to this, but given that the region has among the most sophisticated digital learning technologies capabilities in the whole of the UK, it would be neglectful not to bring it to bear on the region's own educational issues.
Re the statement about the workforce's qualification profile – it would be good to see this broken down fully, as there is significant variation across the SCR. For instance, looking at the proportion of the working age population with qualification of NVQ4 level or above, Sheffield sits at 38.7% (2018, Centre for Cities), higher than Manchester, Leeds, Liverpool, Nottingham, Newcastle, etc. While Barnsley (25.8%) and Doncaster (22.6%) are among the lowest in the country.
The questions around lack of attainment in some parts of the SCR may really be: how can we build cultures that embrace education, and how do we co-design education that is attractive to the cultures in those places.
Given the amount of modern skilled work, not just in the digital industries, that involves design, collaboration and problem solving, we need to re-imagine an education that includes and celebrates play, rather than one that seeks to exclude it in favour of an industrial era conception of 'work'.
Computer science should be a compulsory subject alongside Maths & English. In the same way you don't learn English in order to be a writer, CS skills are now essential for all workers, not simply preparation for a career in software development.
There is no mention of Primary aged children or provision in Primary schools for education improvement. The strategy entirely misses an opportunity to work with Primary and Secondary phase providers across the region. If we do not inspire at these ages then we are going to keep failing to supply talent for the robust high skilled, high paid jobs of the future – which the tech sector can provide.
We agree with the statement that we do not do enough to inspire our young people. Given that Covid19 has shown everyone how easy it is to conduct remote conversations and engagements, can we design and develop a platform that makes it easy for people in industry to talk to schools and young people about their journeys remotely? This doesn't happen nearly enough currently, and there are often issues with scheduling and finding the right opportunities for engagement. But this is surely just a 2-way market coordination problem, which a digital platform could solve?
There should be a concerted effort to encourage more working class, BAME/AAMG, female and LGBQT+ people working in digital tech & media to engage with schools and young people, including working with inclusion officers at the Universities and colleges, etc. and borrowing the best approaches from elsewhere and applying them here, such as the excellent Innovate Her initiative that started in Liverpool and empowers young women to design and build digital applications.
Digital Skills is a complex area, with many start and end-points. We have written a summary of these categories in order to help discussion, which is annexed to this document. It is crucial that SCR's digital skills ecosystem is mapped comprehensively, with pathways shown for all of the start and end points, as well as the transitions between pathways and the gaps where there is currently little or no provision. This needs to be done across the whole spectrum, so that even people at the very edges can traverse the ecosystem to get to any end-point, no matter how lofty.
Regarding the region's apprenticeship offer being mainly in low pay sectors, we don't think the challenges of applying the apprenticeship model to the digital sector have yet been solved. However, Sheffield Hallam University Computing Department's Degree Apprenticeship scheme has been very successful, with large firms from all over the country sending their apprentices here to participate and an increasing number of local firms taking advantage of it also. Much has been learned about how to construct and run these programmes in the two years since they started, and SHU is looking to extend provision to more courses, including in Digital Media Production. There is scope to scale and engage more digital employers across SCR. However there are also still skills pathway issues, such as the fact that ideal candidates from the Sheffield UTCs are often too young to join SHU's programme when they complete their A levels a year early, having been fast tracked. These students are very often at Year 2 undergraduate level, yet still too young to start Yr1. Issues like this must be addressed – we need to be far more joined up on this issue.
There doesn't seem to be a recognition of how digital technology overlaps with design and marketing, and the need for collaboration. There is no mention of how interdisciplinary collaborations in education, e.g. hybrid courses at FE level, can facilitate a broader understanding of what it actually takes to bring something to market and not just be single task or project driven. This extends to the opportunity to form consortia of small local firms to create stronger home-grown agencies that can punch at a heavier weight in the marketplace.
Regarding moving people from low-skill to high-skill careers, one area of focus should be call and service centres. SCR has a large number of service centres and it is a significant source of entry-level white-collar employment. Anecdotally, some 40% of PlusNet's software development department started their careers at the firm in the service centre, and were up-skilled in-house. This seems like a very impressive and scalable model, and would further serve to pull more people through the service centre route into higher-skilled professions. And are there other entry-level jobs that could benefit from targeted upskilling, in logistics for instance?
The Developer Academy has developed training models for professional digital skills which allow learners to study alongside their day jobs, in order to move on and up from their existing, often more precarious, employment. There are also organisations such as Learn the Web in Barnsley, and bootcamps such as NorthCoders which provide entry-level skills into digital design and development careers – these too could be scaled, the biggest blockers being cost, awareness and attractiveness.
We need to aggregate data on our skills pipeline – track people going through training and education – who knows what, who has what skills, who stays in the SCR and who leaves, etc? We need to continually collect data on this and make it visible so we can all see where the pipelines are failing and where we are making improvements – this would also greatly aid firms looking to expand and relocate here. To be able to show them visually where the talent is coming from, even a few years out!
We have to ask what we want our ideal skills pipeline to look like.
We need to change the perception of computing as a hard, boring, maths-heavy subject and replace it with creativity and fun. Computing in schools is falling off a cliff, with a lack of teachers and schools increasingly dropping the subject as it is seen as a hard subject which will negatively affect their results. It's imperative that this is turned around – kids leaving school with no understanding of computing, or new skills such as data science, are already heavily disadvantaged and will become more so. Even people in non-technical digital careers benefit from having some understanding of how computers work and how to get them to do what you want them to do. Learning this has to be fun though, and open to exploration, experimentation and making mistakes!
Regarding section 4.3 and the diagram. This seems like an extremely simplistic and "industrial-age" way of thinking about skills. What does an "employer-led World Class Technical and Vocational Education System" mean in an industry where 80% of the labour force (tens of thousands of people) work in micro-businesses or are freelance contractors? To approach the actual complexity of the system, this should be a network diagram. Many people have multiple specialisms and are continually learning as their practice and the world around them changes. People work in multi-functional teams, where their role might change from project to project and where the value lies in the collective output not the individual skills.
Further to this, digital industry employers continually talk about wanting attitudes and approaches rather than specific skills. The required skills change all the time as the technology changes, but it's the attitudes that get people through and make them productive. So, Great, tell me what you learned, but really I'm far more interested in how you learned it, what you did with it and what you intend to do next." It's just not as simple as "training people for jobs in industry" as this section seems to assume.
"What do we need to do to create transformative change?" has a very different answer for the digital industries.
We need to learn the lessons from 40 years of trying to teach computing to generations of young people. For one thing there has been a constant assertion of industrial era values that distinguish between work and play, and prioritise the former over the latter in education. However, as we have discovered, not only does intrinsic motivation trump extrinsic motivation in education, but 'play' in computing is often far harder and requires more skills than 'work' does. Designing and building a videogame is at least as educationally worthwhile as building a business application, (and usually demands additional skills in language, art and sound design), yet still we ask the business software industry to shape the computing curriculum instead of the games and consumer media industries. (Added to which we are home to the National Videogame Museum and a world-class video game cluster!)
Clearly more engagement with and from employers is a key part of the policy agenda around skills, however this will either put more pressure on smaller firms or exclude them entirely as they cannot afford the time to engage with all the various stakeholders required. In order to address this, the process needs to be made far simpler and easier to interact with. For instance, work placements: there are lots of institutions with young people looking for work placements across the SCR (Sheffield Hallam University alone has a strategic mandate to provide all their students with 3 weeks of employer placement in each year of undergraduate study!) With the UTCs, Colleges and T-Level about to be launched, this will result in a very large number of young people trying to secure a placement from what is currently a small local pool. In 2019, Sheffield Digital in partnership with SHU Computing began a process of engagement with local digital employers to look at ways of redesigning the work placement process in order to reduce the friction and make the experience easier, simpler and more streamlined. At the heart of this approach is a work placements platform which provides visibility and coordination of the work placement 'marketplace'. This redesign engagement should be continued and expanded to other education providers and firms across the SCR.
There is a subgroup of the economy.SHF digital coalition group which is responsible for looking at and developing the local advanced digital skills pipeline. There is a lot of expertise and connectivity here to draw on in shaping policy around this agenda.
A few years ago, SCR decided not to support a bid to create a Local Digital Skills Partnership. Undeterred, local stakeholders formed their own partnership on a voluntary basis which found expression in the Sheffield Digital Skills Action Plan. This website brings together as much of the local digital skills ecosystem as it can and makes it understandable and accessible to everyone. It is time this effort was acknowledged, expanded and properly supported.
We can imagine interventions and initiatives that address each of the items listed under Supply and Demand on page 42 in terms of digital skills and engagement with the digital sector, and are keen to work with SCR to co-design and develop them. We would like to highlight the need to understand and support existing efforts and also past efforts from which we can learn a great deal.
In the list of key intervention areas, one thing that seems missing is the need to foster the right kind confidence in the next generation of young people. Confidence to experiment, to learn for themselves, to work together to solve problems and make things. Education is full of hoops and hurdles, focused on learning discrete things with no context or connection to their lives, and the expectation that young people decide what and who they want to be earlier and earlier as if no change of mind and heart is possible. It's no wonder that they all look forward to it being over – it could all be so much better. Is simply furnishing them with "industry-relevant skills" that will likely be redundant within a decade really going to be transformative?
The region should identify and encourage local edtech startups in the careers space like Panjango, who design games that introduce new careers to young people. Much more can be done in this space, and rather than the public sector letting contracts to old established providers, they could use that money to incentivise startups and new approaches which can then grow into successful businesses and scale.
5. Clean Energy & Net-Zero
There is a growing number of local digital tech and media companies that are prioritising carbon positivity, for instance both Content on Demand and Tribepad have recently announced such ambitions. There is an opportunity to establish a network around this, in order to share knowledge and approaches.
There is a rapidly growing ecotech cluster in Sheffield, especially around IoT technology and low power communication networks such as LoRaWAN. These firms are innovating in areas such as renewable energy monitoring, urban farming, food supply chain tracking, district heat network efficiency, air quality, waste management, active travel and many other areas. Much more could be done to bring this cluster together, apply and scale their technologies locally. Pulling together the different elements of this cluster, and their strategic development at a City Region level, would ensure a much more favourable operating environment for SMEs and SocEnts in these sectors who are looking to adopt new digital and data technologies to improve their competitiveness. Where these sectors interact on a systems level (such as the food system) this type of cluster development would facilitate better networking and partnership working, enable more efficient integration of data and digital tech, and help make the rapid system change we need to see happen.
There is an emerging renewable energy and agritech 'corridor' emerging across North Lincolnshire and the Humber – can parts of Sheffield City Region be incorporated into this? How formal is it?
The digital tech industry could support efforts across the wider industry to reduce their carbon footprint. Can specific challenges be issued which local tech firms could respond to? If there was an open innovation platform for the region, supported by the universities, great progress could be made.
The primary sources of energy and carbon use within the digital industries are travel, data centres, electricity and the manufacturing overhead of equipment. Each of these should be looked at in detail in order to identify the best approaches to reducing impacts here in the SCR, and this should then be shared with local and prospective firms. There could even be a local standard.
Sheffield has one of the most advanced monitoring infrastructures in the country, at least potentially, with the combination of the Urban Flows Observatory, the IDAQ public wifi network, the community-operated Things Network Sheffield and Amey's new Streets Ahead monitoring system. How can we leverage these assets, and open them up into an active testbed and startup accelerator to spin out and develop new applications? This could address the economic and environmental aspects of the plan simultaneously.
Are there enough advisors able to explain to firms across the SCR what options and technologies are available to them that would reduce their carbon footprint?
Apparently, one factor that reduces Sheffield's air quality is that it (and other parts of the North) tend to receive busses towards their end of life, when they have already served in other cities. Whether this is true or not, how do we get proper data on emissions from public transport across the city, and region? And how do we transition to cleaner sources of energy, whether electric or hydrogen?
Can we design and implement a local dockless bicycle system that works for the city? This would have to be done alongside massive investment in the cycle infrastructure – how can we leverage the monitoring network described previously to provide the data needed to design it?
Can we shift local logistics onto other platforms such as spare taxi capacity or cargo bikes, and encourage more local grocery shopping?
As the Covid19 pandemic forces people to work from home, suburban and small town infrastructure becomes much more important – if we strengthen these neighborhoods and places with connectivity, co-working and better local shops, amenities and services we can reduce carbon from commuting and boost these areas economically.
Much of the document talks about industrial responses to the climate crisis, e.g. nuclear fusion, hydrogen and mine water, etc. However the area with perhaps the biggest potential is behaviour change, which is a fundamental capability and skill of the digital industries. There are specialist climate behaviour change agencies such as BetterPoints, who are already working in Sheffield – they are organising a Climathon in November, one of several taking place across European cities this year. How can we acknowledge this in the plan? Behaviour change must be given at least equal billing to industrial approaches.
We should do more to make our district heat network visible – there is currently no data or dashboard showing its operation, and many people have no idea it even exists!
Building a circular economy (as per the mention on page 50) will require lifecycle monitoring of many goods and services in the SCR. How can the digital tech industry provide solutions to this? Policy makers should be aware of the findings from the recent report "Evidence-Based Blockchain: Findings from a Global Study of Blockchain Projects and Start-up Companies". This knowledge will help SCR evaluate the potential of distributed ledger technologies and their application potential in the circular economy.
In key intervention areas, we should gain a much better understanding of our indigenous cleantech, greentech, foodtech and ecotech capabilities. This applies also to mobility and transporttech, remote working & telepresence, etc. in the next section of the plan as well.
6. Transport & Mobility
We think there is a strong argument that digital infrastructure is more important than transport, as it currently lags a long way behind other countries and recent events have hastened a transition to home working. As demand for connectivity increases, so demands on the road network will fall, we should therefore invest for our future needs, not current, temporary ones. If we enable people to collaborate remotely, across the whole region, we won't need to build more roads and will reduce our carbon footprint in the process.
How do we reconcile the need to provide sustainable public transport while also encouraging people to work from home (for health, congestion and efficiency reasons)? The only way this can work is surely to radically (disruptively) reduce the costs of public transport? I.e. applying a SpaceX-style approach to reimagining every aspect of, say, a bus service – this seems like the only way to make it sustainable and still provide service in many parts of the region. Can there be a collaboration between academia, industry and specialists to apply this kind of iterative incremental innovation to the problem? Eeking savings in every area which ultimately results in a massive improvement in the aggregate. It feels like the current hope is that the savings will come from making them autonomous, but that may be a long way off still, and limited to main routes. The real question should be' how do we make public transport radically cheap?'
On page 55 the plan talks about the need to provide people with better travel information and payment options, etc. The whole user experience should be looked at holistically – i.e. how do visitors experience our places when they arrive? How do they find information? There are many public transport apps on the App Store and Google Play Store – how do they know which ones are the best, and most accurate? Should there be 'official' apps at all, or should transport authorities concentrate on providing clean accurate data to the most established applications with the best interfaces? Etc.
There is currently very poor internal connectivity between major strategic economic and social hubs. For instance, travel between the AMRC and Sheffield City Centre, travel between Sheffield City Centre and Barnsley, Chesterfield, Doncaster. etc.
On page 59, all of the key intervention areas are predicated on people needing to move around. We should be thinking about creating entirely new hyperlocal employment centres instead. Some of this sounds like trying to solve horse dung problems at the dawn of the automobile era.
7. Digital
It's not clear what this chapter is really about. Digital innovation, skills and business support are/should be all covered elsewhere, and maybe need a short reminder in this section. The main things that need covering here are probably just the following:
Digital Infrastructure
Building an effective technology stack across the SCR, consisting of the full range of network technologies combined with data infrastructure (collection, storage, management, analytics, distribution, combination, visualisation, governance and rights) in the public interest.
Digital Capabilities
To take a lead in the '4th industrial revolution' there needs to be a much better understanding of the local capabilities and strengths in digital and related technologies, both the market verticals in which we are building world-class industrial clusters, and the underpinning research and teaching expertise that fuel them. There are two leading university Computer Science departments located in Sheffield City Centre, and a host of related departments and research programmes.
Digital Transformation
Digitising traditional industries and helping them develop their digital maturity. Transition to multi-vendor models and local procurement of expertise, design, development and management capability.
Digital Public Services
Provision and integration of accessible digital public services. Diffusion of user research and service design capabilities throughout the public sector. Development of common, open, flexible software infrastructures to allow independent design and development across portfolios Provision and sharing of data, open source software and APIs.
Digital Thinking
The development of a digital mindset among policy-makers and business leaders across the region. How do things actually work? What is possible? How long do things take? How much do they cost? What are the skills, methods, behaviours of the digital age and how are they applied?
Digital inclusion might be added to this list, or covered in the skills section? (Although there is more to digital inclusion than just 'skills', so perhaps it should be here).
The chapter should perhaps be called Digital Capacity, or if it's left as just Digital, then the introduction should explain specifically what aspects of 'digital' the section pertains to.
Regarding "Why do we need change?", the strongest point that needs to be made is that the whole plan relies on the region's digital capabilities and the successful application of digital and related technologies to industry and society.
Digital infrastructure is not just about broadband coverage and speeds, but about the whole public technology 'stack' – connectivity (full fibre, mobile data, public wifi, IoT and sensor networks, etc.) plus data (what is our data centre capacity? How is public data collected? How do we make it available? How does the region uphold the digital and data rights of citizens?)
There should be an emphasis on data and data science, which is a distinct strength regionally, both in academia and business. Data science is fundamental to the 4th industrial revolution concept and our economic future, and this should be highlighted in this plan, especially in light of the new National Data Strategy, and the local interest/traction in data-driven smart city approaches, as evidenced by so many of the presentations and engagement at SmartSheffield.
Digital transformation should be treated as a distinct objective – the digitisation of traditional industry. Understanding digital maturity in different contexts and encouraging firms to shift their capabilities up towards the ability to innovate their own platforms and experiences and create entirely new value.
There have been lots of efforts in the past to try to explain the 'state of the art' or the 'art of the possible' or the 'potential of cloud', etc. to traditional firms in the SCR, but they have frequently not been anywhere near a stage of maturity to understand the relevance or take advantage of these technologies and concepts. We need to be far more sophisticated about identifying maturity first and tailoring advice and engagement to that maturity. Often the first step is basic SAAS business software to help or replace existing business functions. So instead of trying to make digital connectivity the lever to get these firms to digitise, the region should look to professional services (especially accountants) as it is often they who first introduce digital methods to firms. The connectivity angle is only relevant once a firm has reached sufficient maturity to imagine what they would use it for, and has the capability to actually design and develop applications for the new capability.
The panel "Economic gains from digital" should say "Economic gains from digital infrastructure".
The section on page 62 regarding digital skills pathways and inclusion has been dealt with in the education, skills and training section.
There is a great deal to say about digital inclusion and all its aspects such as digital literacy, access and ownership of technology, basic digital skills, digital employability skills, etc. Luckily we have many experts in the SCR who have been working on this agenda for many years – what it really needs is for all that expertise to be aggregated, galvanised and brought to bear on the specific challenges faced here in the SCR.
In terms of the relationship between this section and the digital industries, there are a few things to think about:
Firstly, the desire to boost growth in the digital industries as a sector, build digital innovation capacity and generate more startups are covered elsewhere in the plan but should be referenced in this section. We need a strong digital sector in order to attract and grow the talent that will digitise and develop the whole economy, and to retain the huge number of talented people who come through our universities and colleges each year.
Secondly, there is a synergy between the local digital industry and the wider local economy – there are many digital firms here who have clients all over the country and around the world, but find it hard to win contracts on their doorstep. There is a great opportunity for local anchor institutions to provide a boost to the local economy by shifting to a multi-vendor procurement model and buying services locally. In tech this also means designing and building digital infrastructures that allow such a multi-vendor approach instead of paying large integrators to lock them in. (We very much welcome Sheffield City Council's recent approach to this agenda).
Thirdly, if we understand where we have existing digital strengths, both in terms of market verticals and underlying technical capability, we can identify opportunities to develop and apply those strengths locally at a potentially far lower cost than buying them in from elsewhere.
We'd like to draw your attention to the work conducted by Data Hive to analyse the digital agency ecosystems in cities across the UK. In their 2020 Sheffield report they analyse over 80 digital agencies in and around Sheffield, looking specifically at how successful these agencies are at using their websites to sell their services – i.e. how accessible are they, what analytic tools are they using, how does their SEO perform, etc. This is key insight for improving our digital agencies, but the same techniques can (and should!) be applied to many other sectors in the economy. For instance, what would an equivalent report look like for the region's restaurants? Or solicitors? Or manufacturers?
Item D on page 63 is about digital transformation, not supporting digital businesses.
The section on Smart cities, and the "SMART agenda" could be fleshed out much more. There is a wealth of knowledge and expertise on smart cities (and smart towns, smart places, smart societies, etc.) in the region, both in the narrow conception (municipal sensing, data collection, analysis, service improvement, BIM, digital twins, etc.) and the wider, more holistic, conception (digital empowerment, open data, civic tech, digital and data rights, digital democracy, engagement, skills, economic access, etc.). What is still missing is a proper formal vision, strategy and governance framework that defines the region's approach to this agenda and how it is going to uphold the digital and data rights of citizens, as well as boost activity and investment. Five years ago Sheffield was ranked in the top ten of the UK's smart cities, now it is nowhere while Sunderland has been shortlisted in the final three for Smart City of the Year by Digital Leaders, having been nowhere 5 years ago.
8. Land, Housing & Built Environment
We welcome the commitment to ensuring that all new houses have full fibre connectivity.
Much more could be done to develop our rooftops for a wide number of purposes. The University of Sheffield is home to the National Centre of Excellence for Green Roofs – we should make use of this asset!
9. Outcomes, Benefits and Financial Implications
This section must take into account all the points made previously, and we feel there is further work to be done to evaluate and seek feedback on the list of things that SCR intend to measure and baseline progress against.
Generally speaking, though, whatever we measure, we must make it public and accessible and we must be flexible in its evaluation.
[ENDS]
Thank you so much to everyone who contributed!