It's been too long since we held one of these events, but it was worth the wait perhaps, as we enjoyed an excellent gathering of local event organisers representing over 20 different meetups in the city.
Many of the event organisers run well-established meetups, but there were also several new series in the early planning stages.
The venue was Spaces at Acero, which recently opened in the Digital Campus. Spaces, who are based in Amsterdam and now operate workspaces all over the world, have fitted out the ground floor of the Acero building with varied co-working spaces, meeting rooms, booths, a cafe and private incubator offices, and have also taken the top floor for more permanent flexible managed offices. We took over the ground floor cafe area, and it was a really nice space for a meetup (at least once the noisy snack fridge had been switched off!) There's room for around 50 people, theatre-style, but we kept the tables and chairs in place and it comfortably accommodated the twenty of us.
In addition to our venue partner, we also received very kind sponsorship from Sheffield Technology Parks, who covered the food and drinks, which were excellent, I thought. Catering was by Fitzwilliam & Hughes, who run the in-house cafe at Spaces, and they provided a nice mix of sandwiches, Mediterranean wraps, onion bhajis, pork pie slices, fruit and cakes, all prepared fresh on site.
The evening was split into three parts: a talky bit with presentations, a workshoppy 'open space' where we discussed various topics in groups, and a networky bit where we had food and chatted.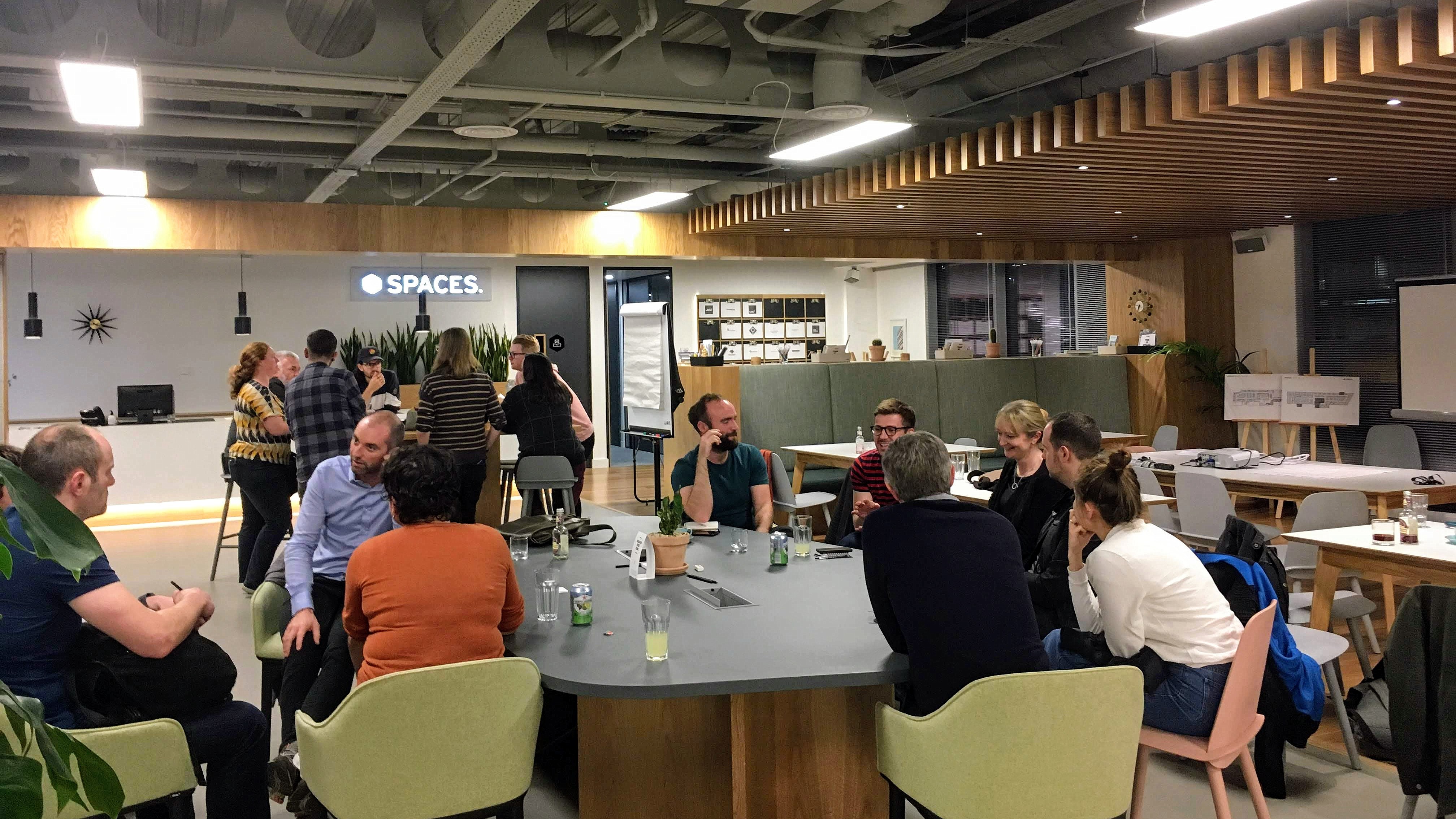 The Talky bit:
Chris Dymond – Sheffield Digital
To kick off proceedings I presented a recap of previous meta-meetups and an update on the support that Sheffield Digital provide. The presentation is embedded below, but I should probably also include some quick notes about it.
I started by recapping the different kinds of content that meetups produce, in order to explain what content I was intending to produce and to remind everyone of the #MetaMeetup hashtag.
I then went through the various ways in which Sheffield Digital can support meetup organisers, including the creation of a meetup directory, which would include a directory of venues and sponsors as well, and about which we would very much like more input from organisers – I will explain more about this later in this write up.
I also updated on the progress of creating a Sheffield Digital code of conduct, which will govern our own events and also provide a template for organisers. Importantly, it also includes an escalation process so that meetup attendees can approach us in confidence if they have experienced a breach of the code and do not feel comfortable raising with the organisers directly – we will offer neutral mediation in confidence. This CoC is in late draft and we will be releasing it to meetup organisers for comments very shortly.
We also highlighted the fact that there is a private channel for meetup organisers on our Sheffield Digital Slack (#meetup-ops). This channel is invitation-only and is there for organisers to seek peer support and to collaborate with each other when they don't want to do so in public. Please ask for an invitation if you organise an event and are not a member yet!
Finally, I went over other areas of support such as help finding sponsors, venues and speakers, and asked for suggestion for other ways in which we might be able to support the meetup community.
In addition to the directory and standard CoC, I think the thing that had the most support from people was the creation of a Meetup Guide. That might be a document or a series of blog posts that take people through the process of setting up a new meetup and provide a place for all our experienced meetup organisers to feed in their lessons, tips and best practice.
I will set up a draft document for us to collaborate on and will use the #meetup-ops channel on Slack to coordinate input.
Other ideas included the creation of a local speaker list and hosting more Meta-Meetups!
Heidi Powell-Biney from Spaces Acero
After I'd done my bit, Heidi introduced Spaces and what it can offer to its members, and also that it is available as a venue for meetups (prices depend on time, set up, number of attendees, etc).
She also announced a new event series she is organising called DigixSpaces.
This is intended to be a quarterly event, with a different topic each time. If there is a local meetup in the same topic area, she would very much like to collaborate with the organisers and run them "in conjunction with". DigixSpaces events would charge for attendance, but would offer discounts to Spaces and Sheffield Digital members, and in return would pay for external speakers.
They would also use the events to showcase some of their resident entrepreneurs and companies, as well as showcase what is happening locally in Sheffield. Each event will include pre- and post-event write ups to highlight how the tech industry in Sheffield continues to progress.
The first DigixSpaces is scheduled for November, will be AI-themed and held in conjunction with the Sheffield Machine Learning meetup.
Get in touch with Heidi if you're interested in collaborating!
Tom Wolfenden – Sheffield Technology Parks
Tom took the opportunity to talk a little bit about the history of Sheffield Technology Parks, its mandate and how it operates as a not-for-profit; converting rent from the office space it operates in the Cooper Building on Arundel Street (which is full) into initiatives that foster new entrepreneurship and economic activity.
This provides the organisation with a somewhat different ethos and set of motivations to other local startup offers. Tom explained how they are particularly focused on getting people to experiment with converting their side projects into new businesses via the "Cooper Project", which offers six months of free space in the Cooper Lounge co-working space, as well as access to a range of free business support and advisers.
He also provides free hosting for meetups in the Cooper Lounge boardroom, which several organisers have taken him up on and the feedback has been extremely positive. It's a lovely space for people to meet and make plans, can be laid out theatre-style to accommodate audiences up to about 30 people, and has a huge flat- screen monitor with Chromecast and a permanent PC attached for very easy slide and video streaming.
It would be great if meetups could get the word out to their audiences about what the Cooper Project is offering, and get more people with an interest in new technologies to experiment with converting their ideas into businesses!
I didn't let Tom show his full presentation of STP's history on Monday, as we were running a bit behind time at that point, so I've included it below.
Get in touch with Tom if you'd like to find out more about the Cooper Project, and please do let your communities know about it!
The open space
We had so many suggested topics that we decided to run two 20-minute sessions with multiple groups talking about different things. Below are the topics that were covered. I will drop in bullets and useful points from these discussions as those involved let me have them. I would also encourage people to write about these topics and flesh them out or provide some opinion. It all helps spread knowledge and practice beyond the Meta Meetup events themselves! 🙂
Dealing with money (sponsorship, tax, etc)
Catering for different knowledge bases
Finding and keeping sponsors
Attracting new people to meetups generally
Meetup scheduling and clash management (including syncing with Leeds other nearby places)
Starting a meetup – branding / channels / comms / "reinventing the wheel"
Downscaling / Sharing the load / succession planning
Dealing with money
Here are Paul Brabban's notes from this conversation.
You can describe your meetup as a "club" and get a treasurer's account from some banks (Lloyds, Yorkshire Bank mentioned) which will give you a debit card. Means that funds aren't going via a person and avoid complicating your tax situation.
Record donations as gifts (not liable for tax), so keep records but you don't need to invoice.
Give sponsors receipts so that they can keep records too. You can invoice if you want.
Make it as straightforward to sponsor as you can. (straightforward might mean different things for different sponsors?) Sponsors may prefer to buy goods directly – otherwise they can't claim their VAT back in their expenses because the meetup isn't VAT-registered. Buying direct rather than cash might be easier because sponsors can easily expense it to their companies.
Clubs don't make a profit – so make sure any funds go back into the meetup.
Expensive speakers – maybe collaborate with other groups to fund it and to get the most out of the speaker. For example, a speaker I'm looking at for SheffieldML will cost around £500 in travel and accommodation. AMRC, the Unis, local businesses could be interested in helping to fund and might want to put on their own events earlier in the day?
There were some questions we didn't have answers to.
How much should a meetup aim to be raising per attendee?
What specific records need to be kept and why?
What kinds of problems can come up?
We thought an FAQ or other guidance on handling sponsorship would be a good resource for Sheffield Digital to provide, but that the advice should be looked over by an expert in the field to make sure it's correct and correctly disclaimed.
Finding and keeping sponsors
Here are Katie Atwood's notes from this conversation.
Think about content THAT can be shared pre-, during and post- events, including photos, videos, slides, tweets/quotes.
Can the content be less transient and have a longer life for the sponsor to maybe feel they are getting more for their cash/loan of space, etc?
How can content incorporate sponsor details without the meetup losing independence?
Ask sponsors why they have sponsored before and why have they stopped?
Ask why orgs have not sponsored?
Could there be a sponsorship pool? Donations of cash or venue availability pooled so the meetups can draw on it. Would mean that an organisation pays out one amount each month/year, rather than getting lots of requests from different groups. This could be advertised on the meetup pages Sheffield Digital are creating on their site?
(We chatted about how some orgs may get approached a lot and by other meetup groups. That's probably annoying and doesn't help get a yes response!)
Why is sponsorship needed? Ask attendees what their expectations are. Is food and/or drink always/really needed? Just one drink or three for free…?!
And here are Iain Broome's notes in addition to Katie's above.
Offer sponsorship on more evergreen content as well as announcements and other material tied to the event. They could sponsor the podcast version of talks, a video version, the write up of the event, the deck etc.
Offer tiered sponsorship so that smaller companies and even freelancers can contribute, rather than looking for that one big sponsor to cover everything.
Build an audience away from the meetup to help persuade sponsors that you have a good reach – could be a blog, podcast or newsletter.
Attracting new people to meetups
Here are Rachel Ferla's notes from this conversation:
Which social media channels would be most effective for bringing in new attendees?
Eventbrite may have a wider audience than Meetup.com for people who do not already attend meetups.
Meetup groups visiting other groups could be beneficial periodically – an annual Leeds/Sheffield combined meetup for example, particularly if bringing in a top level speaker and looking to expand the audience.
Meetup organisers can visit other meetups to learn and support each other.
Starting a meetup
Here are Katie Atwood's notes from this conversation:
Meetups are probably repeating the same 'mistakes' or working through the same questions. We should look to share knowledge and ideas more.
Do meetups need a digital home and why?
Meetup, Eventbrite, Twitter, mailing list…. what services are good to use or avoid?
Also discussion with newer groups who realise that often lots of people say they will attend a meetup and then don't attend.
How often should a meetup be? Why default to monthly?
Downscaling a Meetup/Sharing the Load/Succession planning
Here are Eva Barabas' notes from this conversation:
If you are running a different kind of Meetup on alternate months avoid the pub (not inclusive, etc).
Suggest and idea and talk about it.
Front End Sheffiele – started every two months – five people to spread the load then scaled up.
Downsides of running every two months.
Hard to get people to commit two months in advance.
Catering for the events at meet-ups is not a reason to go.
Meetup – catch up.
Eventbrite – free.
Mailchimp – up to 4000 users for free – mailing list from google – GDPR issues.
Suggested Sheffield Digital to have an events mailing list.
Succession planning – make sure twitter and other signups for the Meetup are not as oneself, use a generic email address / etc.
Winding down – as oneself do we need that?
Shutting down – remove data from the users.
Find the people for succession planning.
Best way to find them – from chatting in the community – find community leaders.
The Meetup Directory
As mentioned previously, we are in the process of developing a meetup directory for us to incorporate into our Sheffield Digital website, and have done some rough mock-ups of what it will look like. This is one of several directory extensions to the website that are being built by Sheffield Digital director and all-round awesome person, Saul Cozens.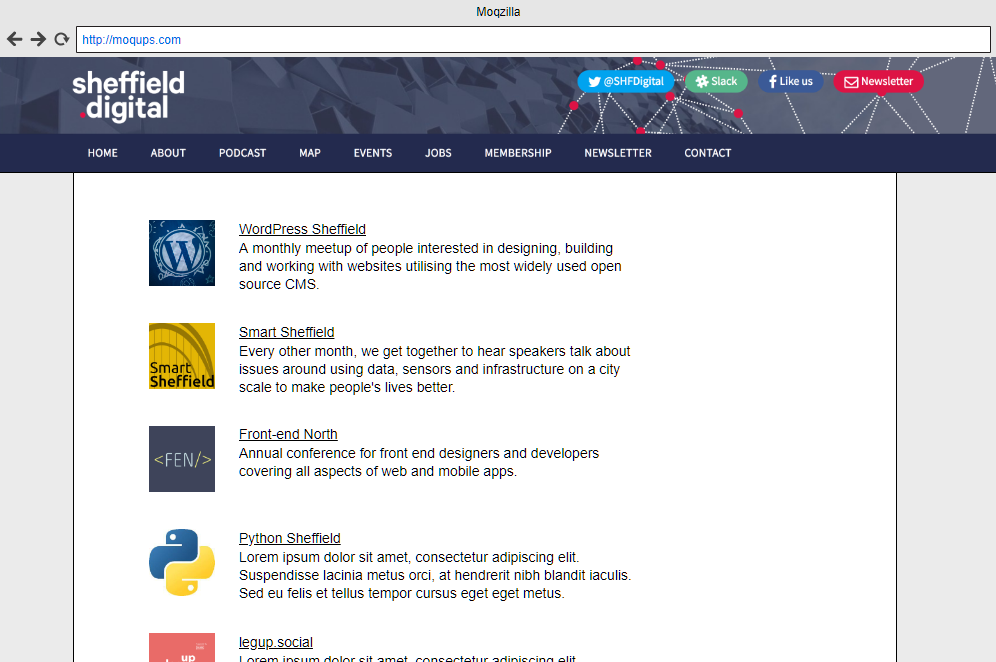 We have the basic structure – similar to the AirTable we used to gather information about all the meetups last year. There are tables for individual events of various categories, venues and sponsors, but we need some help defining what specific data we should keep and display about each thing. We don't want to keep too much, and we certainly don't want it to be an additional maintenance burden for organisers.
The current data structure can be found here – please let us know your comments.
We would particularly like to know the following.
Are the 'details for organisers' enough?
What other 'facilities available' need to be added?
Do we need other contact details? At the Meta-Meetup #2 we decided to use only generic email addresses to contact organisers, but do all meetups have domains and a generic email address?
Once we have a good handle on the data structure, we're going to need everyone to populate their event info. What's the best way to do that? Should we use the AirTable again?
Initially, the database won't allow any external administration, but we are looking to provide a back-end for organisers that is tied in to the standard WordPress permissions system, so you'll be able to go in and amend your event details. We still need to figure out exactly how this is going to work though, as of course many events have multiple organisers, and perhaps venue and sponsor data should be maintained by those organisations separately from the meetups.
Anyway, these are all issues we'll work through as we go – the prize is great and we will persevere! 🙂