Hannah Hassack launched her social media consultancy, Hannah Ruth Social, in June of this year. She has more than a decade of experience in social media marketing and has headed up departments across the entertainment, legal, charity and health sectors. We spoke to Hannah about adjusting to self-employment mid-lockdown, the common misconceptions about social media and how it can be used to develop professional opportunities for individuals and businesses.
Can you tell us a bit about your journey to becoming a freelancer?
Before I took the leap to freelancing, I worked across a mix of verticals, always in the same niche – social media marketing. I was lucky enough to gain experience agency-side, and then in-house in the entertainment, charity, professional services and healthcare sectors.
The fact my career in social media mirrors the lifespan of social media marketing as we know it means I've often been a one-man social media band. I'd go into businesses looking to establish a cohesive social presence and build their strategy from the ground up. Consequently, I've worked on every single aspect of social media from content curation, copywriting and campaign management; to crisis management, community engagement and insights.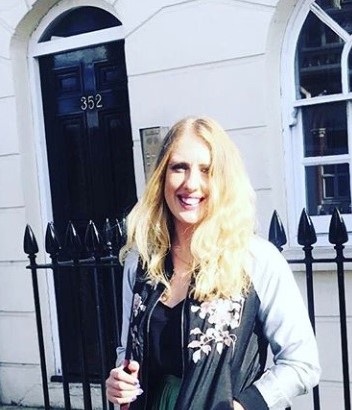 Gaining such a wealth of experience over the course of 12 years gave me a really solid foundation to grow my own business. This has enabled me to feel confident tailoring social strategies for each business and their audience, goals and mission.
What made you decide to become freelance?
A year or two ago I started to feel as though I had enough experience to be able to offer real expertise as a Social Media Consultant. In my employed roles, although each and every brand was so different, the role was essentially the same, and so I started to crave a new challenge. Combined with an increased need for flexible working and being inspired by friends who had successfully established a freelance working life, I got the notion that I could run my own show – and I just couldn't put it down.
I started listening to podcasts on my commute and was hearing from and about people who had carved out multi-faceted, interesting, creative careers for themselves; careers which meant they could do more than one thing at a time, in their own time, having a great time. They were passionate, lit up and they were stomping their own path.
So, I made my career change, mid-COVID-19 lockdown. Now, I'm only a very short way into my freelance journey, but I have not looked back. I've already met and spoken to so many creative, inspired and positive people, and I've broadened my horizons immeasurably. I've taken on some really exciting projects which are expanding my knowledge and adding to my toolbelt – and surprised myself with my own diligence and creativity. I'm feeling inspired and energised. There is a whole world out there and there is no clear path and no ceiling. It's scary but so exciting!
How do you approach your work with new clients?
Social media is such a complex and enormous world – and for many the opportunities and demand can be overwhelming – so it can be tricky for business owners to know what they need out of it upfront. I help clients take a strategic view, home in on what they want to achieve from their social and then to help them identify what support they might need.
Another big part of my job initially is helping clients to recognise that every brand's social landscape warrants its own unique strategy and that, to get the best out of it, their social media should integrate and dovetail with everything else going on around their business, from operations, to marketing, to branding and so on.
This means I always start by listening to the client. Listening to everything I can learn about their business, what they want to achieve, who they want to talk to, and how they want to pitch their brand. From there, I can start to piece together a notion of what they might need from their social media, and how they can get there.
How are you finding new clients to work with?
Networking, networking and networking! Initially I didn't realise it was networking, because I always imagined that to be making small talk over a canape. Yet, I was spotting opportunities, mainly via social, and offering myself up for them, going to speak to whoever I needed to until someone said yes.
It's incredible how quickly connection-building can snowball! I've had to put a lot of work in and do a fair chunk of unpaid work first – recognising it as an investment – but it has quickly led to paid opportunities which I never would have found if I'd gone looking for them.
The best lesson I ever learned in my career is the importance of relationship building first. I used to throw myself in head on and just want to get the job done. Now I know it's far more important to build relationships and show your expertise (rather than shout about it!). If you can invest in that, I've found the rest will follow.
What do you think are the common misconceptions about social media, when used by businesses?
The instantaneousness and flexibility of social media can mean many businesses see it as something which should be quick and easy and which doesn't require much thought or resource.
Often, my first challenge is in helping clients to see it as not only a serious marketing tool – which requires the same resource and strategic thinking as any other medium – but to recognise that it's potentially the most important platform at their disposal, bearing the greatest opportunity.
How effective can social media be as a tool for freelancers, contractors or people who are currently out of work, to find and develop opportunities?
I wouldn't have found any of the opportunities I have without social media. As well as having a presence for your own product or business, social is brilliant for connecting with people who can connect you with opportunities.
It's also your shop window for your own expertise. In the Social Media Superpowers workshop I run with Working Wonder, we talk about the fact that social media is your opportunity to shine in front of potential clients before you have even got in front of them. You can stand out, show off your USPs and illustrate what a client can expect from you before they've met you, and that is a major plus.
How are you finding life as a freelancer so far? What have been the hardest things to adjust to?
I have loved every day of freelance life so far. The many brilliant people I've met (all online, as this has all been mid-pandemic), the variety of projects I'm working on – it's just been so many wonderful things. I also feared I'd feel like an imposter or that no-one would take me seriously. So far I've found not only do I not feel like an imposter, I actually feel like I know what I'm doing! That's been the biggest and most pleasant surprise.
The trickiest thing to get a handle on has been how to plan my time. I thought I'd be good at time management and have all this extra time, however, I have consistently overestimated how much I can achieve in a day. At the start, I'd have so many things on my list for one day! Now, I've learnt that running your own business takes a lot of time and so I'm slowly learning not to overestimate.
I've also had to practice what I preach. I promote myself on social media and it's brilliant because it's teaching me so much more about promoting a small, independent business than I ever learnt when working for another brand. For example, initially I was publishing my daily Instagram post each morning (which is mad because I'd never recommend that to a client!) – now I'm planning my content one or two weeks ahead. It's those little things that I'm refining as I put them into practice for myself.
Why did you become a Sheffield Digital member, and what do you want to get out of your membership?
With so much digital talent in the Steel City, it's fantastic that the Sheffield Digital network brings people together to help them expand their opportunities.
There is such an important role for technology to play in supporting a range of industries, and there's a real opportunity for the technology industry itself to thrive and expand as it becomes ever more crucial to our future economy. I'd like to continue to connect with people and to be made aware of interesting projects which might warrant the kind of expertise I offer.
I've worked for several Sheffield-based businesses in my career, and I want to see Sheffield continue to flourish. Sheffield Digital goes a huge way to bringing industry professionals together and growing our prominence nationally, and this is something I want to be part of.
You can find out more about Hannah's work by following her on social media (of course!):
Instagram: @hannahruthsocial
Twitter: @HRHSocial
LinkedIn: Hannah Hassack