It was great to get together with members to celebrate and set out plans for the year ahead, all in the lovely surroundings of The Hide. After a busy and successful year for Sheffield Digital there was a lot to reflect on and even more new stuff to hear about. We also welcomed a guest speaker to talk about diversity and why the tech sector in particular has to be more inclusive (we'll be blogging about this separately as there was so much to take away!).
We'll start this post as we started the event, by saying a huge thank you to every single member, founder, partner and supporter of Sheffield Digital. Your support and enthusiasm means that we are growing in size, reputation and influence and we couldn't exist without you.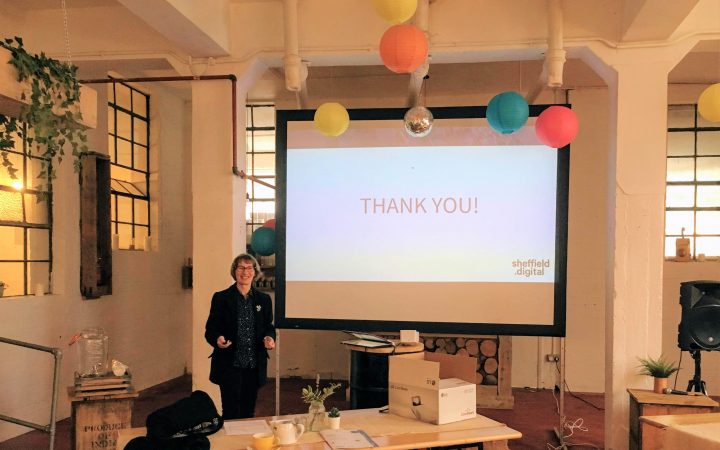 Thank you also to Sheffield Technology Parks, Shorts and Benchmark Recruitment who, as sponsors of the AGM, made it possible for us all to enjoy a welcome drink and eat like kings and queens.
Doing more for our members
In the past 12 months Sheffield Digital has delivered more content, more events, better member support and has increased our reach and influence in and outside of Sheffield. We've done this by investing in more content producers, dedicated admin support and freeing up the time of our Directors, namely Mel and Chris, so that they can say 'yes' to more meetings and conversations.
They've been contributing to national digital policy discussions, helping to attract inward investment and representing the sector and our members at every level.
Sheffield is now known as one of the UK cities with a tech cluster and for anybody wanting to work with Sheffield, we have become established as the organisation to speak to.
How did we do?
We came away from last year's AGM with a list of priorities set by our members. One year on, we reported back on what was achieved and what items are still a work in progress.
The Sheffield Digital Festival – held in May – was a success and we secured a full programme of engaging speakers, fringe events, sponsors and lots of visitors. This was the beginning of something that will grow bigger and better and we can't wait for next year's festival.
As a bonus, we also supported Sheffield's first ever Digital Awards, initiated and organised by local newspaper, The Star. Similarly to the festival, this was a first attempt and we're looking forward to seeing the awards develop and grow, with more involvement from us in 2020.
We promised to organise regular showcase events to celebrate and promote the exciting and exceptional digital projects happening in our city. As we write this, we have just hosted our Autumn Showcase, which took place on 26 September and was the fourth event so far.
Our first Sheffield Digital Quarterly Briefing is hot off the press and we were pleased to share this at the AGM. This provides an overview of the city's digital technology industry including economic figures, sector priorities and information on those companies leading the way in the "four pillars" of Sheffield's digital tech identity: learning technologies, creative technologies, movement technologies and advanced manufacturing technologies. We will be sending out physical copies of the briefing to policy makers nationally, regionally and locally, and have also created digital versions consisting of a vertically laid out pdf for sharing via email, blog posts introducing the briefing and covering the three main sections of content, and a series of social media cards to communicate the core messages (we will link these here as soon as they are published!).
We've also developed a code of conduct for Sheffield Digital events and meetups and this is now live on our website. The code of conduct is available for all of our members to use for your own events.
Work in progress
We are busy plugging away at our engagement work with schools and students in Sheffield but we reported on some significant developments in this area. We are now part of the newly formed Sheffield Digital Skills Action Group and within this forum we are planning not just strategy but practical activities around a few key priorities, high level digital skills in particular.
Sheffield Digital will also have a presence at the University of Sheffield's Careers Fair in October. We will be there to represent our member companies so that students have a better understanding of the opportunities that exist right here where they study. Please take advantage of this and come along to spend an hour or two on the stand to spread the word about your company. Just get in touch if you would like to be involved.
The really exciting bits
Tax. Not generally the highlight of an AGM agenda but we did share news of our partnership with Shorts Chartered Accountants to provide a straight-forward way for businesses to take advantage of tax reliefs for research and development. The potential savings that firms (and especially startups) can make through claiming R&D tax reliefs are definitely worth paying attention to, so if you think this could be relevant to you, take a look at this post for more information.
Did you know that Sheffield could become the National Centre for EdTech? We were excited to share this at the AGM, knowing how many members are part of the already thriving EdTech industries in Sheffield. Chris has been working closely with EdTech UK and local firms and organisations to develop a joint proposition to scope out what this could mean and how we could bring it about. This has progressed well, with a lot of positive interest in the scheme – watch this space!…
Keeping a good balance – what do you think?
A lot of the work that we reported was focused on economic development and the benefits to business and our company members (although a thriving industry benefits everyone who works in it too of course). It's a real balancing act to do the work that will make sure that Sheffield Digital is sustainable but, at the same time, acknowledge and support all the people who make our community so vibrant and supportive. So we had some questions for the audience and we'd like to know your thoughts if you weren't at the event:
Should we keep growing?
How do we get the balance right between our business focus and our community focus?
What sort of things should we prioritise?
We'd love to know what you think – please feel free to contact Mel or Chris by email or DM on Slack.
Coming up
We welcomed the brilliant Sally Bogg, Head of Service Management at Leeds Beckett University as our guest speaker. Sally is dedicated to improving diversity in the tech sector and gave us some very compelling reasons as to why it needs to happen and how we can all make changes to our recruitment practices to be more inclusive. We'll be covering this in a separate post soon.
Thanks once again to everyone who came to the AGM! It was great to see so many people there and wasn't it a lovely convivial atmosphere. Let's keep the conversations going as it's so important for us to talk to as many members as possible, so do get in touch or come down to the weekly Friday morning GeekBrekky at Tamper Sellers Wheel for chats 🙂