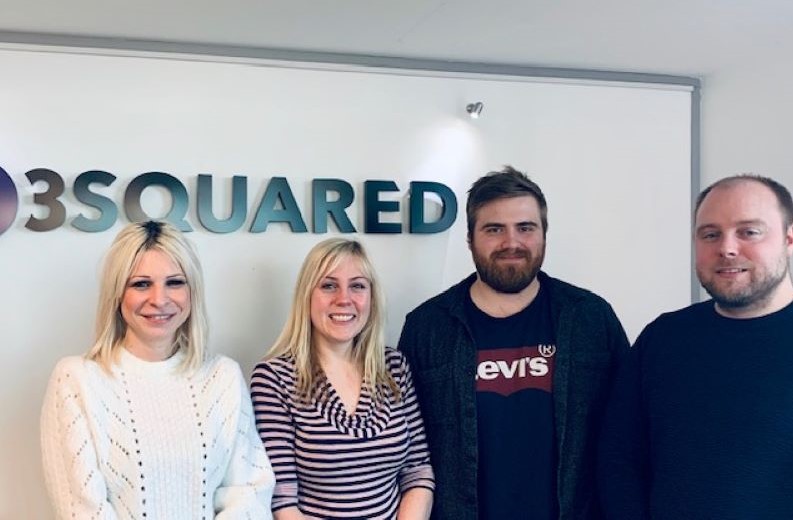 Benchmark Recruit works extensively with digital businesses in Sheffield to attract and retain the best talent within Sheffield City Region. The business has joined forces with The Developer Academy to coach and train jobseekers to help them enter the digital industries. In this guest blog from Ellie Langley, Benchmark's Office & Marketing Manager, we hear how this collaboration has helped 3Squared to find its newest recruit, George.

At Benchmark we are proud to champion individual and business needs by getting the right people in the right place for the long-term.
We are committed to developing skills and giving people the opportunity to do this in a nurturing environment. With the rise of people signing up for coding camps – with successful results – we have teamed up with Ben Atha from The Developer Academy to help current students secure interviews with our open minded clients, getting them started on the career path they want. We're extremely happy to be able to share a success story about how we have worked with Ben and his team.
After six months of retraining as a developer through The Developer Academy, we were delighted to have had a hand in helping student George to secure his first role at rail tech innovators, 3Squared. Cherry Limb, Operations Manager at the company, explains the pros of taking on a candidate through a less orthodox career route:
"Companies have woken up to the benefits of being an inclusive employer. At 3Squared we don't recruit for 'culture fit', that just means we end up hiring the same kind of people, we hire for 'culture enhancement' and that means hiring all kinds of people from all kinds of educational backgrounds. We have apprentices, graduates, people who are self-taught and people who are committed to re-training.
"We're therefore thrilled to have hired George from The Developer Academy. George was hired after excelling at interview and the code test and he came to us with all the attributes we look for in a Junior Developer.
"The search for talent is more competitive than ever in South Yorkshire, but we are confident that by looking slightly further afield for prospective staff we're still getting the same superstars we always have."
We also spoke to George about his experience of using a recruitment agency and what a difference retraining with The Developer Academy has made. He said,
"Before retraining I had the misconception that you needed a computer science degree to get a job in programming. Training with The Developer Academy gave me the confidence to pursue a career in the IT sector. Benchmark helped a lot with getting interviews with open minded companies like 3Squared and giving great interview advice beforehand. I'm now enjoying my second month as a Junior Software Engineer at the company."
Seeing the first student securing a role at 3Squared was brilliant for both Benchmark and The Developer Academy. Whilst we encouraged and coached George through his application and interview process, we were fortunate to have Ben collaborating with us and finding the right training for George.
This is what Ben had to say about George starting his role:
"Seeing George so happy in his new role at 3Squared really emphasises how important it is for our students to have the flexibility to explore different areas of coding. George originally started learning Data Science with us before moving on to web development and C#, something that he really enjoyed and was able to focus on. I think this has really helped him find the right job and I'm so pleased to see him happy at such a great company."
Overcoming the digital skills gap in the region is always at the forefront of Benchmark's Digital and IT team's priorities. If you are looking for alternative routes into a new career in digital, get in touch with Ben Atha at The Developer Academy to see how he can help. If you feel that recruiting for the right digital skills can sometimes be a struggle, speak to Amelie at Benchmark to find out how taking a different approach could benefit your team in 2020!