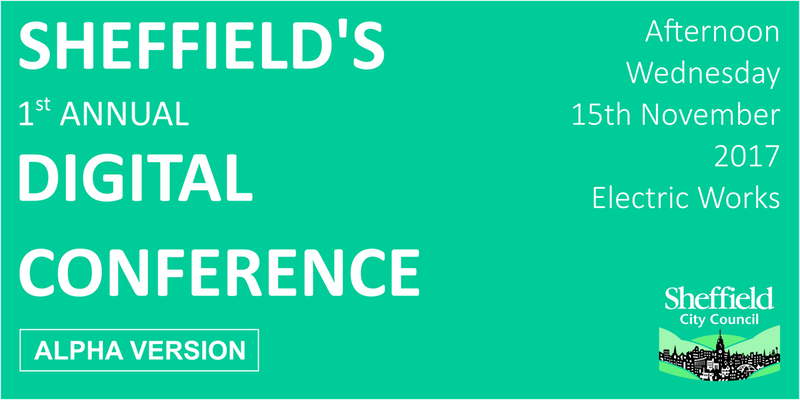 Sheffield's First Annual Digital Conference takes place tomorrow, Wednesday 15 November. This post gives you the full programme of events for the day and information on how to get involved, even if you're not able to attend. You can find out more about the conference on its Eventbrite page.
Watch the livestream and get involved
The response to the event has been incredible. Tickets sold out soon after being made available and sadly, that means many people have missed out. However, there are a few ways that you can keep up with goings on, even if you're not there in person.
You can:
I'm also going to mic myself up and try to capture the feel of the conference for the Sheffield Digital Podcast too. Fingers crossed, that will include interviews with a few attendees and perhaps some of the speakers too.
Conference programme
If you're attending the event, you should have the information below from the conference's Eventbrite page. It's reproduced here in full for handy reference on the day and posterity. The entire event takes place at Sheffield Digital Campus, Sheffield S1 2BJ.
Schedule:
12:00–12:30 Arrival and light refreshments.
12:30–14:20 Main Conference, featuring the following.
Keynote speakers:
Catherine Howe, Director of Digital Innovation, Capita plc
Olivia Blake, Deputy Leader Sheffield City Council
Lightning talks:
People: Helen Milner OBE, Good Things Foundation
Economy: Mel Kanarek, Sheffield Digital
Living: Prof Steve Haake, Advanced Wellbeing Research Centre, Sheffield Hallam University
Governance: Mark Gannon, Sheffield City Council
Infrastructure: Matt Proctor, Arup
Mobility: Prof Fabio Ciravegna
Resources: Dr Danielle Densley Tingley, Urban Flows Observatory at the University of Sheffield
Opportunities:
UFlO Innovation Challenge
SFSY Innovation Funding
14:20–15:00 Break and refreshments
Delegates can take the opportunity to meet and talk, suggest session topics for the un-conference and vote on the branding options for the next phase of the 'Digital Coalition'. Meanwhile the conference space will be converted into seven break out areas for discussion and workshopping around each of the domains.
15:00–17:00 Unconference
There will be four half-hour session slots available in each of the seven break-out spaces. The first slot will be taken up by a key challenge topic set by the lightning talk speaker for that domain, the other three will be delegate determined. If there more suggestions than slots, the speaker will choose three. Sessions can be spread over other domains' break out spaces if there is spare capacity.
Each space will also have a 'digital scribe' who will help facilitate the sessions, but will mainly be there to ensure that ideas and knowledge of existing projects and resources are added to the appropriate public Trello board for the domain. There will be a large monitor or projector for this purpose in each of the break out spaces.
17:00–17:15 Break
There will be a short break to recharge for the final sessions (and reset the main room).
17:15–17:45 Plenary
Each of the digital scribes will show their domain's Trello board on the main screen. These Trello boards will become the aggregation point for ideas, projects, people, organisations and resources involved in digitisation across the city. The idea is to populate them as much as we can by the end of the conference, and also model the behaviours of using and adding to them.
17:45–18:00 Close Out
Thank yous and final words from organisers and speakers.
18:00 Pub!
We will likely retire to the Old Queen's Head across the road for a much needed drink (or two).
Share your thoughts
The conference is very much billed as an alpha. If you have any thoughts, feedback or great ideas, please do get in touch to let us know. We want to canvas as much opinion as possible to make sure we can build on this start. Either contact us through Slack or email info@sheffield.digital and we'll get back to you.