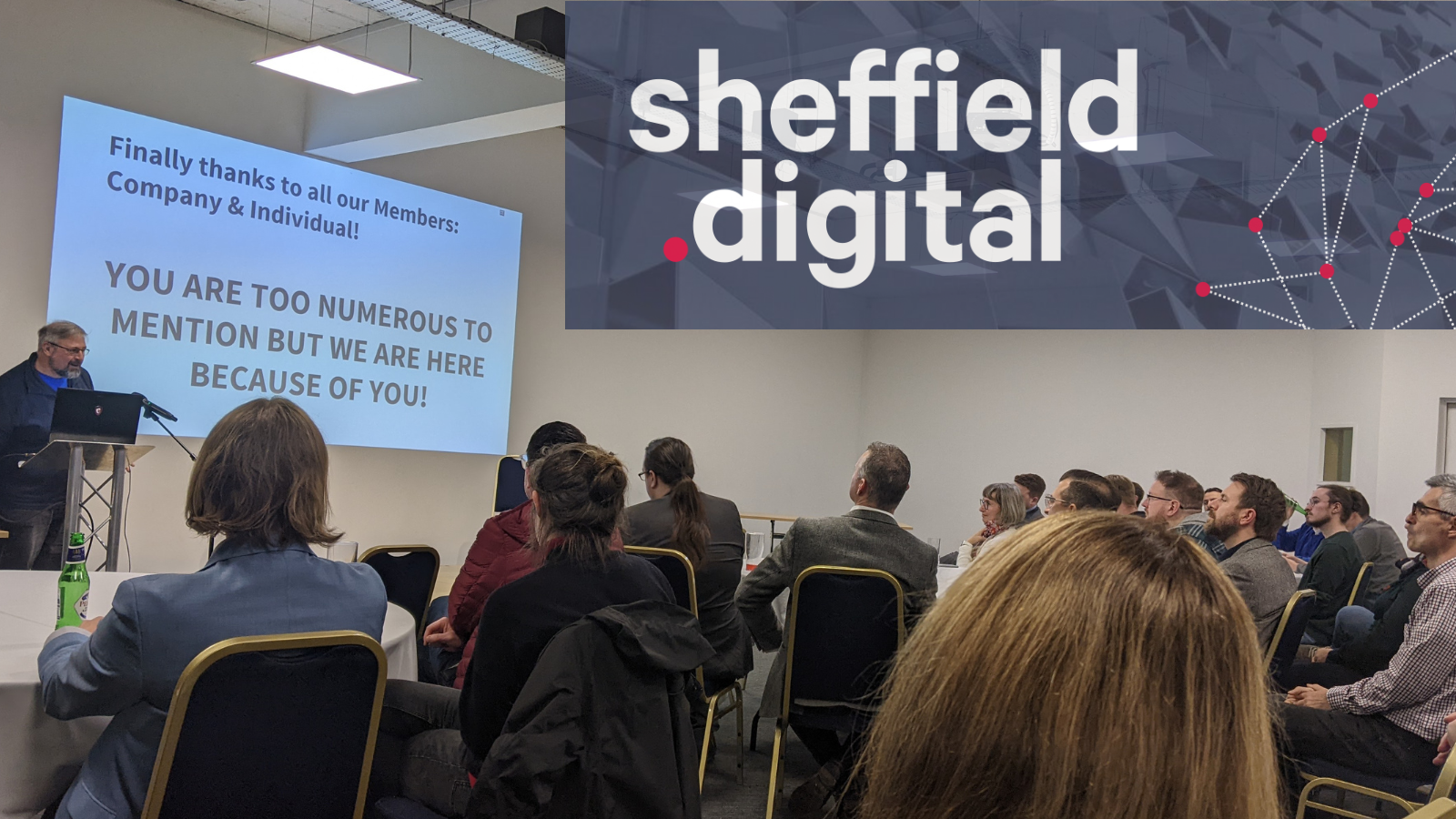 Company and individual members, plus supporters and friends of Sheffield Digital came together last week for our Annual General Meetup. Held at the Showroom Workstation in Sheffield, we were very happy to see more than 80 members of the community join us at our first major in-person meetup since 2019. In this post, we'll give you a brief run-through of what happened at the event, the headline facts and stats, and we'll signpost you to more information about our speakers and the topics they covered.
2022 at Sheffield Digital
Chris Dymond, a director of Sheffield Digital, opened the event with some information about our organisation and how we have been doing over the past year. This included the number of members we have (74 companies and 88 individuals) and how many we've gained in 2022 (eight and 18 respectively). Chris shared statistics relating to website traffic, social media followings, newsletter subscribers and our Slack channels. He also reiterated the popularity of the Sheffield Digital Jobs Board, which has featured over 300 jobs so far this year and consistently receives high visitor numbers.
Looking back at some of our main projects of 2022, Chris spoke about the success of the Sheffield Digital Mentoring Scheme and the 26 'Careers in Tech' interviews that our team has carried out. For both initiatives, Chris appealed to the audience to get involved, explaining that new participants are always needed.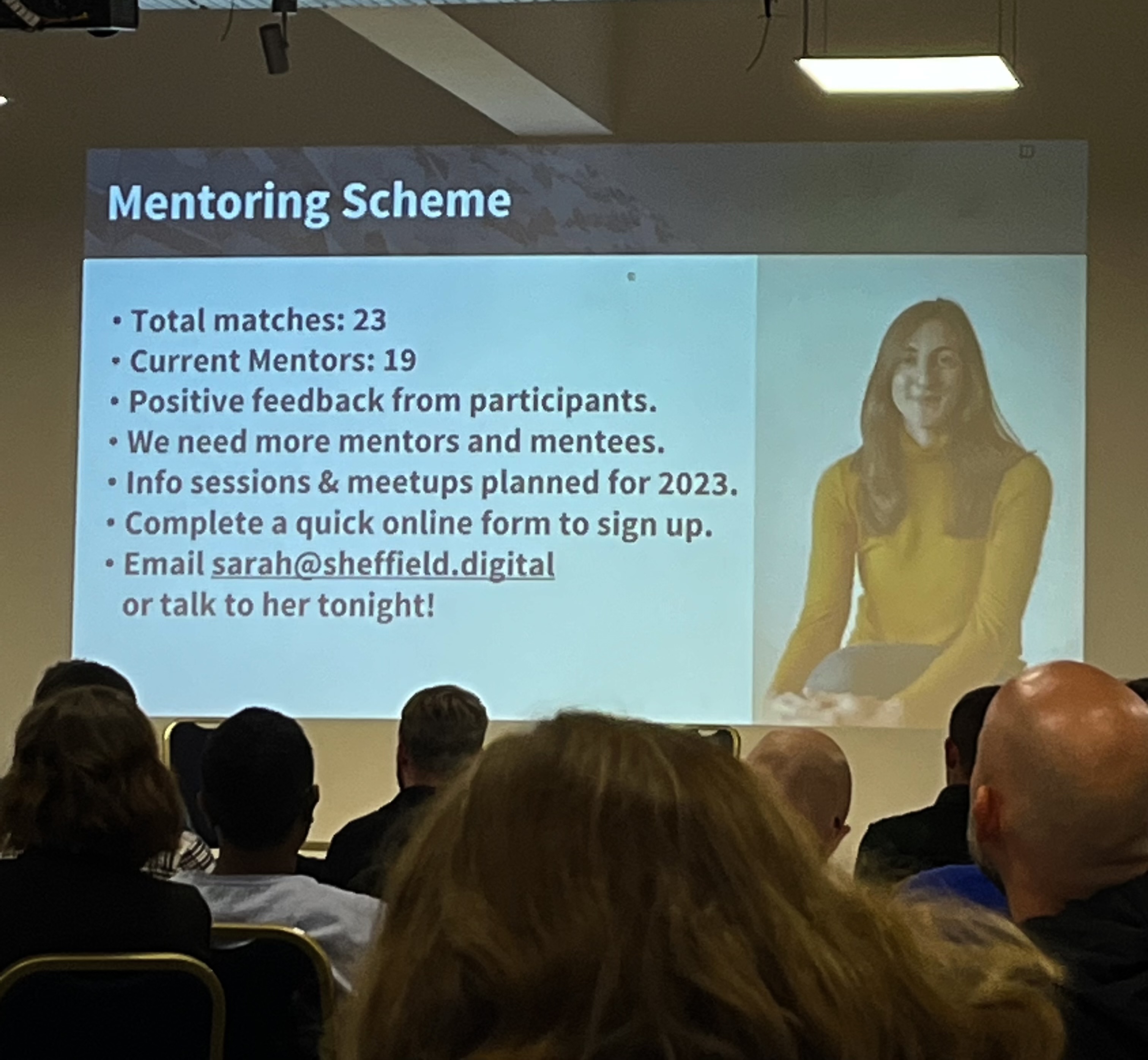 Sheffield Digital has contributed to a number of important discussions, plans and strategies this year, and Chris mentioned just a few of these including the city's COVID-19 Business Response Group, the Local Skills Improvement Plan and the AMRC Digital Meet Manufacturing Commission. He also shared some of Sheffield Digital's plans for next year, which includes bringing back the Showcases, meta-meetups and the podcast, revamping the website and introducing directories of freelancers and meetups.
Get fit for funding, the Tech 100, Warmbanks, blowing up the business, and more
If the AGM was a sandwich, then our meaty (or veggie) filling was the selection of lightning talks, an interview and a live demo, all delivered by our brilliant members.
Super Connector Laura Bennet kicked things off by telling us how Team SY is accelerating the tech ecosystem in South Yorkshire. This includes the 'Get Funding Fit' programme, which helps tech companies to prepare and pitch for funding through bootcamps and masterclasses. More details on Team SY can be found here.
Next up was James Taylor of Roaring Mouse PR who has been working with Laura and her team to prepare the South Yorkshire Tech 100 report. Launched the day after our AGM, the report showcases the region's 'hottest startups' and can be read online here.
Taking the baton from James was Neil Bizzell from The Developer Academy, who showcased 'Warm and Safe' – a new web app that enables people to find warm spaces close to them, and shares information relating to opening hours, facilities and accessibility. He also took the opportunity to recognise and thank the talent behind the app: Alyzande Renard, Coach & Mentor at The Developer Academy, and Bradley Ashton, a Developer Academy Alumni.
Dan Brookman, CEO of Airship and Toggle then took to the stage with Mel Kanarek, a director of Sheffield Digital, who interviewed Dan back in November 2021 for our podcast. In that interview, Dan spoke about turning a lifestyle business into an award-winning scale-up. Now it was time for Dan to talk about everything that had happened since last November, in particular, selling Airship to what he describes as the company's 'nemesis'.
He spoke about the importance of being transparent with his team through periods of change and the advantages of not having to 'wake up and check the bank balance every morning' when leading a company through megagrowth. Asked by Mel what advice he'd give to company owners who are considering selling, Dan emphasised the need to have a benchmark. He said,
"Have a success in mind, and when you get there, move on from it. Build a new team, and do something else."
Back to more lightning talks and we heard from Dan Kirby, CEO of The Tech Dept, and presenter of 'Honey I blew up the business', which is ranked in the top 5% of global podcasts. In each episode, Dan speaks to a business leader about their worst moment, an idea that was inspired by his own business journey and recovering from the moment 'it all went wrong'. Find out more and listen here.
Natalie Ward from CityFibre used her five minutes to pose a question to the audience and to the broader digital community: how do we plan for a Future Sheffield? Natalie outlined the crucial role of a strong tech ecosystem to handle developments and trends that are coming, such as the future of healthcare services for an aging population, building technology, and the mobility of people in a smart and sustainable city.
We ended the presentations on a high note thanks to Alex Mclean who treated us to a live demo of his work on algorithmic patterns in music using Strudel. Alex is an individual member of Sheffield Digital and is currently a researcher at Then Try This. You can try out TidalCycles here.
Thank you!
We were really pleased with our AGM, and were delighted to see that attendees had a good evening. Thank you for all of the lovely feedback we received, including these tweets:
"Enjoyed a great @SHFDigital Annual General Meetup at @theworkstation this evening. Met some lovely people and was captivated by some really interesting lightning talks. Thanks guys." – Gav Kimpton @gavkimpton

"I'm glad I was able to make the @SHFDigital AGM this evening. A great event; props to those who pulled it together and got the speakers lined up. Events like this used to bookmark our calendars. Looking forward to the qrtly showcase returning soon" – Tom Wolfenden @mrtwolfend

"It was an absolute pleasure. Great to talk about @TheDevAcademy alum @enitdev and Learning Mentor @alyzande's project. Really enjoyed the other talks and the chance to catch up with familiar faces and make new connections. Well done on a brilliant event." – Neil Bizzell @PiVangelist
The success of our AGM was very much down to the amazing contributions of our speakers and the support and enthusiasm of all those who attended. Thank you to you all, and thank you to the team at the Showroom Workstation – who were fantastic hosts.
We'd also like to shout out to Richard Groves from Impelling, who has kindly combined, mastered and balanced the audio footage from the evening, ready to sync up with the video recording. We'll be sharing the finished product soon, keep an eye on our social channels for that.