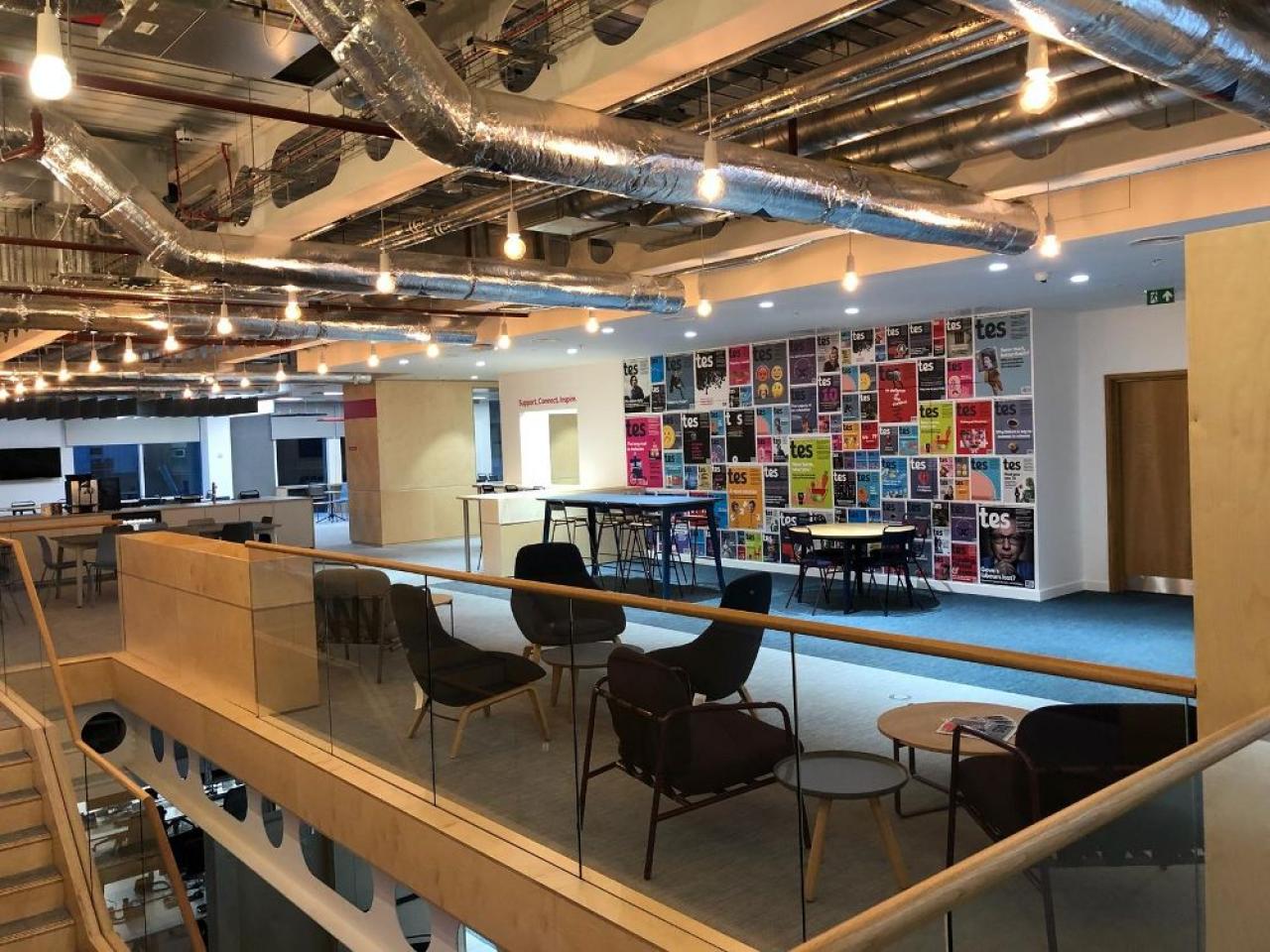 If you work or have worked in education, you may know Tes as the teaching supplement or weekly magazine, which was originally published as the The Times Educational Supplement . Since it was launched 111 years ago, Tes has evolved into a leading education business and global digital community, connecting and supporting more than 13 million educators worldwide. In 2018, Tes opened an office in Sheffield and here the evolution continues, with the announcement of a new Engineering Hub and the creation of 20 new roles in the city. We heard from team members at Tes to learn more about the company, its vision and culture, and why Sheffield was the natural choice for the new Hub.
Tes employs over 600 people in 10 offices across the world, including in London, Sheffield, Hong Kong, Melbourne, Sydney, and Dubai. Originally a printed newspaper supplement to support schools and teachers with their work, the company has expanded its products and services over the years, transforming into a global EdTech company. Throughout this transformation, Tes has stayed true to its purpose of being a champion of great teaching.
Mercedes Gonzalez-Gorbena, Chief Product Officer, comments,
"As a leading EdTech company, our range of software supports schools with timetabling, SEND provision, behaviour management, staff wellbeing and parents' evenings. Teachers all over the world find and share teaching materials on our resources platform, while Tes News provides teachers and leaders with the latest education news, insight and analysis."
The organisation has a vision that, as Communications Director Katy Gandon says, "gets most of us out of bed in the morning": We power schools and enable great teaching worldwide, by creating intelligent online products and services to make the greatest difference in education.
This vision is embedded in the culture at Tes. Katy explains,
"We try to achieve our Vision by attracting, developing and retaining, high performing diverse talent and providing a first-class working environment, where open communication is embraced by our Senior Management Team. Everyone provides regular feedback through our bi-weekly employee survey, and we act to constantly drive positive change and deliver the best possible experience at work."
She adds,
"There are loads of opportunities to learn – we try to practice what we preach! We are proud to promote continual learning and support the growth of everyone through a broad range of personal and professional development programmes."
Tes in Sheffield
When it comes to securing high-performing, diverse talent, Tes identified Sheffield as a prime location and so set up a new base in the city in 2018.
From here, 170 team members work across several different departments, including Customer Services, HR, Accounts, Sales, and the digital arm of the Marketing team. The Tes Resources team, which looks after the peer-to-peer teaching resource sharing platform, is also based in Sheffield, as is the IT and Business Systems team.
Andrea Preston, HR Director at Tes, comments,
"It's a fantastic mix of skill sets and people and that's why the newly created Engineering Hub adds another dimension to this dynamic bunch!"
Tes announced plans for its new Engineering Hub in Sheffield back in July of this year, encouraged by the growing EdTech presence in the city. Andrea explains,
"When we had the opportunity to re-look at the engineering part of our business, we decided to create the Hub. Here we will employ 20 software engineers in Sheffield where we have been actively involved in many education and tech initiatives since arriving in the city. For example, hosting the Hallam Festival of Education and being a major contributor to the 'National Centre for EdTech Scoping Project' in partnership with fellow Sheffield residents Twinkl and the Sheffield City Region Combined Authority.
"This strong EdTech presence in Sheffield is bolstered by two major Universities, a growing digital sector and support through bodies such as Sheffield Digital."
The team working at the Hub will develop new products to support teachers and schools, including timetabling tools, classroom management software and a platform for teacher development. Tes attracts engineers who want to make a difference to educators; Head of Product Development at Tes, Anil Dave, says,
"Our team works on products that help ease teacher workloads, improve complicated, time-consuming admin jobs, and ultimately free up teachers to do what they do best – teach!
"It's incredibly rewarding to know that something you're working on could have such an impact on a teacher or a pupil's day."
Opportunities at Tes
There are a number of vacancies at Tes in Sheffield, ranging from Senior Software Engineers and Technical Leads, to a UX/UI Designer, CRM Analyst and Software QAs. New recruits can look forward to playing their part in some new digital offerings coming up before Christmas, and a major new product launch expected in the new year.
Speaking about the current vacancies, Andrea says,
"These roles will all help drive our transformation to a digital organisation for the future. We're hiring in Sheffield as we have a strong belief in the talent in this city and feel it is the right place to invest in the current workforce, and to develop the next generation of Sheffield's digital workforce."
Those employed at the new Hub, and throughout Tes in Sheffield, will be contributing towards the organisation's ambition to develop exceptional software and services for schools in the UK and worldwide.
Andrea continues,
"We want to make life easier for schools and teachers by providing software and tools that help them on a daily basis – freeing up their time to do what they do best: teaching and enhancing the lives of young people.
"And this ambition goes hand in hand with that of employing more top notch engineers and developers to help us get there. We hope to grow the engineering team in Sheffield into a world class Hub that both the city and the company can be proud of!"
To find out more about Tes, visit the website and you can keep an eye on current and future vacancies at the organisation here. You can also stay up to date with company news and updates by following Tes on Twitter.