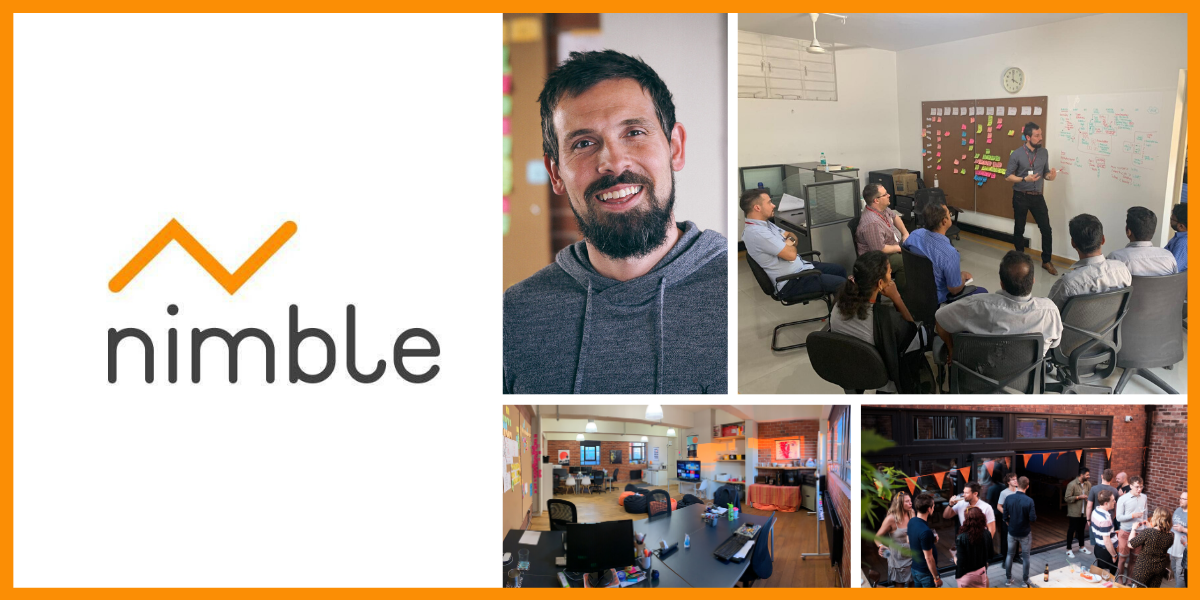 Nimble is a true Sheffield success story. Starting life as the freelance brand for Agile Delivery Practitioner, Chris Roberts, Nimble has grown to a 50-strong team based across three northern cities. The company turned over £6million in 2019, doubling profits on the previous year, and has secured a diverse portfolio of private and public sector clients. With big plans for expansion in Sheffield and other cities, now is the perfect time to find out more about Nimble from Chris, founder and CEO.
In early 2016, Chris Roberts secured a project with the Home Office to head up its first Digital Hub outside of London. Having worked in Sheffield in a freelance capacity for two years, and prior to that at Technophobia, Chris had built up a solid network of product, tech and delivery specialists, who he brought on board to deliver the Digital Hub.
It was this collaboration that sparked the beginning of Nimble's growth. Chris explains,
"I was inspired by how many great people I was working with in and around the Sheffield area.This made it explicit in my mind, and I decided to put a wrap around it as an independent consultancy, as opposed to just my freelance brand."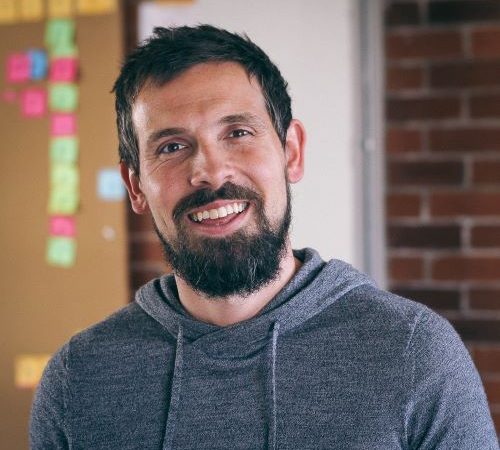 Less than four years on, Nimble has 50 team members, made up of a combination of contract specialists with an increasing number of permanent employees. Around half are based in Sheffield at the company's Oxo House office, with the other 50 percent split across Leeds and Manchester.
When creating that early network of delivery specialists, Chris had a clear vision about what Nimble represented, and that hasn't changed. He says,
"When we started out, everyone was doing Agile transformation, but not many were making it stick. It's not just about the delivery and the technical practices, it's about successfully changing cultures as well as working practices. I hand picked down-to-earth, seasoned practitioners that I had worked with; those with the knowledge, skill and drive to get involved."
He continues,
"There's so many myths about Agile ways of working; people used to confuse Agile and Scrum, and now using Zoom to work remotely gets badged Agile, which makes me chuckle! For us Nimblers, it means utilising well-integrated teams to break work down into bite size chunks and deliver the highest value chunks early.
"If you think of it like playing cards, we'd look to deliver the Ace, King, Queen and Jack first so our clients start to get a return on investment early. Plus they get their product in front of real users and get feedback early, so they can adapt and improve."
A diverse portfolio
Nimble enjoys the challenge of different products and solutions, so the company has not limited itself to vertical markets. Clients vary in size and sectors – from Sheffield companies like Split the Bills and globally recognised The Floow, to blue chip companies such as Booking.com and SkyBet, and public sector clients including the Department of Education and Ministry of Justice.
A recent commission saw members of the Nimble team visit India to complete the implementation of a bespoke Amazon-style platform for a manufacturing company. As well as building the product – which is considered a game-changer for the company – Nimble used their visit to run coding-camps and to upskill the in-house IT team though workshops, seminars and Q&A sessions (you can find out more about this project in this Showcase talk).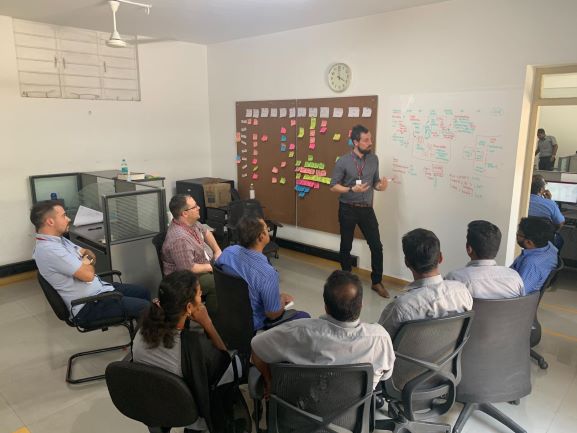 The ability to deliver high quality products and solutions to such diverse markets is a characteristic that Chris believes sets Nimble apart. He comments,
"We pride ourselves on being an elite set of specialists who can adapt quickly to different market places. Our rapid learning of new domains and rapid mobilisation of teams means that we can shape, design and deliver a solution or product quickly."
Empowering and upskilling workforces, often "shining a light on things that they already know", are integral parts of the Nimble process when delivering organisational change. The ability to do this – often in situations where there may be resistance – demands a certain skillset, which is another of the foundations that Nimble has built its success on. Chris continues,
"All our specialists have those cultural traits and values; emotional intelligence, empathy, wanting to collaborate and transfer knowledge. Sometimes you have to be quite thick-skinned because change isn't always welcomed, it can make people feel on edge. You have to get to know people to see what makes them tick, what motivates them and what makes them anxious about change. You have to build relationships first, which are key to delivering maximum value."
Entering the next phase of growth
Following the success of 2019 – when Nimble experienced 200% financial growth on the previous year and reached 50 team members – plans to scale-up are well underway.
The company has just secured places on two large frameworks in the retail and utilities industries and has kicked-off a new Agile transformation project with a large pharmaceutical brand and an innovative product development commission with a utilities company.
Whilst Nimble has teams in Manchester and Leeds, which (currently) deliver work remotely, Chris wants to establish physical hubs in the two cities as well as setting up hub number four. Whilst he hasn't decided exactly where this will be, Bristol, London and Edinburgh are strong contenders.
Sheffield born-and-bred, Chris is confident that Nimble's main HQ will remain in the city and plans to move to a bigger home have only been paused due to the Covid-19 pandemic. The destination for this is also to be decided, but Chris says they have their eye on "a few central Sheffield locations" (so watch this space!).
Throughout the lockdown in 2020, Nimble has continued to recruit new team members and to make a significant number of contractors permanent employees. The company has also used the period of remote working to "dive deeper" into its employee engagement as they are passionate about developing their specialists further. Chris explains,
"We want to go from 'good' to 'best in class' in how we look after our people, so we got our employees really involved in making these improvements under lockdown.
"We've homed in on mental health and wellbeing and been careful not to assume anyone's preferences or individual circumstances. We have a great bunch of individuals here, but they are just that: individuals."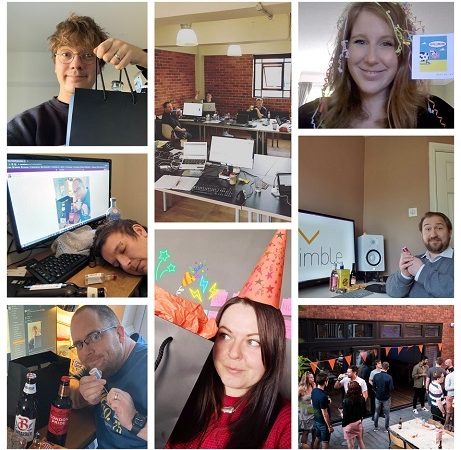 Once the dust settles
There is a lot to be excited about in the coming months and years for Nimble, not least growing the company's presence in major UK cities, continuing to welcome new team members and some "exciting investment news" Chris hints at, coming later in the summer.
It is the Sheffield-based plans Chris is perhaps most keen to pick-up post-lockdown, once things start to settle down. Of course, he'll be taking a typically Agile approach to the execution of these plans. He says,
"Being a Sheffield lad, growing our Sheffield presence and getting a bigger home here is a big deal. It'll be a stepping stone though; when you have a lot of inflight work, you can't implement major change at the click of your fingers, especially when we're coming out of lockdown with a changing economy. But just starting to put those growth plans and ambitions in place, that is what I am most excited about."
We are really excited too and look forward to sharing more news about Nimble's growth over the next few months
You can find out more about the company on Nimble's website, you can stay up to date with them on Twitter and you can read more about the culture at Nimble, including its charity initiative #NimbleGivesBack on LinkedIn.