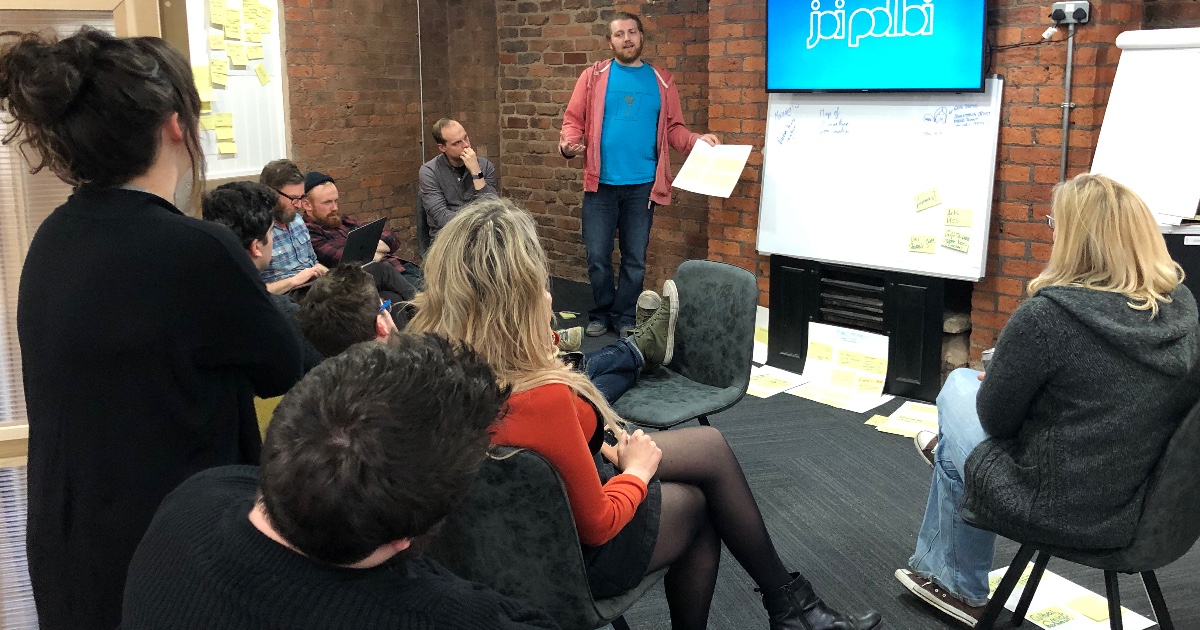 Formed in 2003, Joi Polloi has evolved into specialist creators of digital products and platforms to the broadcast, media and cultural industries. Whilst most of its clients are based outside of the city, including the BBC, Channel 4 and the National History Museum, Joi Polloi is growing its Sheffield-based team and has recently moved into a purposely redeveloped building in Kelham Island.
Acting Managing Director, Nick Crossland spoke to us about breaking into a largely impenetrable, London-based industry, breeding a culture of curiosity, and the challenges that come with growing a three-person 'lifestyle' business into a 17-strong team, challenging for high-profile national projects.
A digital transformation
Joi Polloi makes stuff people love. Like digital platforms, products, content and experiences designed to engage and enthuse audiences of TV, theatre and museums.
Joi Polloi is the reinvention – in more than just a name – of the traditional print and design agency, Rocket, founded by Andy Barratt in 2003. Throughout its former years, Rocket witnessed digital technologies and expectations change rapidly.
Once an offshoot of its full-service offering, the team's workload had become almost exclusively digital. Rocket stayed at the very forefront of new technologies throughout this transformation.
Nick explains: "It had become the majority of our work, so we decided to focus exclusively on digital. We have a company culture which encourages collaboration, curiosity and innovation and as a result we were early adopters of technologies which are now commonplace, such as HTML5, responsive design and high standards of accessibility."
In 2016, the company made things official, changing its name to Joi Polloi, launching a new brand and publicly redefining the company, its offer and its services to focus firmly on digital insight, strategy, design and build.
Sector focus
A more recent step in Joi Polloi's evolution and an important milestone in the company's history, was the decision to define a specialism in the broadcast, media and cultural sectors. Like the decision to focus on digital, this was a natural move informed by the company's client base and the skills and experience within the team.
"We were finding that more and more of our work was coming from these sectors, which have their own very specific requirements. We understand these requirements well and Joi Polloi was building a strong reputation, plus we really enjoy the work, the challenges and the profile and recognition it generates. It made complete sense to define our focus in this way."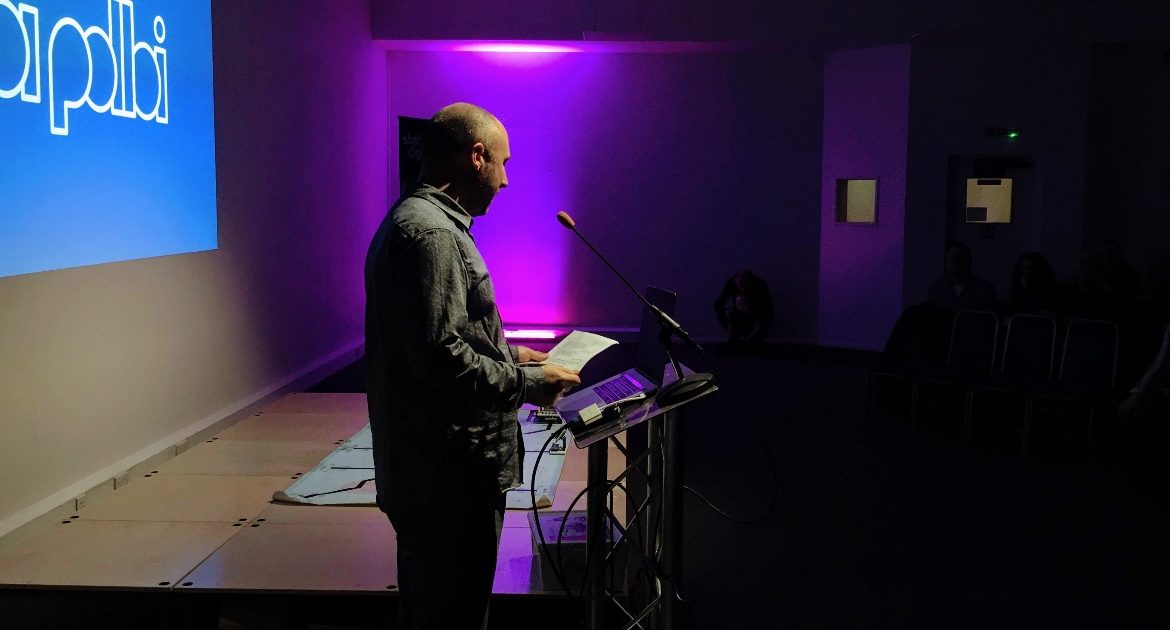 Being based outside of the capital throws up its own challenges when pursuing these sectors, however.
Nick explains: "The broadcast and media industries in particular are largely London based, so one of our biggest achievements has been in building up a reputation for creative excellence within a fairly impenetrable industry, regardless of our location."
Making an impact
Joi Polloi enjoys big, challenging projects that ultimately have a big impact.
Nick says: "We solve problems for broadcasters who want their audiences to participate digitally with their TV shows; organisations that want to tell stories using technology, or want beautifully designed, effective, user-friendly, accessible websites, apps and other digital experiences.
"We like high-profile work with big audiences, and we like to be challenged – creatively and technically. We want to work with clients and on projects that are making an impact."
A quick glance at the company's website reveals the broad portfolio of projects and clients that Joi Polloi works with. Examples include a mobile interactive game commissioned by the Natural History Museum, a digital platform for beauty and lifestyle blogger Zoella, and a fictional corporate website commissioned by 4Creative to promote the TV show, Humans. The latter project not only secured Joi Polloi's involvement on Humans for a second series, it also won a BAFTA for Digital Creativity.
A catalyst for growth
In 2018, Channel 4 and TV production company, Studio Lambert launched the first ever reality show to be entirely driven by digital technology. The Circle had a bespoke social media platform at its core, and a public-facing mobile app, which enabled viewers to influence the outcome of the show. Both were designed and built by Joi Polloi. The Circle has since been commissioned by Channel 4 for a second series and Netflix has bought the rights to the format, with three global versions being translated into more than 60 languages.
The success of this commission has bolstered Joi Polloi's confidence and has instigated investment in the team, which has grown by 30% in the past 12 months. Whilst the company has created multiple new posts for developers, it has also invested in operations and client-facing services, appointing its first Client Services Manager, Robin Cramp, who previously worked for the BBC.
The company's growth – both gradual from the Rocket days, and the more recent swell – hasn't come without its challenges. Nick acknowledges that the lessons learnt have helped to create a more efficient and tightly run business.
"Managing growth has been a challenge. We've learnt that it's better to put policies and systems in place sooner rather than later, so you aren't having to unpick processes and attitudes that have evolved organically over years.
"We've also come to learn how crucial it is to really keep a close eye on profitability and efficiency and managing our workflow so that we are never too busy or too quiet."
Being in Sheffield
Whilst proud of its new Kelham Island HQ and team of Sheffield-based designers, developers and producers, Joi Polloi is not defined by location. The company remains outward looking, an approach Nick would like to see more Sheffield-based businesses take, to keep the city on an upwards trajectory.
"There are major companies investing in Sheffield and local companies that are growing and trading nationally and internationally. This is positive; however the city sometimes has a tendency to be a bit 'heads down', and focused on what Sheffield is doing, without looking at the world beyond.
"It has been hard for us to recruit the talent that we need and factors such as poor transport links really hamper our growth. For Sheffield to improve as a home for digital businesses we need better – faster and more frequent – transport links to London, Manchester and Leeds, and better office space. We need to attract more high-profile creative and digital names to the city."
Looking ahead
Joi Polloi wants to add to its already impressive collection of awards, which includes two BAFTAs, a NASA achievement award and an Emmy nomination. Applying the curiosity and innovation that is instinctive within the team, they plan to continue challenging for high-profile, demanding projects.
Nick says: "Our focus for the next few years is to continue working with new and exciting clients, building our reputation and creating more award-winning work."
You can find out more about Joi Polloi on the company's website, its blog and you can follow Joi Polloi on Twitter.