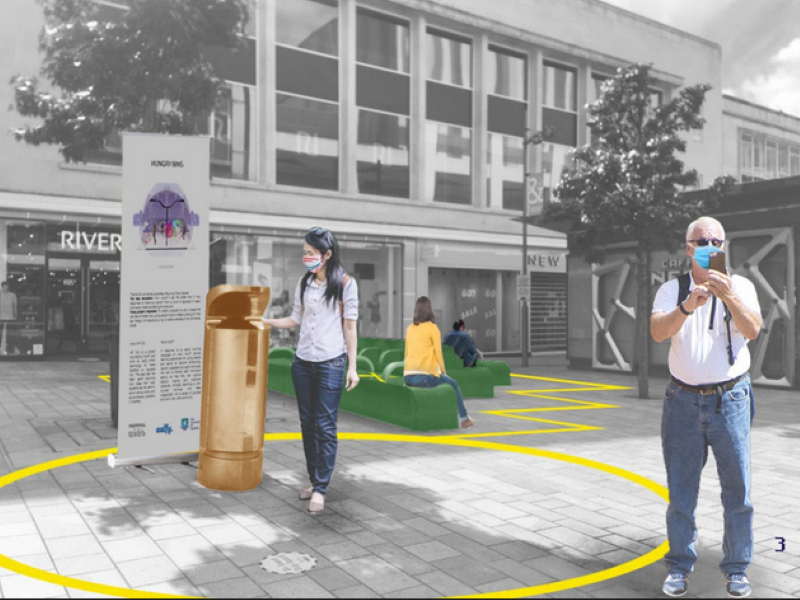 From the 22 September, AR' City will be exhibiting its unique playful tech on The Moor as a part of Festival Of The Mind. AR' City is a project run by the social enterprise AALFY, in partnership with the University of Sheffield and local tech organisations, to use smart technology to improve Sheffield. The technologies on display this month include a Talking Bin, a Soundscape Chair and a Sheffield People's Diary. Read on to find out more about these ideas, how young people in the city were involved, and how you can test them out for yourself.
Inspired by the concept of a playable city, AR' City has developed playful tech to change the way we interact with our environment and explore the sense of belonging in a space. The theme of the project is 'young people' as the ideas for the playable tech were developed in workshops with young people, asking them what problems they saw in the city, and how they could use technology to combat these.
Lots of unique and fun ideas were developed, from holographic cats and dogs to scare away pigeons to a teleportation machine to connect people across the city. Student volunteers from the University of Sheffield worked from the early ideas to see how they could make them a reality.
As part of Festival of the Mind, AR' City will be exhibiting three prototypes on The Moor. These are:
A Talking Bin which tells jokes in a Yorkshire accent when used and is designed to tackle littering in Sheffield.
A Soundscape Chair that plays ambient sounds from around the world when sat on – like rainforest noises. This is designed to help reduce stress by giving people a few moments out of their day to get away from the sounds of the city.
Sheffield People's Diary which will encourage conversation and hopefully reduce loneliness by displaying tweets sent to the handle @AR_City_Sheff from people across the city, on a particular theme.
Thomas Phillips, a volunteer for the project, said, "I joined AR' City because it was the first forum I had seen that brought power to young students, simultaneously inspiring a new generation of engineers and positively impacting the city. AR' City is a platform through which we can show the people of Sheffield that we care about how it turns out."
AALFY is a social enterprise which aims to empower young people, develop their unique skills and to give them a sense of purpose and a role in the wider community. For more information about the project, you can visit the website or you can watch the video above.
Festival of the Mind
Taking place from 17-27 September, Festival of the Mind 2020 will feature more than 100 collaborators from across Sheffield's cultural sector, 25 specially curated podcasts, 17 films and more than 35 different exhibits and performances. The Festival will showcase Sheffield's creative talent and the University's world-leading research with a combination of live and online events over 10 days. You can find out more on the website and you can catch AR' City's contribution to the Festival from Tuesday 22 September on The Moor in Sheffield city centre.