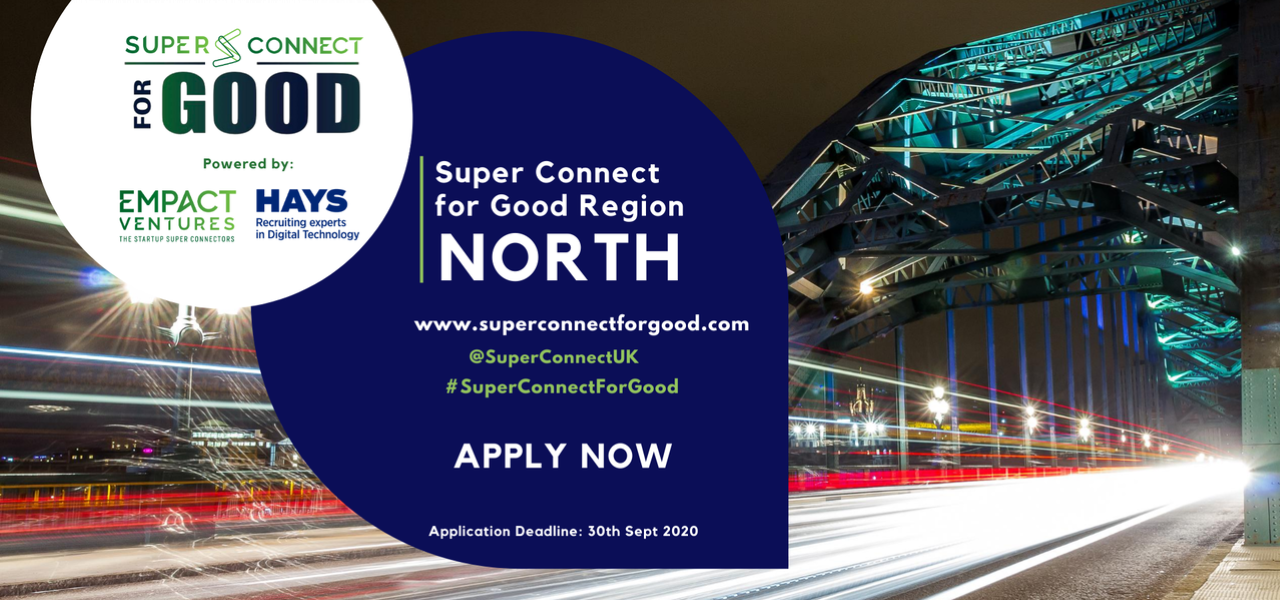 Super Connect for Good is open to tech start-ups and scale-ups that create positive social change including education, healthcare, local communities, public services and more. Launched by Hays and Empact Ventures, the competition takes place across eight regions and winners will receive recognition, exposure and business support worth up to £40,000. The entry criteria are fairly high (start-ups must have secured seed capital of at least £75,000, and scale-ups should have at least £2million Series A funding), but if you are a Tech for Good company that meets the requirements, the competition offers great exposure and benefits for your business.
The competition will recognise 15 winners including a National Overall Winner, eight Regional Winners and six Industry Winners from the following verticals: AI, EdTech, MedTech, HealthTech, Smart Cities (including IoT, 5G, Intelligent Transport) and GovTech.
The National Winner will receive £40,000 worth of business support including a 12-month subscription to Hays Rise (worth £30,000), a Super Connect Membership from Empact Ventures, legal support and free hot-desking with eOffice. Regional winners will receive £4,000 worth of business support benefits and Industry Winners will be awarded a single prize from an industry partner, such as Microsoft for Startups, and a free virtual office.
In addition, all winning companies will get exposure to a range of private and public sector decision-makers, and funders at the Virtual Final, to demonstrate how your solution can address their challenges. You will also receive guaranteed press coverage and an opportunity to make valuable connections, supported by the 'Super Connectors' from Empact Ventures.
Plus, whether you are a winner or not, all applicants are invited to attend the Virtual Final on 17 November as part of Global Entrepreneurship Week. You'll be able to watch a Fireside Chat and Discussion Panel with the judges, and you'll also receive six 'Super Connections' after the event to potential partners, funders or supporters.
Who can enter?
As a Tech for Good start-up or scale-up, your product, service or solution should address social, environmental and economic challenges and should be built in a collaborative, user-led way.
The stage of your company must fit into one of the following categories:
Tech Startup (Seed Stage) with a working Minimum Viable Product (MVP) or beta version, the initial founding team with initial seed capital between £75,000 – £500,000 and ideally (though not essential) some traction or initial revenue.
Tech Scale-up (Series A) – with a scalable product, solid team with Series A funding between £2m – £10m with a growing user base traction and solid revenue.
Tech Scale-up (Series B) – with a scalable product, solid team with Series A funding between £10m – £50m with a growing user base traction and solid revenue.
The closing date for applications is 6pm on 30 September 2020. You can find out more and apply on the website: www.superconnectforgood.com and you can read more about the competition in this press release.