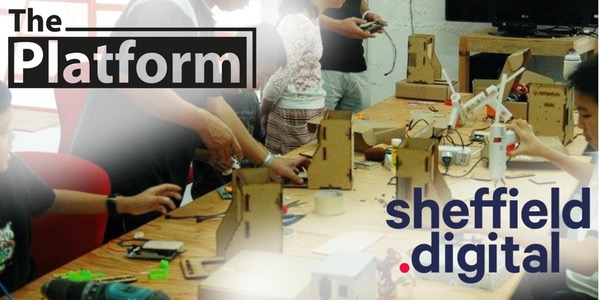 The Platform is a series of regular events hosted by the Showroom/Workstation for people in the creative industries to present and talk about their work. They usually take place on the last Thursday of the month, and for the March event Sheffield Digital were asked to curate the programme (we've done this several times before and will be doing another in May, so stay tuned!).
For the March event we wanted to showcase the burgeoning maker scene in the city and invited some of the people who run spaces in Sheffield where people can go and learn how to make things. There are now many of these spaces to choose from and each of them caters to different kinds of maker, and has different cultures, methods, facilities and costs associated. So the intention was to find out more about what they each do, how they differ from each other and how people can get involved.
So, here is some information on each of the spaces that spoke at the event, along with their presentations.
Sheffield Hackspace
Janine Kirby
Sheffield Hackspace is run by Sheffield Hardware Hackers and Makers CIC and is a non-profit, member-run hackspace in central Sheffield.
Location:
Portland Works Unit 2D-2,
Randall Street,
Sheffield,
S2 4SJ
Model:
Membership and drop-in at certain times.
Facilities:
Electronics (including Arduino, Raspberry Pi, and ESP8266)

3D printing and CAD

Textiles (including clothing and kites)

Woodwork and metalwork

Crafts

Photography

High altitude ballooning
Contact:
http://www.sheffieldhardwarehackers.org.uk
admins@sheffieldhardwarehackers.org.uk
---
Refab @ Access Space
John Mosley
Access Space is an arts and education charity established at the turn of the millennium and, since 2012, has been running Refab Space: a DIY FabLab for artists, business start-ups and the community as a whole to try out new ideas and products, as well as for repair and recycling.
Location:
AVEC Building,
3-7 Sidney Street,
Sheffield,
S1 4RG
Model:
Membership & weekly workshops.
Facilities:
Laser cutter

CNC router

Craft cutter

Digital embroidery machine

3D printer

Workshop tools
Contact:
http://access-space.org/
office@access-space.org
---
The RoCo and Makerversity
Tom Tobia
The RoCo is a creative co-operative that provides studios, event spaces and shared co-working, along with a a cafe bar, design store, gallery, creative bookshop and a deli & craft beer shop. It is in the process of developing a new makerspace, along with Tom Tobia who founded Makerversity.
Location:
342 Glossop Rd,
Sheffield,
S10 2HW
Model:
TBD
Facilities:
TDB
Contact:
http://www.theroco.org/
tom@makerversity.org
---
Barclays Eagle Lab Live & ObjectForm
Scott Knowles
Eagle Lab Live is a month-long pop-up makerspace developed by Barclays, who run a number of permanent Eagle Labs across the country and are looking to set one up in Sheffield, in partnership with Sheffield Hallam University and ObjectForm who provide specialist 3d printing services. Eagle Lab Live is running from the 27th March until the 20th April – check their website for the list of activities.
Location (until April 20th):
Cantor Building,
153 Arundel Street,
Sheffield,
S1 2NT
Model:
Free
Facilities:
3D Printing

VR

Electronics

Games

Workshops and Events
Contact:
https://labs.uk.barclays/locations/sheffield
amy.melvin@barclays.com
---
Learn Create Sell
Angga Kara
Learn Create Sell is a social enterprise that supports local unemployed creative people to learn digital fabrication, create personalised products and sell them online, in the on-site shop and at the city's frequent night markets. The organisation was set up by the Hantu Collective and Aalfy, and has a number of local supporters.
Location:
121 Eyre Street,
Sheffield,
S1 4QW
Model:
Free for qualifying individuals
Facilities:
Laser cutting

Commercial advice

Confidence building!
Contact: