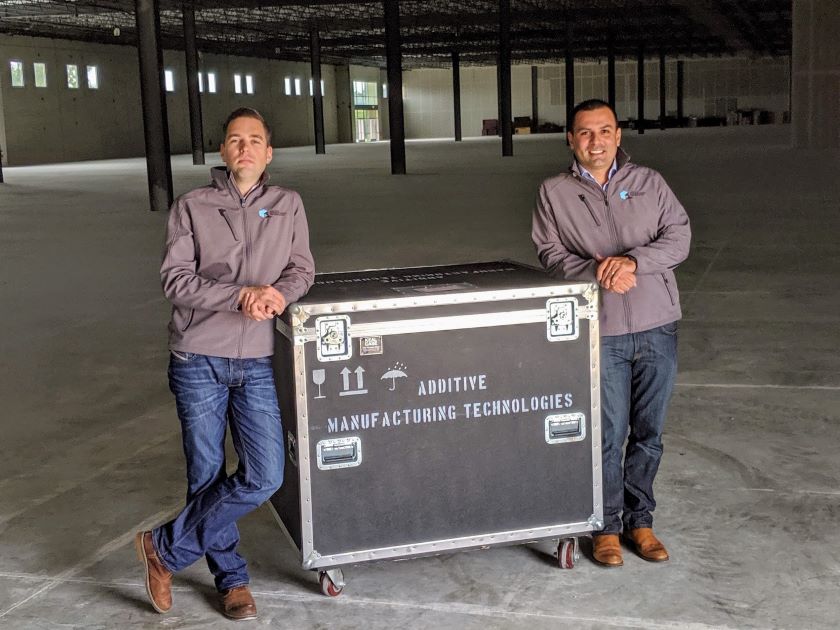 Sheffield Digital member Additive Manufacturing Technologies (AMT) has secured $5.2m (£4m) investment from three global industry leading firms. The funding will help to boost sales and deliver a commercial version of its Digital Manufacturing Technology. This is great news for the Sheffield-based firm which also has a factory in Hungary and is looking to expand its premises into Taiwan and Texas. Congratulations to CEO, Joseph Crabtree and all the team at AMT! Here are some more details taken from the press release.
Additive Manufacturing Technologies Ltd (AMT) produce fast, high quality and low-cost post processing solutions for 3D printed parts. The company has successfully completed Series A funding led by DSM Venturing, the venture capital arm of Royal DSM, and Foresight Williams Technology EIS Fund, the collaboration between Foresight Group LLP (Foresight) and the venture arm of Williams Advanced Engineering.
The new capital raise follows grant funding from Innovate UK, and seed investment by Midwest Additive Ventures and NPIF-Mercia Equity Finance through Mercia Asset Management PLC.
The technology
Currently, up to sixty percent of the manufacturing costs of a 3D printed part are attributed to the highly manual steps of post processing that consists of cleaning and polishing the part after it has been printed. This high cost and inconsistency of results erode the benefits of using 3D printing.
AMT's solutions are designed to unlock the use of 3D printing for high volume production of industrial parts and allow for a fully automated manufacturing workflow. AMT's first commercial solution, PostPro3D, transforms a 3D printed part into a sealed, smoothed and performance enhanced part suitable for end use in applications such as medical, consumer sportswear and aerospace.
The new funding allows AMT to accelerate sales and deliver a commercial version of its fully integrated Digital Manufacturing System. This system automates each of the manual post processing steps through de-powdering, surface modification, and coloring. AMT's unique approach using machine learning and automation enables easy adaptation of post processing to any industrial manufacturing requirement.
DSM and Williams bring significant strategic value to AMT through DSM's deep materials expertise, application knowledge and global reach together with the engineering excellence of Williams Advanced Engineering.
Joseph Crabtree, AMT's CEO stated: "We are delighted to announce our Series A funding round. This investment is another important step in accelerating AMT's vision of an integrated digital manufacturing system that will deliver end-to-end solutions from material selection to part finishing for any industrial end user manufacturing process. We look forward to making AMT the world leader in automated post processing technology."
Commenting on the investment, Pieter Wolters, Managing Director of DSM Venturing, stated: "AMT is revolutionizing the world of post processing of 3D printed parts, thus enabling additive manufacturing to become a competitive alternative for industrial scale production. We are excited about including AMT in our additive manufacturing investment portfolio and supporting the company in accelerating its growth."
Matthew Burke, Head of Technology Ventures, Williams Advanced Engineering, added: "Additive manufacturing is a key part of our Formula One and Advanced Engineering operations and we are looking forward to working with AMT to maximize the potential of their post processing technologies."
Andrew Bloxam, Senior Investment Manager of Foresight, said: "AMT has been quietly executing at an incredible pace since launching two years ago and is now delivering exceptional products that solve real-world industrial additive manufacturing needs. Joseph and his team are focused on continued product innovation and we believe the best is yet to come for AMT and its customers."
You can learn more about AMT over on their website or follow the company on Twitter.
Photo caption, from left: Joseph Crabtree, CEO and Luis Folgar, EVP Americas in the new AMT facility in Austin, Texas