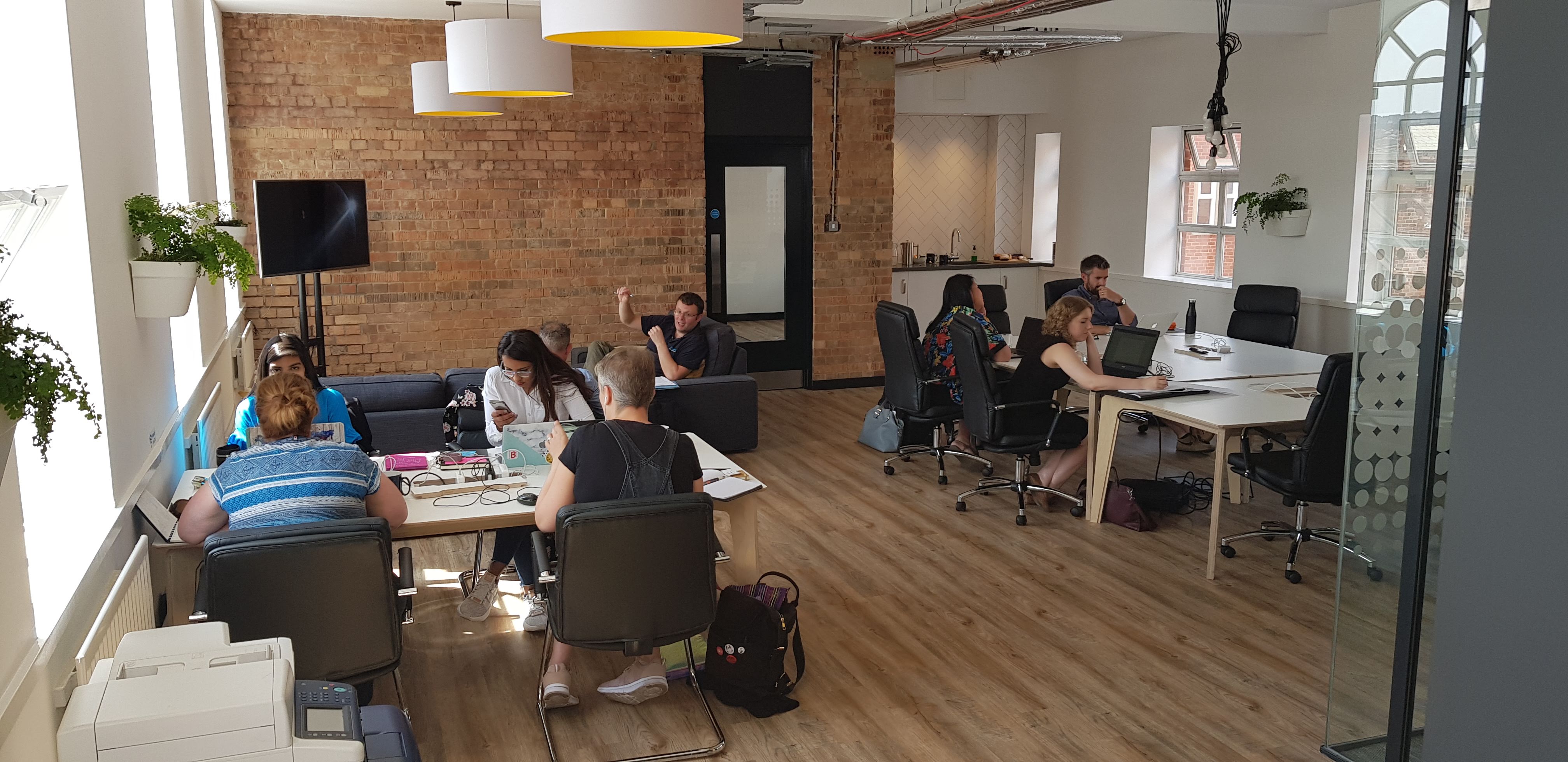 This is a guest post by Tom Wolfenden, the manager at Sheffield Technology Parks.
---
When Mel asked if I'd like to write a blog post, I wasn't sure I'd have enough stuff to write about. But actually, when I listed everything we've been up to recently, the pages started to fill up.
Firstly, I should explain who 'we' are – I run Sheffield Technology Park (STP) based in the Cooper Buildings on Arundel Street. We're a non-profit economic development organisation at heart, self-funded by rental revenues from our tech community with a remit to do as much as we can to support the Digital scene in the City.
We opened in 1988 with a remit to help Science and Technology businesses to grow. Over the past 30 years we've run numerous incubation programmes and accelerators and been founding partners in businesses too.
When I was appointed as Manager of both STP and the Workstation in 2013, the mission was to make both buildings a good place for the Creative and Digital sector to base themselves, driving both buildings forward to increase occupancy, raise customer service standards and invest in the tired facilities. After 5 years I left the Workstation to focus on resetting STP's core remit – to once again be a supportive, affordable City Centre location to start and grow digital businesses.
Without getting too hung up on the strategic ambitions I have for STP, I've listed some examples of the activities we support or run below:
The Platform:
We devised The Platform to fill a gap in the City's events calendar back in 2015. Our audience is a wide range of business owners and employees, plus people with an interest in City developments in Tech, Digital, Creative, Artistic and Urban Regeneration. The format and content change between each event, which has resulted in a mixed bag of interesting topics over the past 3 years. Check out current and future events here . Platform is a joint effort from Workstation and STP, with promotion assistance from Business Sheffield.
Cooper Project:
Cooper Project is a free 6-month incubation programme for pre-start and start up businesses operating in the Tech and Digital sectors. We partnered with Business Sheffield to deliver workshops and business mentor sessions, which created a unique offer to early stage businesses in the City. We are constantly reviewing the positioning of the Cooper Project to compliment other provision available, including Kollider's centres of excellence. As I mentioned earlier – we're here to support and build the Digital scene in Sheffield so we stay agile enough to flex between other projects that come on stream without duplicating or competing with them, and have signposted people from our programme on to theirs.
If you are setting up a business, or know someone who is, email cooperproject@shefftechparks.com to see if we could add value to your business.
Freelancer Friday:
Again, being self-funded we can respond to calls from the community quite quickly. So when we heard there was a lack of drop in space that didn't require a contract or minimum term, we set up Freelancer Friday – a monthly opportunity for home workers and freelancers to come together in the same place to be with like-minded people to work for the day.
Homeworking has a lot of benefits, but if it means you're alone the whole time, it gets hard to keep motivated. The first day went well, so we made it a regular event on the 3rd Friday of each month. Sheffield Digital members get preferential rates, too. You can book Freelancer Friday places here.
Cooper Lounge Membership – Exclusive to Sheffield Digital Members
Off the back of the first Freelancer Friday, I was asked why we didn't offer a regular co-working package. The answer: being an economic development company, we need to understand our place in the City. We don't want to go head to head with the brilliant Union St with a rival co-working offer – that's not the business we're in. Plus, there are options at Electric Works and the beautiful Spaces, both on the Digital Campus. But the response to that was, "Yeah, but they're not really what we're after". The idea of a tech/digital co-working community working in the same space as our start-ups and mixing with our tenant base of established businesses struck a chord. So, I'm pleased to introduce an exclusive co-working offer for Sheffield Digital Members. If you'd like more information, please email enquiries@shefftechparks.com
In addition to the above, we are happy to serve our 150 tenant employees every day, making sure they have all the broadband, furniture and coffee they need to keep working on their businesses. Plus, we're developing work experience placements for 16-18 year olds; assessing the feasibility of a sponsored apprenticeship; working with partners on building an accelerator programme; and helping businesses realise their potential and scale.
All from our little home on Arundel Street.