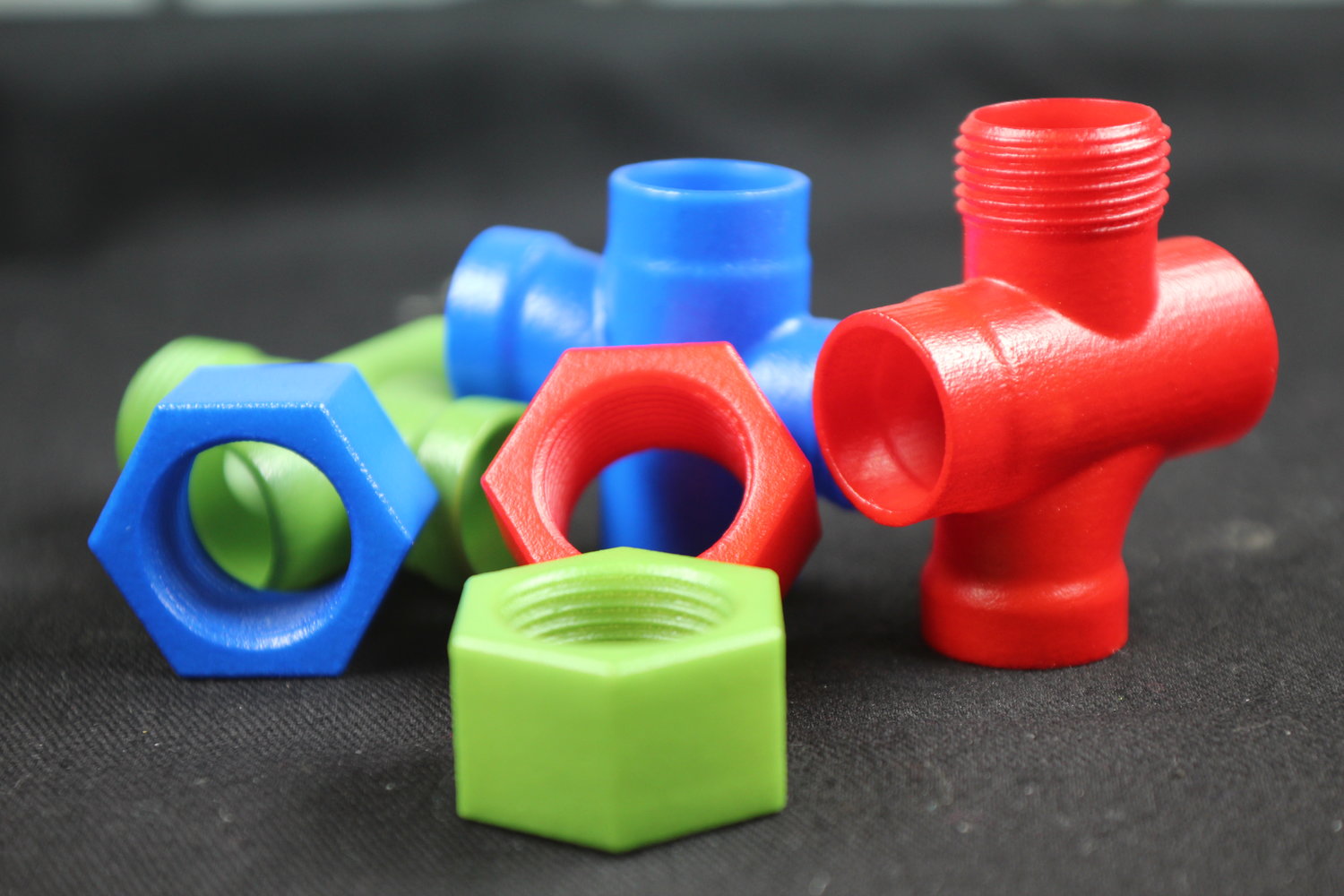 Additive Manufacturing Technologies Ltd were founded in 2015 by Joseph Crabtree, and are the world's first company focused on developing digital tech solutions for post-processing 3D Printed parts.
They have just been awarded £625k by Innovate UK and consortium members including UK inkjet manufacturer Xaar plc, based in Cambridge, and Atomjet Ltd, to develop a next-generation automated post-processing machine. This machine will finish polymer 3D Printed parts in a single process – using intelligent algorithms and feedback loops to produce a predictable and ultra-high quality surface finish so that 3d printed parts can be used in applications where aesthetic and tactile presentation are important.
This builds on the work done at the University of Sheffield on the PUSh™ process, which AMT have exclusively licensed from the university, and paves the way for 3d printing to displace some traditional manufacturing techniques at scale.
The full press release is below. Meanwhile, massive congrats to Joseph and everyone at AMT!
SHEFFIELD 3D PRINTING TECHNOLOGY COMPANY AWARDED £624,000 BY INNOVATE UK TO BRING AUTOMATED INTELLIGENT POST PROCESSING MACHINE TO MARKET

Additive Manufacturing Technologies Ltd (AMT) is to lead a consortium to develop an automated post processing machine for 3D Printed polymer parts. Xaar plc, the UK's leading industrial inkjet manufacturer, and Atomjet Ltd, a designer and manufacturer of specialist technology machines, join AMT in the development consortium for the 2-year project.

The £624,000 award is co-funded between Innovate UK and the consortium members. The Innovate UK award enables AMT to develop the next generation of their existing patent pending PostPro3D™ post processing technology.

Currently, 3D Printed parts must undergo manual post processing operations to produce an acceptable surface finish. These manual processes add significant cost and slow down production rates, thereby eroding many of the benefits of the 3D Printing.
AMT's existing PostPro3D™ technology allows manufacturers to seamlessly surface finish 3D printed parts for aesthetically demanding products ranging from sports shoes to dental implants. This surface finishing is based on the proprietary PUSh™ process exclusively licenced to AMT by the University of Sheffield.

The next generation automated machine will achieve an industry first by incorporating intelligent algorithms and automated feedback to produce a predictable and repeatable surface finish. By fully integrating PostPro3D™ into digital manufacturing chain the technology will for the first time enable 3D Printing to compete with and displace traditional manufacturing.

CEO of AMT, Joseph Crabtree, said on the award announcement:
"The Innovate UK funding award is a significant step in the development of the proven PostPro3D™ technology which provides the 'missing piece' in the digital manufacturing chain. We are looking forward to working with OEM industrial partners to implement this technology into their 3D Printing digital factories"

Prof Neil Hopkinson, Director of 3D Printing at Xaarjet Ltd, stated:
"We are delighted to join the consortium and bring our expertise to developing PostPro3D™. We see this project, in conjunction with High Speed Sintering, as an important step in the development and commercial delivery of industrial 3D Printing."

Atomjet CEO, Rob Harvey, said:
"We are excited to be involved with the project to develop the PostPro3D machine. Our machine building skills are ideally suited to industrial digital manufacturing equipment."

CONTACT
Joseph Crabtree, CEO, Additive Manufacturing Technologies Ltd
+44 7479 007 613
joseph@amtechnologies.co.uk
https://amtechnologies.co.uk/