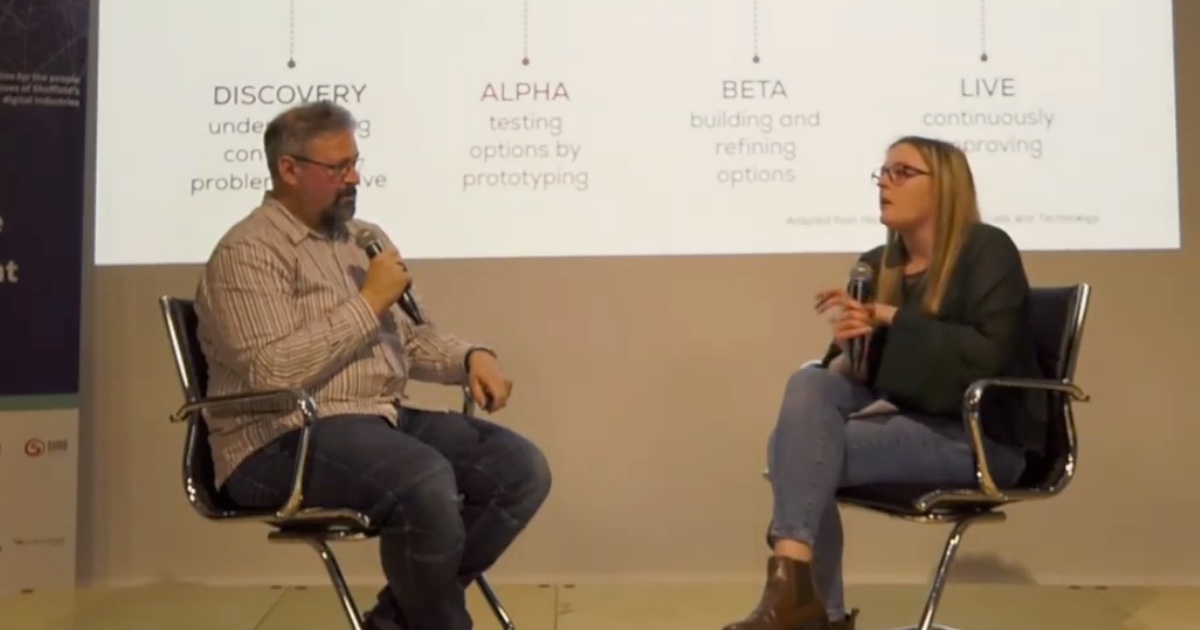 The second Sheffield Digital Showcase was held on Thursday 21st March at The Workstation, with talks showcasing five excellent digital projects recently developed here in the city.
Much of the digital work created here, from new software platforms to marketing campaigns, video games to art installations, is recognised around the world but little known in its home city – our Showcase series brings this work to a wider local audience.
The event was once again held in association with The Platform – the creative and digital industry business networking series produced by Showroom/Workstation, Sheffield Technology Parks and Business Sheffield, and consisted of a number of short 'talk show style' interviews on stage with our own Chris Dymond, followed by food, drinks and lots of chat and networking. The video embedded at the top of the page gives an impression of the event and atmosphere.
Once everyone had arrived, grabbed a drink and settled in, and after Tom Wolfenden from Sheffield Tech Parks had welcomed everyone and introduced the evening's activity, Chris Dymond welcomed the first of five guests onto the stage to find out about their projects…
Dave Greasley, Creative Partner at Side by Side, & Chris Roberts, CEO of Nimble Approach
Dave Greasley from design and brand studio Side by Side and Chris Roberts from agile delivery experts Nimble describe their year-long collaboration to digitally transform a major supplier of Indian water infrastructure – a project which involved an end-to-end reimagination of how such a company operates and how people interact with it.
Liz Hnat, Senior Project Manager at Hive IT
Liz Hnat of Park Hill-based digital solutions provider Hive IT provides an overview of the 12 week "Alpha" collaboration with the Department for Education, in which they successfully explored how to redesign the way the Department disseminates statistical information on the nation's education, via prototyping and user testing of a replacement service.
Pete Casson, Chief Technical Officer at Twinkl
Pete Casson from learning technologies firm Twinkl, based on Ecclesall Road, discusses the firm's hugely successful 'Little Red' Augmented Reality application, built to support a series of original books and the largest collection of free educational Apple "quick look" AR models, to help children learn computational thinking.
James Fox, Commercial Director at 3Squared
James Fox from rail and construction technology firm 3Squared, on the company's award-winning Railsmart software suite, and being at the forefront of the shift to the 'digital railway'.
Gareth Wilson, Design Director at Sumo Digital
Gareth Wilson from Sumo Digital presents the studio's latest release Crackdown 3 and talks about what it takes to design a cutting edge 'triple-A' game whilst also staying true to the spirit of a successful series, as well as how the video games market is evolving in the age of social media.
---
The event was a great success, and we received excellent feedback from many of the participants, many of whom told us how much they liked the format and choice of projects, and how useful and interesting it is to get an insight into the varied work that goes on here. Some also told us they were inspired by some of the talks to present at a future Showcase, and that it was great to see small companies represented as well as Sheffield's 'flagship' tech firms.
Until next time…
We're already looking forward to the next one, which will hopefully by in July before everyone breaks for August – we'll announce it as soon as we have a confirmed date, but meanwhile make sure you subscribe to our newsletter so you don't miss it!