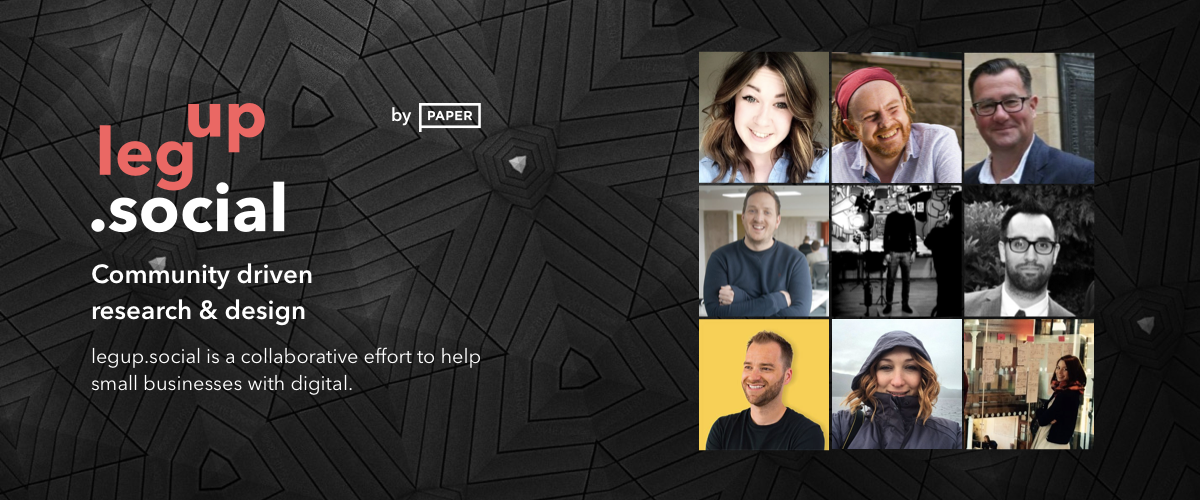 legup.social is a collaborative way to help small businesses with digital. It was born out of an idea to do good things outside of the ordinary day-to-day running we undertake at Paper. It's a no-catch exercise of pro bono work to find out if the people of the digital industry could help small businesses, social enterprises or charities. Our first event is being held on Friday 27th January at Sheffield Hallam University. We're very grateful for their support.
The community
The key to legup.social for me is the community. We want to build a project which doesn't need mollycoddling, that could be a brand anybody can feel is their own and which feels open enough for digital businesses to put time into without feeling hard done by. We want to avoid it being the "Paper show".
The format is simple. A small investment from Paper to organise the event creates an opportunity for us to pair digital people with small businesses, social enterprise or charity. If a charity, for example, needs some help understanding how the content they produce can be better published, we could pair them with a content designer to help give them ideas.
From experience
Digital is difficult. It's easy to be misguided or to struggle with where to start. At Paper we've deliberately baked into our business model the principle of giving legups and freebies where we feel we have the opportunity to learn by doing. It overall makes a better business.
The mentors
What's in it for the mentors? We hope, an opportunity to learn new skills which it isn't possible to learn in their day job. A problem to solve which isn't dependent on budget, or pressure to deliver. It's a mentorship programme, not a web designer for hire.
We're very fortunate to have a good group of people who have kindly donated their time to our first event, but we will always need more expert digital people. So please get in touch if you'd consider attending as a mentor.
We're also really keen to hear from more women in the digital industry who would be interested in becoming a mentor for legup.social. We're in danger of becoming lopsided and are really keen to redress the balance.
Mark Goddard is the Design Director at Paper, a research and design studio.