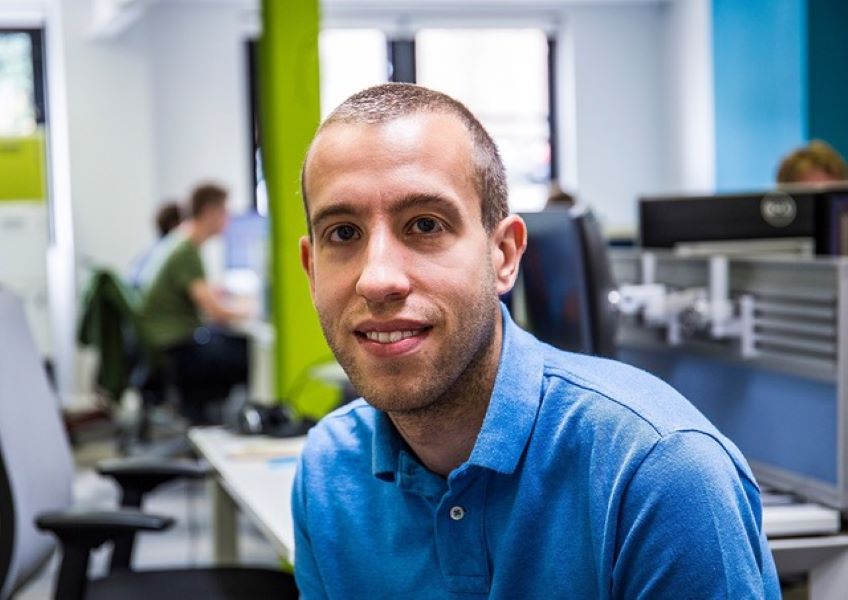 Neil Hale launched his freelance career as a digital marketing consultant early in March. Taking the plunge into self-employment is daunting in ordinary circumstances, but faced with a national lockdown, a global health crisis and an uncertain economy, these first few months might have forced anyone to reconsider their decision. For Neil, a steady workload throughout lockdown has instead reaffirmed that he was right to make the move and he's now looking forward to getting out to events and meeting more people as the lockdown eases. In our first 'Member Spotlight', we hear more from Neil about his journey to becoming a freelancer and the work he does.

Can you tell us a bit about your journey to becoming a freelancer?
I moved to Sheffield in 2005 to study Business and Marketing at Sheffield Hallam University. As part of my degree, I completed a placement year with a local eCommerce retailer BuyBrandTools in a digital marketing role before returning to the company as a graduate after finishing my studies.
During this time I also established my own business. Live Football On TV is a website dedicated to informing people about the football matches they can watch on TV. I've been running the website for 12 years and it's now established as one of the most popular football websites in the UK.
I joined Evoluted in 2015 as their only marketer before helping to establish and lead a fully-fledged marketing team. I left my role as Head of Marketing at Evoluted at Christmas in order to focus on Live Football On TV and to evaluate freelancing opportunities.
What were the factors that made you decide to become a freelancer?
The primary motivation was to help achieve a better work-life balance. I was previously leaving the house before 7:00 am and not returning until 5:30 pm. After eating dinner and spending a little bit of time with my son and partner I would then do another couple of hours' work.
This routine began to take its toll and I realised I needed to make a change. Freelancing affords me the opportunity to dictate my own schedule. I'm able to work when I'm most productive in an environment that suits me, while also freeing up more time to spend with my family, pursue hobbies and exercise.
What problems do you solve for your clients?
I mainly work with clients to improve their search engine visibility, whether that's SEO, paid search or a combination of the two.
It's often the case that the client has tried Google Ads and hasn't been able to make it profitable or they are struggling to rank prominently for their target keywords. I help my clients to address these issues by applying the knowledge and experience I have gained from running successful campaigns for over 50 local businesses during the last 10 years.
What kind of businesses do you work with, and are you targeting particular sectors?
I mainly work with SMEs in the local area. In the past few months, I have been working with a couple of thriving eCommerce stores, an eLearning company, a company that specialises in fitting out industrial workspaces and one of Sheffield's most well-known music venues.
I have also completed work for local agencies and have helped other freelancers who were in need of assistance.
You started your freelance career in March. Can you sum up what your initial feelings were when you realised the extent of the COVID-19 crisis?
As the true extent of the pandemic started to become apparent, I honestly thought I would be fortunate to get client work in the coming months.
I was about to sign a retainer agreement that I was really excited about, but the company had to pull out at the last minute as their industry was hit particularly hard. Fortunately, I signed my first retainer on the Friday before we went into lockdown and business has been surprisingly buoyant since.
This period has given me confidence that it's possible to find work even in the most challenging circumstances.
Have you had to change your offering or approach in order to attract new business?
I haven't altered my offering, but I have certainly changed my planned approach to gaining new business. I had planned to attend lots of local events in order to meet new people, form relationships and make it known that I'm available on a freelance basis. I had also planned to work from various co-working spaces for similar reasons.
Obviously, I haven't been able to do either of those things, but I've been fortunate enough to participate in a number of excellent online communities and events including Sheffield Digital and Sheffield Collective which have enabled me to achieve my aims and have led to paid work.
What help and support have you been able to access for your new business throughout this time?
I haven't accessed any support in the traditional sense, but working in Sheffield for over 10 years enabled me to create a really solid support network.
Stewart Doxey, a freelance web developer who I worked with at Evoluted, has provided lots of support, advice and contacts from his time as a freelancer. Ash Young, my former Managing Director at Evoluted, is always available to offer another perspective which is invaluable.
I'm really fortunate to be able to rely on this kind of support as it's enabled me to progress a lot faster than I would have been able to without it.
What are your thoughts on Sheffield as a city that promotes and encourages entrepreneurial spirit?
I don't have a great deal of experience of freelance life in the city as yet, but I'm looking forward to being able to work out of various co-working spaces and being able to attend lots of events in the future.
I truly believe that Sheffield has a friendlier vibe than most cities of a similar size which makes forming and building relationships easier.
I'm hopeful the work being carried out by organisations such as Sheffield Digital, Sheffield Collective and Sheffield Creative Guild will help provide more opportunities for freelancers moving forward.
You joined us in April as an individual member. What do you want to get out of your membership?
I joined as an individual member as I wanted to support the great work Sheffield Digital has been doing over the last few years.
I've worked in the Sheffield digital scene for over 10 years and it's really encouraging to see the progress that has been made. I also wanted to join in order to build relationships with local freelancers and Sheffield businesses.
To find out more about Neil's work, take a look at his website: neilhale.co.uk. You can also contact Neil directly on email and follow him on Twitter: @neilhaleuk.
Be next in the spotlight!
If you are an individual member of Sheffield Digital and would like to be featured in a Member Spotlight blog post, please contact our Community Manager, Sophie Wendell on sophie@sheffield.digital.