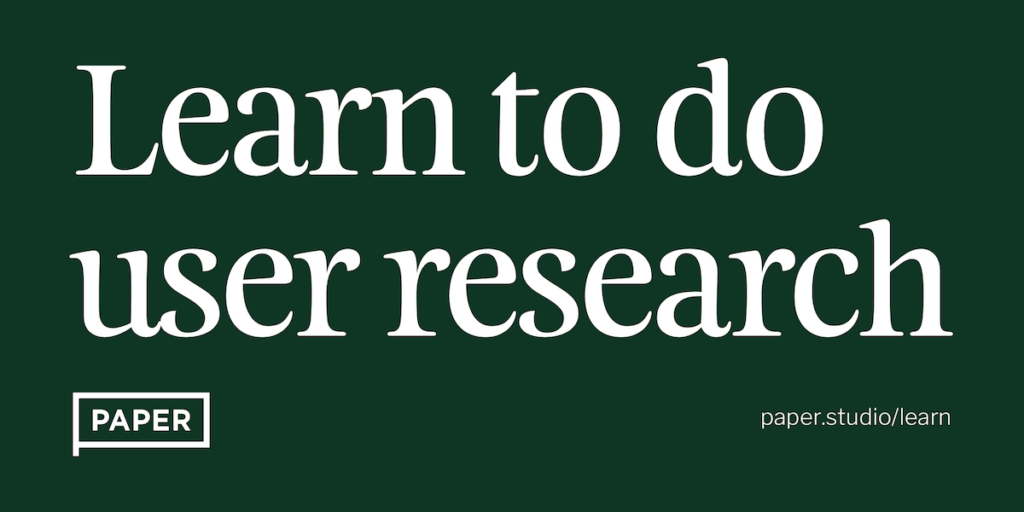 Paper has launched a new training service, Learn with Paper. The user research experts want to develop understanding and recognition of this specialism, ultimately helping tech companies build better user-centric products and services. The first course 'Learn to do user research' will be delivered in February 2023 and Paper is offering fellow members of Sheffield Digital a 10% discount on this and all future courses.
Learn to do user research
Paper's first course is designed for people who have some experience of either doing user research or working with user research. This might include those working in their first user research role, or retraining in this specialist area. The course will be delivered to a small group, allowing the facilitators to iterate on the training based on participants' needs and the individual experiences they bring.
Learn to do user research is made up of six modules delivered across two days of practical training. These include: Framing the problem, Planning and designing user research (you can see a sneak preview of this module here), and Finding people for research. The aim of the course is to equip participants with the skills to feel confident in running rounds of user research and conducting mindful research.
Building the status and recognition of user research
The team at Paper are passionate about user research and want to develop understanding of this specialism amongst those working in it, and also those working alongside user researchers. Cam Spilman, Managing Director & Co-founder of Paper explains,
"We'd like to encourage collaboration between specialisms, especially helping those who work with user researchers to get the most value out of the work. Ultimately this will allow teams to build better, user centric products."
Paper would like to see more organisations conducting ethical research which puts the needs of their users over the wants of the business. Cam continues,
"We want to continue to build the status and recognition of user research as an essential specialism in any team designing products or services. Everyone who leaves the course will be able to make the case for doing user research to make sure the products and services we are designing meet the needs of users, and to ensure we're building the right thing before anyone has to write even one line of code."
10% discount for Sheffield Digital members
Learn to do user research will be delivered on Thursday 23 and Friday 24 February 2023 and if you are a member of Sheffield Digital (company or individual) you can get a 10% discount on the course fee. To register for this offer email learn@paper.studio and to find more details about the course, visit the website. You can also read this blog post by Rachael at Paper, which explains more about the new training service.