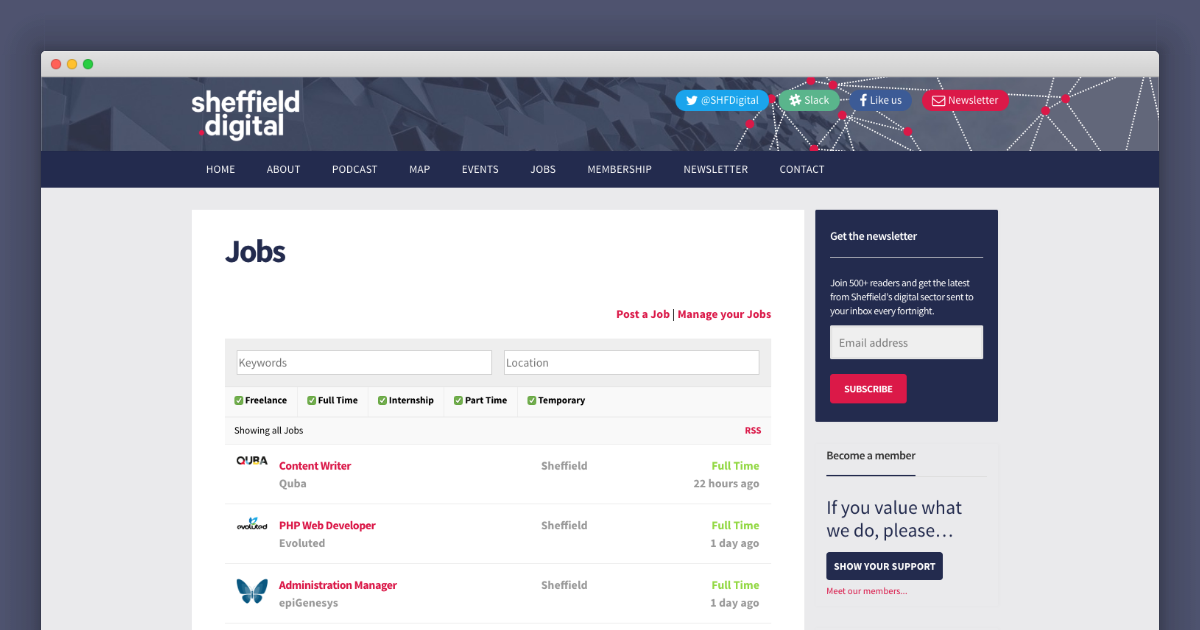 Recently an interesting discussion got started in the Sheffield Digital Slack community about the negative effects of job adverts that don't display salary ranges.
Here's a selection of the comments:
"When a job ad doesn't have a salary range, it just makes me think that they aren't prepared to pay the market rate and are trying to hide that fact, so I don't apply. I don't understand why companies don't post it."

"Truth is, I think not specifying a salary has the opposite effect and a lot of people tune out."

"'Salary negotiable' is a phrase that put me off applying for most jobs just a few years ago and probably would still today."

"A lack of qualified people applying for jobs because the adverts are rubbish can look a lot like a skills gap depending on where you're sitting."

"I think it'd be great if Sheffield Digital mandated salary ranges in job adverts, and in parallel made the case for the practice in terms of ethics, people and business benefits."
Salaries are certainly a hot topic and prompted a discussion at our last board meeting around why job adverts are so frequently advertised with no indication of salary in our sector. We discussed what Sheffield Digital could do to help the issue, and if we should make it mandatory for our job board to display a salary range against each job advert.
As a result of this conversation, I volunteered to write this blog post about my experience in the hope that it will encourage wider discussion on the issues and help us implement helpful guidelines for posting jobs on our website.
View from a company boss
A few years back, when I was managing a large staff team at Yoomee, I realised our practice of not disclosing salaries on our job adverts could be considered unethical because we weren't treating staff equally. It was holding us back and proving detrimental to our company culture of respect, transparency and honesty.
Pay transparency is common in the public and voluntary sectors, but still relatively rare in the private sector. Many digital agencies still don't advertise jobs with salaries against them.
As is common, I would recruit and hire people on merit, and then negotiate an increase on their previous salary once a job offer was made. This wasn't a big problem when starting the company, hiring people in vastly different roles – but once our team had grown to 20 staff with similar roles, it meant people with the same experience and skills were earning vastly different amounts compared to their colleagues doing the same job (in some cases by a factor of 30%!)
Those members of our team who'd previously worked for low-paying employers were disadvantaged compared to those who'd come from high-paying companies. Also, in the rush to hire new people we needed to advertise above-average salaries to attract the best, which meant some existing staff were disgruntled at being paid less than new starters.
View from a recruitment company
I discussed this issue with Benchmark Recruit, one of Sheffield Digital's associate sponsors. They work closely with Sheffield companies and are privy to decision makers' insights. In a market where digital candidates are in demand, and employers are looking to make their business the one of choice, salaries play a key role in attracting and retaining staff.
Louisa Harrison-Walker, Managing Director at Benchmark says, "There is natural caution around sharing salaries both internally and externally. From an internal perspective, new employees who come to a business on an inflated wage, due to the skills shortage and a need to pay higher than average salaries, could leave current employees disgruntled if their salaries are not raised accordingly. As a result, businesses often choose not to disclose, but as new starters become integral to a team this can often become common knowledge and managers then lose control of the situation, and possibly people."
"Classing salaries in job ads as Dependant on Experience (DOE) can also be frustrating for applicants if they go through the whole process only to be offered a salary below their expectations."
Transparent pay-scales
The solution I settled on at Yoomee was to implement transparent pay scales so that each individual's pay could be roughly calculated based on a formula, shared and understood by the team in a transparent way. Pay scales are completely normal in the public and voluntary sectors, so why not in our sector too?
Starting with the development team, I implemented a pay scale formula based on and the number of professional years' experience in that role, with a small upper and lower limit based on performance.
Once we had a pay scale in place, then it made life a lot easier; we could advertise jobs and state the salary range publically without any issues.
We immediately saw the following benefits:
Our recruitment process was more time efficient. For example, we avoided losing potential new hires after the interview stage because the salary to be offered was no longer a big reveal at the end of the process.
Staff morale was improved as the existing team could see clearly their salary would increase year on year, as dictated by the pay scale formula, based on years of experience.
Company values of transparency were emphasised as individual developer salaries were no longer secret.
Everybody could get behind trying to hire new staff because they could calculate the salary to be offered.
My annual reviews with employees were a whole lot easier as I didn't need to negotiate with 20 individuals every year, trying to remember who was due a pay rise or not.
Based on this experience, I would strongly recommend every digital business owner implements transparent pay scales because it makes life a whole lot easier in terms of recruiting and helping staff feel in control. It also means you have to consider the overall package you're offering to employees, not just salary.
Prioritise benefits over pay
In Benchmark's 'Hard to Fill Vacancies and Skill Shortages' research with Sheffield City Region the report showed people prioritise their benefits, such as flexibility, over salary, so it's no longer money that does all the talking.
Lucy Sibbald, Marketing Manager at Benchmark says, "Transparent salaries give managers control in the situation and how this is managed and communicated accordingly. Key is looking to see issues off before they eat away at the morale of a team. If salaries are higher, consider the differentiating factors to distinguish between pay brackets; job titles and management responsibilities. If you can't justify the different salaries, there is an argument to pull other salaries in line to avoid losing staff to competitors."
Ex-Sheffielder Joel Gascoigne has been famous for championing salary transparency at Buffer saying, "the payoff is that it gives employees one less thing to worry or gossip about and introduces a level of fairness. The catch is that salary transparency can only work for the kind of company that hires employees who are open to the idea of transparency."
Recommendation
It could be argued that all companies getting on board and being transparent about salaries would mean the industry would fall in line and raise standards for all employees. Therefore, I suggest that Sheffield Digital sets a positive example by encouraging all employers advertising jobs on our job board to state the salary range offered for the job, with an indication of how it's calculated. Let me what you think about this in the comments below.