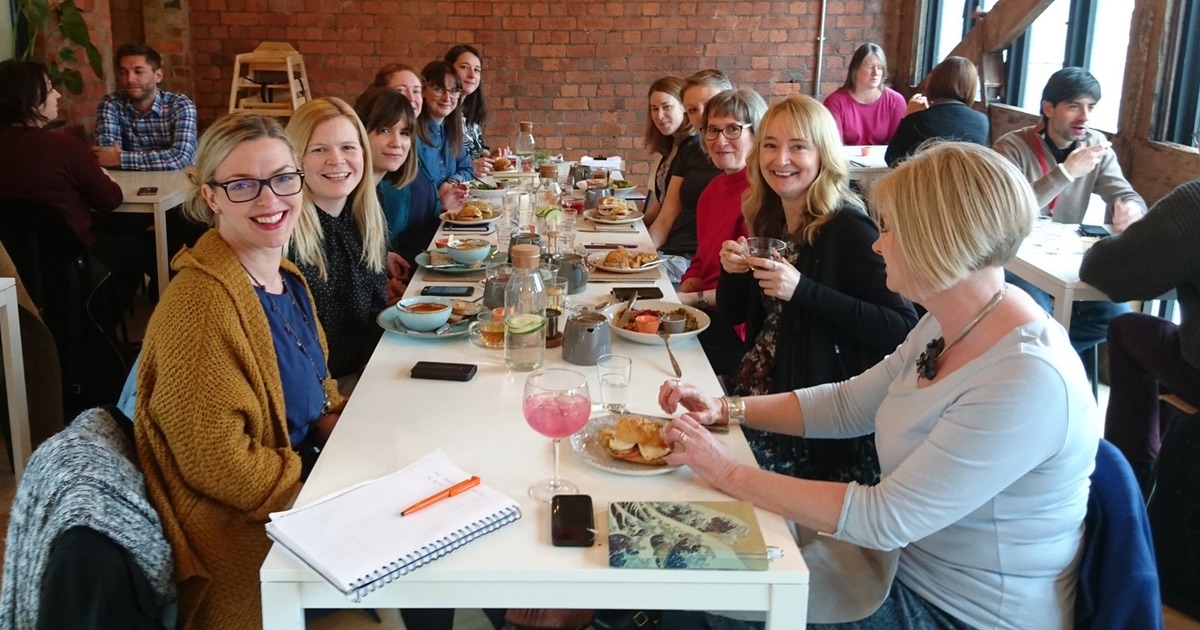 This is a guest post written by Katie Attwood. The image above is by Tejay White.
[divider type="thin"]
Last month I spent a hour in the company of women who wanted to do something related to 'women in tech'. We'd been invited by Mel Kanarek, who helped set up Sheffield Digital. Mel's idea was to get a conversation started about what kinds of things need tackling and how we might go about getting some practical activity under way.
The lunch was sponsored by Creative Sheffield (thanks Sarah Lowi Jones) and attended by Katie Attwood, Rachel Ferla, Annie Moss-Quate, Louisa Harrison-Walker, Emma Marshall, Emma Cooper, Sarah Lowi Jones, Anna Bollinger, Tejay White, Bella Abrams and Mel Kanarek.
What we talked about
I sat next to Mel, Emma Marshall and Louisa Harrison-Walker and we had a great conversation, not just about the number of women working in technology. We also talked about the following.
What does 'women in tech' mean and, if a title is needed, is this the right one or does it exclude?
Why do we need to focus on activities aimed at encouraging women into tech?
What makes a great women in tech activity?
What are the issues in Sheffield and how we could we help address them?
What's already happening in Sheffield and how can this be shared and built on, not just duplicated?
How do we make sure that we don't just talk to each other?
What can we learn from others, including Annie Moss-Quate from She Does Digital, who attended the lunch?
While it was good chatter, we only got started on some of the answers.
Learning from She Does Digital
Annie then told us all about what She Does Digital have been doing in Leeds. They've been going for two years and focus on the positive and collaborate with other organisations to make change. Their events are small and informal so they aren't intimidating and find different ways to approach activities like networking.
The kinds of initiatives She Does Digital get involved in include: providing positive role models, student mentoring and mock interviews. Annie is from Epiphany (part of Jaywing) and is working with colleagues there to set up a Sheffield She Does Digital event in June. In the meantime, Annie told us Jaywing would be happy to provide space for meetings or events.
We continued with our meal (I can vouch for the excellent Birdhouse Buddha Bowls) and the discussion also continued. Here are some of the wide-ranging topics, ideas and questions we covered.
Potential topics for workshops and other events including:
how to ask for a pay rise
being the only woman in the room
networking
supporting other women
dealing with inappropriate behaviour
how to be a better speaker
developing technical and digital skills.
Investigating and sharing:
Who are the 'Sheffield women in tech'
How can we make sure they are known about and present at events across the city?
What are the pathways into a career in digital for young women and where/when do some drop out?
Who are the other women in tech and what benefits do they bring?
Why aren't women applying for certain jobs or approaching particular companies?
Building new networks and linking up current ones, including:
building somewhere or something which women could refer to or come along to
ensuring networks, events and language are inclusive
providing facilitated or gamified networking
creating peer-to-peer support groups and mentoring.
We covered so many topics – it was almost overwhelming.
But if you don't start, you don't start
Time, goodwill, enthusiasm, experience and expertise is needed to continue to address the issues and actions above – building on the good work which is already taking place. I reckon we have all five in Sheffield.
I mentioned the lunch briefly at the February agile Sheffield meetup and people have already got in touch saying they would like to help – thank you.
I've learnt that people (including me) sometimes don't know how to get started, how to get involved, who to contact and can't decide on the first or most important thing to do.
So, what's first?
If you've experience and expertise to share to address the above issues..
If you can help answer my questions…
If you're already working on this in Sheffield…
Or you want to get involved to learn, recruit or support…
…please get in touch by tweeting #ShfWIT to @ShfWIT – adding what areas you want to focus on or the information you want to share. If you see other people tweeting information which appeals to you – please say hi back! We'd like to start to build a network in the open, help people connect with each other and develop ideas and actions.
And what's second?
Twitter shouldn't be the only way we start to connect, so please contact Mel by emailing mel@sheffield.digital if you have other suggestions. ShfWIT may not be the best title either so, to the creative types, please get creating. We can look through the tweets, see what themes develop and start to plan what's next.
And after that?
I've couple of ideas for events which I'll tweet about once they're clearer in my mind. Suffice to say –one will be 'something agile'.
Then, it'll be up me and you, and you – and you (for now) sitting quietly at the back.