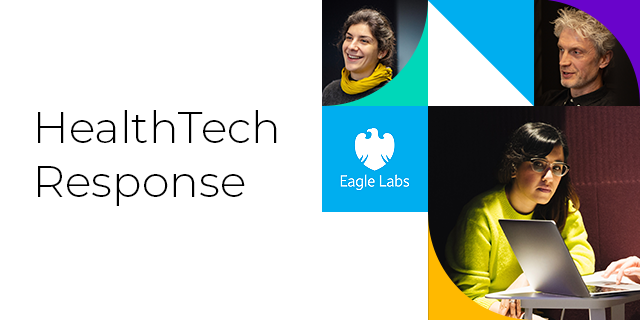 Barclays Ventures and Eagle Labs are supporting their partner organisations – The University of Edinburgh, UCL and CodeBase – in a collaboration to explore how technology, innovation and their connected networks can quickly help support the NHS response to the current COVID-19 crisis. The partnership is particularly focused on how existing tech solutions can address the isolation of the vulnerable, reduce non-critical demand into the NHS and aid diagnostics and treatment. If you have a tech solution or an innovative idea on how to address one of the key challenges, the partnership could help fast track deployment.
There are four particular challenges that the partnership is looking to help overcome through the use of technology and innovation. These are:
Slowing the spread of COVID-19
Enabling home-based care
Supporting the wellbeing and morale of NHS workforce
Assistance for those who are most vulnerable
The team has only just started but is already investigating a range of ideas and possible solutions to help. Examples include:
Providing an engaging communication tool – gamification to educate the population so they can better self-treat at home.
Enabling self-monitoring at home – utilising the smartphone camera lense to give accurate readings of respiratory function and heart rate.
Enhancing emotional awareness of the user – Wearable device which logs how the wearer feels at a push of a button.
Can you help?
Barclays Ventures and Eagle Labs want to hear your ideas to tackle these urgent problems and help fast-track your solution. If you've got ideas to offer, please contact the partnership on this webpage, where you will also find more details on the four key challenges above.