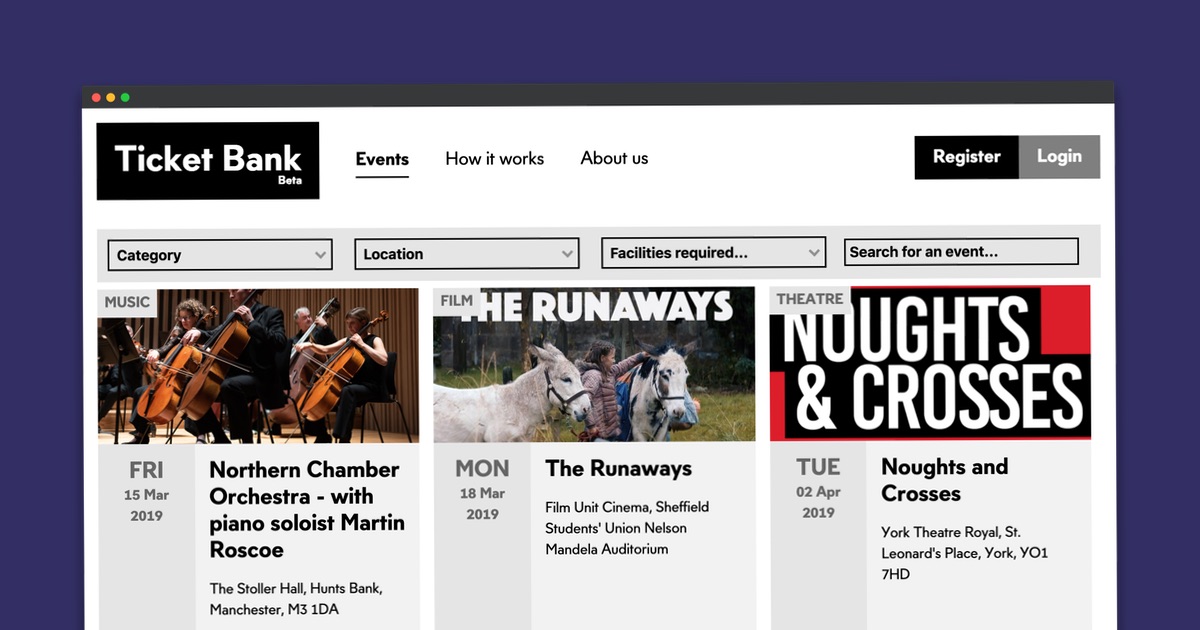 The Ticket Bank is an online ticket donation platform from Sheffield Digital member, Tickets for Good. Event organisers can pledge spare tickets to the website to be distributed for free in partnership with charities and local community groups.
For many people, live music gigs, theatre performances and other events are not accessible due to financial constraints, care commitments or social exclusion. The Ticket Bank programme is designed to help people overcome these barriers so they can go out and enjoy events.
Benefits to health and wellbeing
The link between mental wellbeing and access to the arts is well documented. Studies in Italy have proven that cultural access is the second most important determinant of wellbeing above factors such as occupation, age, income and education (Grossi, et al. 2010 & 2012).
Tickets for Good is a local digital startup using technology to boost inclusion in the arts throughout the UK. Its unique and secure platform has already been used to distribute 500+ tickets to disadvantaged people.
How it works
The Ticket Bank provides free tickets to people who are receiving help from one of over 100 charities that are currently registered on the platform. Working with event organisers, the Ticket Bank is able to distribute donated event tickets that would be otherwise unused.
Charities and non-profit organisations can register on the platform for free. After verification they will be given a monthly allowance of 'credits' which they can use to purchase tickets that are available on the site, for their beneficiaries (1 credit = 1 ticket).
The team behind the Ticket Bank has formed partnerships with charities and event organisers in Sheffield, Manchester, London, Bristol and York and it is continuing to expand its network.
Watch this short film to understand more about how the Ticket Bank works, and why it was set up:
Doing social good
Organisers of festivals, gigs, theatre performances and many more events are using the platform to improve their social responsibility, making events more inclusive and their audiences more diverse.
Steve Rimmer, Co-Founder and CEO of Tickets for Good comments,
"I'm so pleased to share our vision of making events more charitable and inclusive. Our mission is to help event organisers, sponsors and performers optimise for diversity and inclusion, so that everyone in the community can benefit from social responsibility."
Get involved
Registered charities and non-profit community groups are invited to sign up via the website, so they can take advantage of free event tickets for their service users.
Event organisers, sponsors or performers interested in donating tickets to the Ticket Bank should email steve@ticketsforgood.co.uk to get in touch.