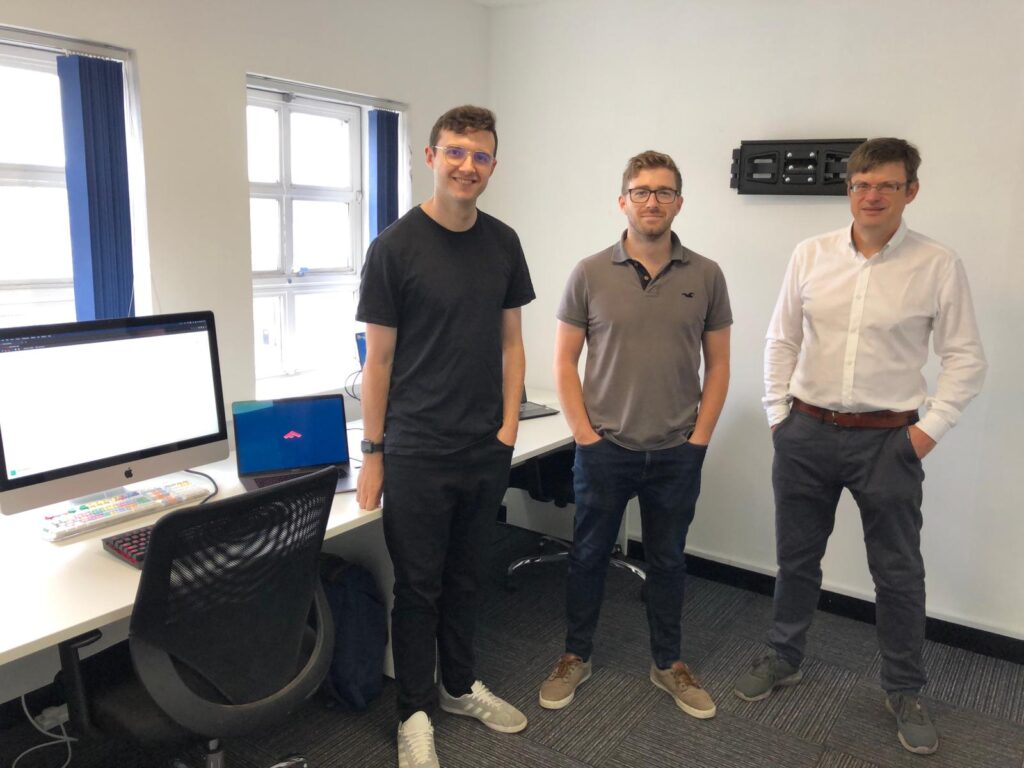 Ferrio is a Sheffield-based business automation services company developing a product to allow users to build and manage more complex automation and integrations. We spoke to Co-founder Daniel Blaney about Ferrio's offer, moving into their new offices at Sheffield Technology Parks, securing their first investment from Sheffield-based Mandashi, and their plans for the future.
Ferrio was established a year and a half ago this week and was founded by Dan, whose background was in helping to automate complex processes in construction and field service companies, and Alex Humphreys who worked as a software developer. The name Ferrio was inspired by Sheffield's industrial heritage and derived from the connectivity of ferrous metal. Connectivity is key to their offer, helping businesses unlock growth opportunities through the automation of their digital processes.
Dan told us, "Almost any digital process can be automated and companies are starting to realise that software is a massive help; not a necessary evil that you've ended up with, but something that helps accelerate your business. The benefit for people of automation is it frees up time by taking away the repetitive, busy work so people can focus on more important areas. It's not just viewing time as a cost-saving, but as a value add, because of what you can now spend it on because you're not doing admin."
As well as providing automation services using existing products, Ferrio is building its own solution because Dan felt that although there are a lot of good tools in the market, there are gaps that their product could address. They have been working on their product for almost a year, are at the MVP stage, and are happy they have struck the right balance of capability and ease of use. Their unique vision for their product has been informed by their deep expertise in delivering automation to businesses through using existing tools.
The target companies for Ferrio's product are outsourced IT providers and web designers who Dan tells us, "often have great expertise with front end development and equipment but are getting more demand from their customers for integration into different products. Our tool lets you do a lot of those backend processes without having to learn a new language". Dan feels that the opportunity for this type of connectivity is the changing business landscape for tech products. He says, "The barriers to entry for making and shipping software have really gone down. If you think 'I wish an app could do this' it probably already exists. As a small business, there is a significant cost to developing something bespoke, that is static. Whereas if you subscribe to several different services, and connect all of those, they will always be up to date and you can access them from anywhere. You just need a way to tie them together, and that's where our product comes in."
Ferrio's software is not industry-specific; it has the capability to help any business run better through automation to achieve its growth ambitions. They also see a benefit for small scaling businesses that have achieved product fit with a sales and marketing strategy that works but are struggling with demand because they are bogged down in processes. Ferrio helps build their capacity to be leaner and spread costs.
We asked Dan about their own challenges when starting the business, and he said, "I love seeing statistics and, when we set up, I knew we had less than a 10% chance of succeeding. But when you've accepted that you know you can just go for it." Dan and Alex's confidence has paid off and they have recently secured investment from Mandashi to accelerate their product development, which Dan describes as 'Zapier for developers'. Dr. Andy Evans, Director of Mandashi said, "We are very pleased to be investing in an up-and-coming Sheffield software business like Ferrio. They have developed an innovative product and have already built a customer revenue stream, which I'm sure will grow substantially over the next year."
As Ferrio starts to accelerate its own growth they have recently appointed a new developer from the Rise programme in Sheffield, a programme Dan was also a beneficiary of when he moved back to Sheffield after his studies. The values of the company are founded on the same views they hold on software, which Dan explains, "Should not be stressful for our customers using it, or us making it. We are not the type of company that works 18-hour shifts, we are an automation business, we make things efficient and give back time to people who buy our products and services, so we need to be efficient ourselves. Software has become inescapable in business, it hasn't always made life easier for people using it. Now in the last 5-10 years, we are finally getting to a point where that original promise is delivered".