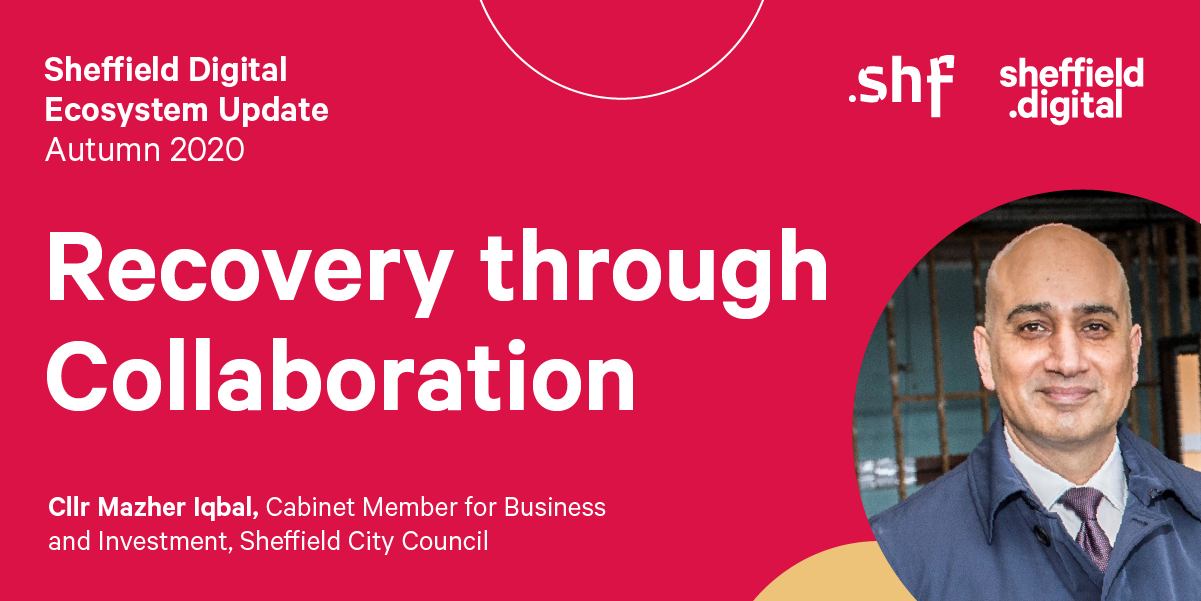 In the Sheffield Digital Ecosystem Update Autumn 2020, Cllr Mazher Iqbal, Cabinet Member for Business and Investment, Sheffield City Council, reflects on Sheffield's collaborative spirit and the ways that COVID-19 has deepened this. He explains some of the ways that the Council will help businesses and why he thinks that digital will play an integral role in the city's recovery.
Writing this in October of 2020, the economic impacts of the Covid 19 pandemic are at the top of everyone's mind and do not feel like they will be resolved for a long time, but I am proud of the collaboration that is at the heart of Sheffield's response, across all sectors.
A Business Response Group was set up in March with Sheffield Digital as one of the founding members, along with other key business organisations in the city. The Group has worked intensively to help shape a recovery plan and communicate immediate relief measures. For example, we were one of the cities that led a successful campaign to make sure businesses in managed workspaces and incubation centres did not remain excluded from the Government's business rate grants regimes.
I have always felt Sheffield is an inherently collaborative city in spirit. I am certain however that Covid has deepened this collaboration in ways that are permanent and that stand us in good stead for the future.
The Council will continue to put in place a range of short term measures designed to help businesses and the economy, shaped at all times by the Business Response Group. We continue to work with City Region partners on the region's ambitious recovery plan that will see new investment in jobs, skills and infrastructure over the next few years. In the longer term, it is imperative that we look again at our economic strategies to re-examine the issue of inclusive growth and how to tackle the causes of deep routed inequality that have been so badly exposed by Covid.
I see digital playing a major role in our economic recovery. The sector has proved itself to be resilient and quick to adapt and, in Sheffield, has also stepped up to help businesses in other sectors to adjust to rapidly changing circumstances. We need the digital sector to continue to grow and we also need to encourage businesses in other industries to make better use of technology. At the same time, we must find ways to open up digital careers and work opportunities to people who have been impacted by the pandemic, especially young people and those who are at risk of losing their jobs. This is a chance for digital employers to bring onboard a more diverse range of people and to build a future pipeline of talent that is inclusive and representative of the community at large.
The future prosperity of our city will also depend on people creating and growing new businesses, which is why I am pleased to see the focus of this report on the support that is available to technology-based start-ups. The provision in and around Sheffield is improving all the time and I hope that this will continue.
I can only imagine the challenges faced by business owners and leadership teams at times like this. When I talk to businesses, I see a remarkable resilience to adapt to new working restrictions, the steps being taken to protect staff and the determination to ensure survival and growth. Whether it's new technology, creative content or service based, I see businesses in Sheffield pivoting and responding in many amazing ways and what I see is probably just the tip of the iceberg.
None of us know what the future holds but we know that genuine collaboration, mutual understanding, investment in innovation, technology and skills and showcasing our strengths to the world will continue to be absolutely critical. These are all areas where I see Sheffield Digital leading from the front, working with partners such as the Council and the City Region.
Cllr Mazher Iqbal, Cabinet Member for Business and Investment, Sheffield City Council.
This article was published as part of the 2020 Ecosystem Update. For the rest of this publication, and others in the series please visit the Sheffield Digital Ecosystem Update page.