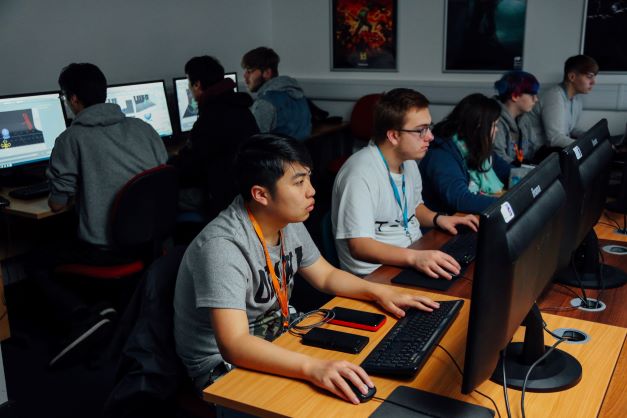 The Sheffield College is gearing up to deliver its second wave of Digital Bootcamps, which are funded by the Department for Education. Three courses are planned:
Infrastructure Technician – starting Monday 16th May
Cyber Security – starting Tuesday 17th May
Software Development – starting Wednesday 18th May
About the Bootcamps
These Digital Bootcamps are aimed at anyone in England aged 19 or over, whether they are in work, self-employed, recently unemployed or returning to work after a break. The free courses are designed to give people the opportunity to build up sector-specific skills and fast-track to an interview with a local employer. The College's bootcamps have been shaped with the help of Sheffield Digital and other local employers and are focused on giving people the opportunity to build up sector-specific skills that employers need.
Developing the city's digital talent pipeline
Tom Sutton, Head of Partnerships at The Sheffield College, explains, "Sheffield College is working hard to develop new skilled people to support digital growth. We know there's a skills gap that exists in our digital and tech business across South Yorkshire and, from speaking with employers, we know this is limiting growth potential. We don't think this is acceptable and we want to help local people access good quality jobs. That's why we secured a contract working with the Department for Education to deliver Digital Bootcamps."
The Bootcamps are set up to encourage a wide range of people to explore careers in technology. By getting involved, employers can help build the city's pipeline of future talent and also increase the diversity of people coming into our industry.
What the College needs
As the College prepares to deliver the next set of bootcamps, they have two specific asks of the local digital community:
Do you know someone who might benefit from or be interested in enrolling in one of the bootcamp courses? Perhaps individuals who have applied for entry level jobs but not been successful, or people who have contacted you to express an interest in the sector and who are looking for a way to get started. Remember, anyone in England is eligible provided they are 19 or over. Please signpost any potential candidates to Robert Whittaker at the College (robert.whittaker@sheffcol.ac.uk) and to this information on the College website.
Could you provide an interview for bootcamp graduates at the end of July? As part of the delivery with DfE the College needs to offer learners an interview at the end of their course on successful completion for those who are not currently employed. The interviews are an opportunity to gain experience for those looking to enter the sector and they are more effective for all if they can create connections to employers who are either actively recruiting or who will be recruiting in the future. They also offer an ideal opportunity for employers to access a fresh pool of talent and to perhaps increase the diversity of the people they are meeting.
If you find the right person for your business, The College will be on hand to help with any further upskilling. To find out more or express your interest in offering interviews, please contact Michael Rhodes at the College (michael.rhodes@sheffcol.ac.uk).
Tom Sutton says, "We started delivery of our Bootcamps in October 2021 and we have already seen the benefits to our learners and employers. The Bootcamp initiative has been a brilliant project, as it focuses education on industry specific needs. Employers and education providers are working in partnership to develop a talent pipeline of new people to support a growth sector across South Yorkshire. At The Sheffield College we are committed to working with our local community to provide access to good quality jobs and successful careers. Our Bootcamp delivery ticks all these boxes. To carry on supporting learners and employers we need to work with more of our local businesses. If you'd be interested in joining us on our Bootcamp journey, we'd love to hear from you."